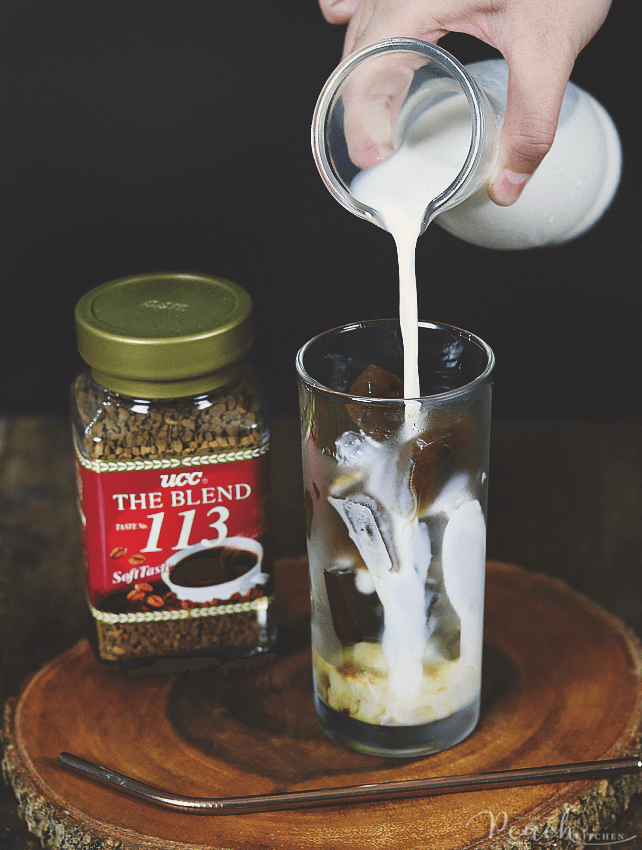 I don't know how many times I've ordered this from UCC Cafe but I loved it each and every time. Since we are staying at home because of this pandemic (Yes, we are on GCQ but we are still not going out because Covid-19 is scary!), I thought it would be nice to recreate this at home. Para feeling nasa UCC Cafe pa rin, I used  UCC The Blend (instant coffee) Taste No. 113.
It's so easy to make. All you need are:
Watch the video below to see how I made this….
WATCH THE VIDEO HERE:
O diba? Super easy lang. I'm sure all you coffee lovers out there would love Kori Kohi as well as much as you love Dalgona Coffee, hindi pa napagod ang kili-kili nyo paghalo dito diba? Go and Freeze lang sa freezer ang drama nya.
What's your favorite coffee? 3-in-1? Plain black? Decaf? Latte? Coffee Jelly? Or something that's made using an  espresso machine? Comment nyo lang sa comment section, kwentuhan tayo.
OTHER COFFEE RECIPES YOU MIGHT LOVE…
Kori Kohi
Ingredients
1 tbsp instant coffee, I used UCC Taste 113 Blend
¼ cup hot water
¾ cup cold water
1½ cup milk
Sugar syrup (optional)
Directions
Dissolve your instant coffee in hot water.
When coffee is dissolved, pour cold water and mix well.
Pour into an ice cube tray and freeze.
When coffee cubes are frozen, transfer to a glass.
Pour warm/room temp milk over the frozen coffee cubes and stir. The coffee cubes will dissolve in the milk.
Sweeten with sugar syrup, if preferred.
Enjoy on a hot day.
♥ If you make this recipe, kindly snap a photo and tag @thepeachkitchen on Instagram (OR hashtag it #thepeachkitchen). I'd love to see what you cook!