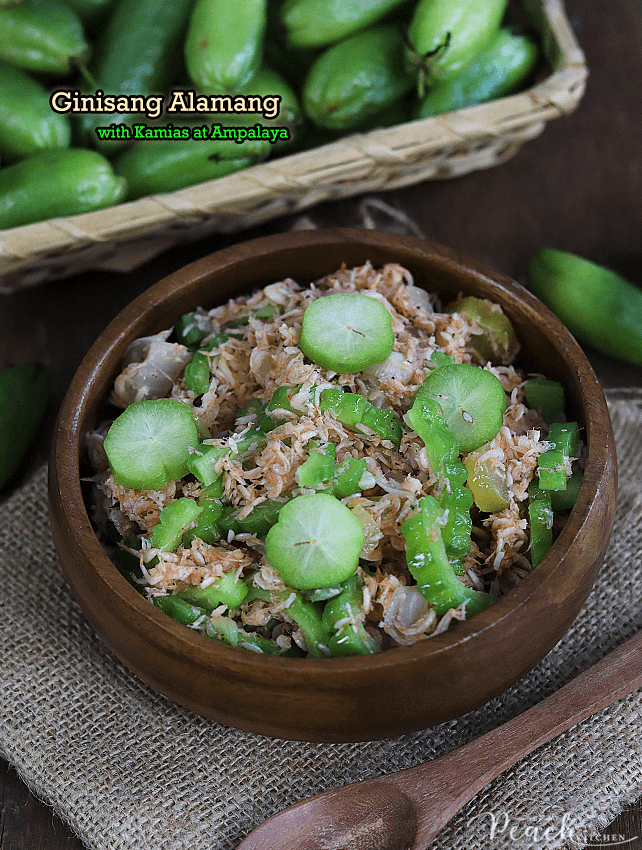 Ginisang Alamang with Kamias and Ampalaya is a budget-friendly and healthy dish you can cook whenever there's fresh alamang (micro shrimp) available in the market. This is one of the dishes that I learned to cook and eat now that I'm already married.
I know that this is an old recipe because I discovered this while buying ulam in an old carinderia in Malabon. Yes, Iwe were buying ulam because we were too lazy to cook that day. I was intrigued when I first saw this because it was my first time to see ampalaya and kamias together in a dish and these were two of my favorites.
And so, I told myself I'd just recreate this at home so I can share it with you.
OTHER RECIPES YOU MIGHT LOVE…
Print
Ginisang Alamang with Kamias and Ampalaya
1/4

fresh alamang (micro shrimp)

2 tbsp

oil

3

cloves garlic, minced

1

onion, chopped

1

medium ampalaya

1/4 cup

water

6

pieces kamias, sliced

1 tsp

fish sauce (patis)
pepper
Instructions
Cut bitter melon in half lengthwise. Remove the seeds using a spoon. Make sure you scrape out all the white stuff.
Slice it diagonally and put into a bowl. Smother it with salt, make sure each slice gets some salt into them and let it stand for about 5 minutes. Rinse it off with water and set aside.
Heat oil in a pan. Sauté garlic and onion until onion becomes translucent.
Add the fresh alamang and cook for about 3 minutes. Add the ampalaya and 1/4 cup water. Bring to a boil and simmer until ampalaya is cooked and some of the water has evaporated.
Season with patis and pepper to taste.
Add the sliced kamias and turn off heat.
Serve with steamed rice
♥ If you make this recipe, kindly snap a photo and tag @thepeachkitchen on Instagram (OR hashtag it #thepeachkitchen). I'd love to see what you cook!