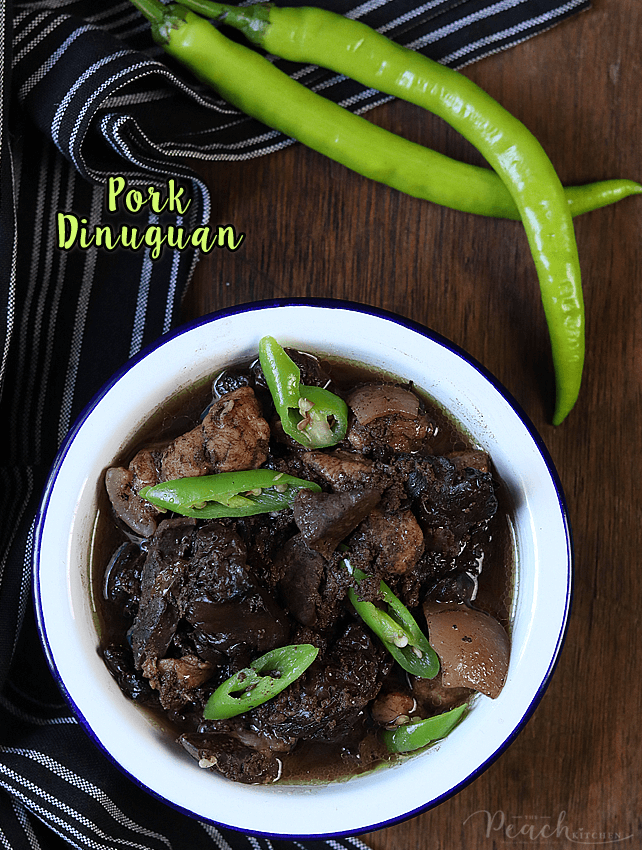 Whew! The first week of Twinkle's Pre-Kinder is just about over and all I can say is that it has been a bloody kind of a week. Bloody as in madugo as in nakakaloka mag-adjust! So I think it was just right that this Pork Dinuguan is what we had the beginning of the week.
Pork Dinuguan is one of peanutbutter♥'s favorite ulam. I usually enjoy this paired with plain or cheesy puto Or on top of a bowl of rice with a sprinkling of rock salt. Yes, mas masarap sya with rock salt when in a rice bowl.
WATCH THE PORK DINUGUAN RECIPE VIDEO
I prefer to cook this with a mixture of pork and beef but this time I only had pork. So this Pork Dinuguan is a mixture of pork belly, pork tenderloin, and pancreas. What I do is sauté all the pork meat in garlic and onions and simmer it in water until tender. Then I add the blood (coagulated and liquid) and simmer it again until it turns black. I prefer my Dinuguan to be a bit sour so I add about 3/4 to a cup of vinegar. That's when I season it with fish sauce to taste.
How do you cook Dinuguan?
OTHER RECIPES YOU MIGHT LOVE…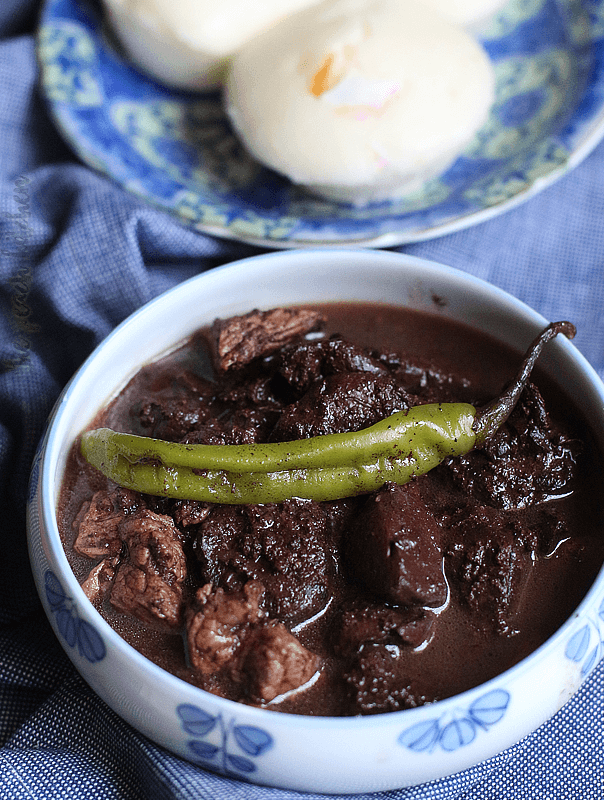 Print
Pork Dinuguan (Pork Blood Stew)
300g

 pork liempo,cut into bite size pieces

300g

 pork lomo, cut into bite size pieces

200g

 Pork lapay, cut into pieces

5 cups

 of pork blood, the coagulated blood,cut into bite size pieces

3

 pieces chili peppers/ siling haba

2 cups

 water

1 cup

 white vinegar

1

 large onion,chopped

6

 cloves of garlic,minced

3 tbsp

 cooking oil
patis (fish sauce) to taste
Instructions
In a pot, sauté garlic and onions in cooking oil until onions become translucent.
Add meat and sauté with onions and garlic until brown. Pour in water and bring to a boil.
Simmer until meat becomes tender.about 30 minutes.
Pour in pig's blood and add chili peppers.
Simmer for a few minutes until pork blood turns black. About 15 minutes.
While it's boiling, add the vinegar and let it boil for a minute before stirring to cook the vinegar.
Season with fish sauce.
Serve with steamed rice with a sprinkle of rock salt on top.OR serve with puto
♥ If you make this recipe, kindly snap a photo and tag @thepeachkitchen on Instagram (OR hashtag it #thepeachkitchen). I'd love to see what you cook!