This Baked Potato Soup is a rich, creamy comforting soup filled with your favorite baked potato flavors.. perfect for chilly evenings…
It's been a hella of a week at The Peach Kitchen last week. I thought the kitchen was falling apart. First thing that happened last week was the microwave broke. Since our microwave is seven years old already and microwave oven these days are pretty affordable, I decided not to have it repaired and bought a new one.
The next day, the fridge just stopped working. I just noticed when I wanted some ice cubes for my juice and all the ice turned to water. Good thing my sister who calls herself Anney and my cousin Rome just lives next door. I transferred everything from my fridge to theirs. We called Samsung for repairs and they sent in a technician the next day. To make my long story short, repairs would cost me around ₱10,000, para ka na ring bumili ng bagong ref. So I bought a new fridge that night. Hala, ang gastooos!
The new fridge would come after a week so I had to use up some of the vegetables I have and those that I can use para hindi naman masyadong sumikip ang ref ni sis. I had celeries, carrots, potatoes and other vegetables. Since the weather was a bit chilly last week. We had soup nightly to use up the vegetables. That included this Baked Potato Soup.
Ykaie, my patatas girl, had been requesting for this for as long as I can remember. It's not something you make everyday because it's too rich and creamy. But this past cold nights had been asking for it.
My soup started with bacon crumble fried to a crisp and onions and garlic sautéed into it. IT makes for a really fragrant kitchen, I tell you.It was followed by a little bit of flour, chicken stock, milk and the potato. Simmer the potato until tender then add in the cheese and the sour cream and voila! Yummy soup with all the flavors of your favorite comfort food.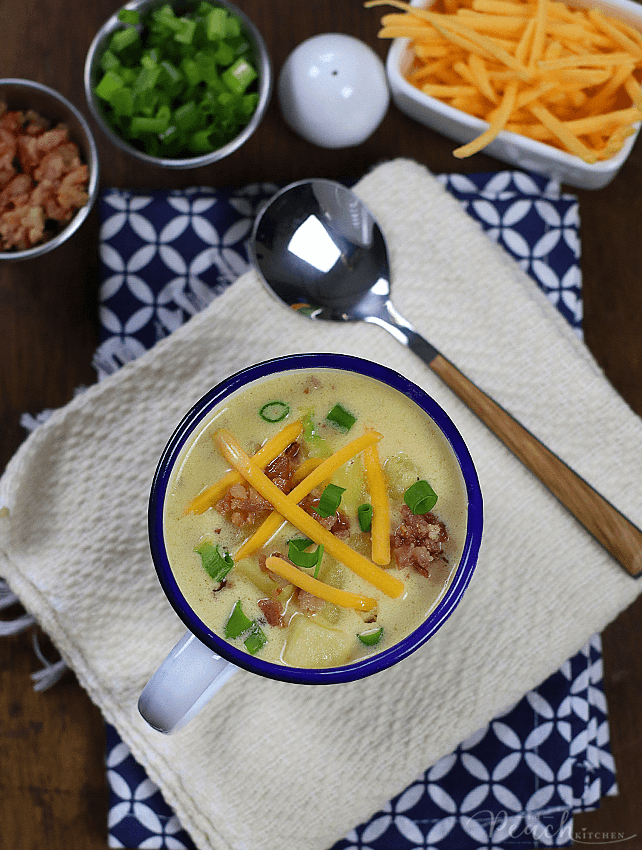 Top it up with spring onions, more bacon crumble, and more shredded cheddar and I'm sure you'll be scraping your bowl clean. We paired this up with some garlic bread and well — no leftovers!
I'd like to continue making soup in the next couple of days but what do you know. I don't think it would be as cold this week as we are approaching the Summer months.
Have a great start of the week hustling mommas!
OTHER RECIPES YOU MIGHT LOVE…
Print
Baked Potato Soup
250g

bacon crumble OR 5 slices bacon, diced
Instructions
Heat a large pot over medium-high heat. Add the bacon crumble and cook until crisp or brown.
Transfer bacon to a small bowl and leave about 3 tbsp of bacon grease on your pot.
Add onion and sauté until translucent. Add the garlic and sauté for an extra 1-2 minutes, stirring occasionally, until fragrant.
Add the flour into the mixture and sauté for an additional 1 minute to cook the flour.
Pour in the stock, stir until combined, then pour in the milk and stir in the potatoes.
Continue cooking until the mixture just reaches a simmer, before it begins to boil. Then reduce heat to medium-low, cover, and simmer for about 10-15 minutes or until the potatoes are soft. Make sure you stir the soup every so often to prevent the bottom from sticking and eventually burning.
Once the potatoes are nice and soft, stir in the cheez whiz (or shredded cheddar cheese) and sour cream, and half of the cooked bacon crumble (leave the other half for topping later).
Taste and season with extra salt and pepper, if needed.
Serve hot.
Garnish with green onions, bacon crumble, and shredded cheddar cheese before serving.
You can keep the leftovers in a sealed container and refrigerate for up to 3 days… that is if you have leftovers..LOL!
♥ If you make this recipe, kindly snap a photo and tag @thepeachkitchen on Instagram (OR hashtag it #thepeachkitchen). I'd love to see what you cook!