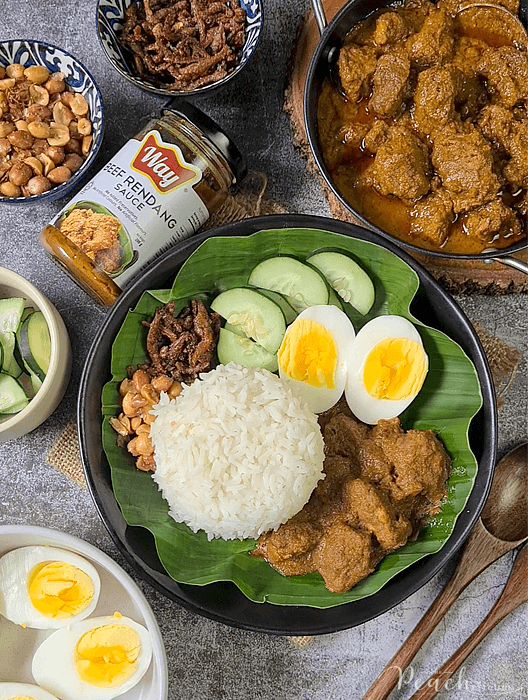 I love love love Beef Rendang. The first time I tried cooking it, I had to buy lot of spices, some of which, are not available in nearby stores. Kaya naman I was very happy when friends from Matrade Manila sent me this Way Beef Rendang Sauce. It made cooking this Malaysian dish so much easier!
To those of you who haven't tried this dish yet, Beef Rendang is a rich and tender coconut beef stew which is a little spicy. It's actually a dry curry so there's not much sauce but because I love a saucy curry — I leave a little for my satisfaction — heehee.
I used Beef batok to make this. I love using this part because it's fatty and flavorful. The downside is medyo matagal palambutin unlike if you're using sirloin or brisket. I also used Santan Coconut Cream Powder but you can also use fresh or canned coconut cream.
WATCH THE VIDEO HERE:

To make this, I just seared the beef pieces until brown on all sides and then added the Way Beef rendang Sauce, coconut cream, and water. This was simmered for about 1 1/2 – 2 hours to make sure that the beef is tender and the sauce is thick. O diba ang dali lang? After that, you can already serve it with steamed rice. May pa-arte lang talaga ako kaya Nasi Lemak style. Alam nyo naman, we always eat with the eyes first kaya kung maganda ang presentation, mas appetizing. Everything is better din if there are side dishes. It makes eating more enjoyable.
Naku mars, try mo na to. I'm sure you'll like it specially if you love rich and flavorful dishes.
Print
Easy Beef Rendang with Way Sauce
1

pack Santan Coconut Cream

300

ml water

3 tbsp

cooking oil

1

kg beef, I used beef batok, yuo can also use brisket or sirloin

2

jars way sauce
To serve Nasi Lemak style
rice
adobong mani (peanuts)
dilis (fried anchovies)
cucumber
hard boiled egg
Instructions
Dissolve coconut cream powder in water. Set aside.
Heat oil in a pot/pan and sear the beef in batches until brown on all side.
Put all the beef back in the pot and add the Way Beef Rendang Sauce.
Swirl each jar with 1/2 cup water to make sure you get all the sauce from the jar.
Add the coconut cream. Mix well.
Bring to a boil and simmer until beef is tender and sauce is thick.
I simmered this beef batok for 1 1/2 hr to 2 hrs. If using sirloin, 30 mins to 45 mins is enough.
Serve with steamed rice or rice with peanuts, dilis, cucumber, and hard boiled egg.
Enjoy!