In a lot of older homes, the kitchen is often a small room at the back of the house, without a lot of room for families, which isn't ideal if you're trying to get the children into cooking. If you're thinking about building a kitchen extension, to add a larger, more open space for your family to cook in, eat, and socialise, think about some of these ideas for a beautiful kitchen extension.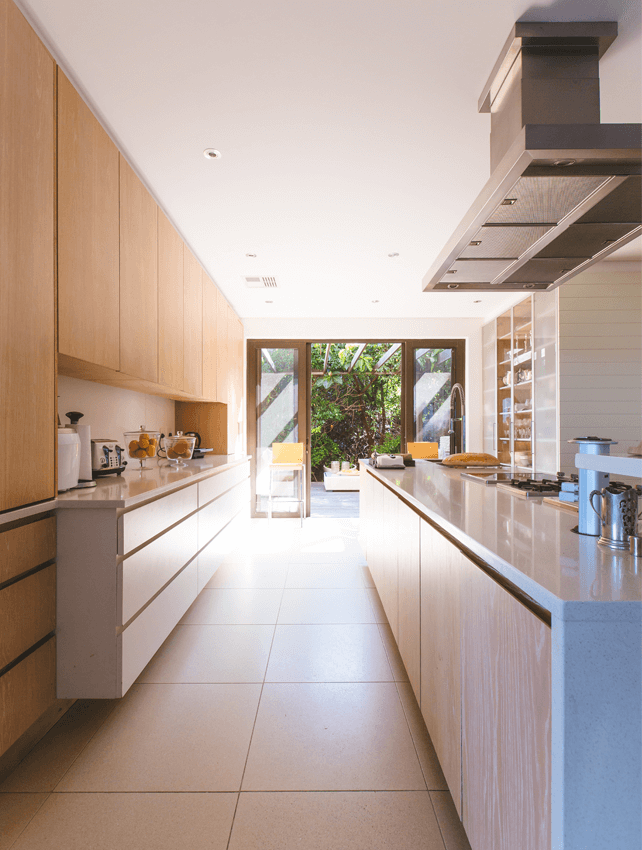 Go modern in your kitchen extension by choosing a hero colour for your design. A bright pop of colour on one wall, whether as a feature wall or in your tiles, creates an eye-catching feature. Pull the colour into the rest of the room with accessories like chairs cushions, small appliances or decorative clutter. 

Think about storage. If you're designing a

house extension

, you can tailor your storage to your needs, with a mix of cabinets, cupboards, drawers and shelves. Deep drawers are ideal for large pans, whereas open shelving is a nice way to store and show off any interesting dishware or glassware. If you love to cook, you'll need lots of storage for cookware, whereas a wine enthusiast might get more use from a built-in wine rack. 

If you need your wall space for cupboards, but still want to let plenty of natural light into the kitchen, add a skylight. Skylights look modern and let light in from above, without giving up space for cabinets. 

A kitchen island is a good way to divide up different parts of a bigger kitchen extension or open-plan space. An island or breakfast bar can be used to separate the kitchen from the dining room or living room in an open plan room. 

Create a cohesive feel between a multi-functional extension by using the same design elements in the different spaces. If you've chosen an open plan kitchen, dining and living space, you could use the same materials or colours, like a consistent wood accent, through the whole space, you can make the design feel more cohesive. 

Embrace multi-function spaces. A large kitchen extension lets you use the room for more than just cooking. Add a large dining table or a cosy sitting area with a sofa or two. Making the kitchen multi-functional is perfect for family life. With sitting areas, you can socialise with guests while you cook, or keep an eye on the children while they play or work on homework, and still prepare dinner. 

If your kitchen leads onto the garden, bring the outside in with large glass doors and beautiful windows. This lets in natural light, and lets you enjoy your garden even more, creating flow between the two spaces. 

If you're adding a modern extension onto a more traditional home, make links to your home's history by adding some elements of the original in the new space. Show off any period features or create cohesion with traditional materials like wood, or by mixing in some more vintage-styled pieces of furniture.