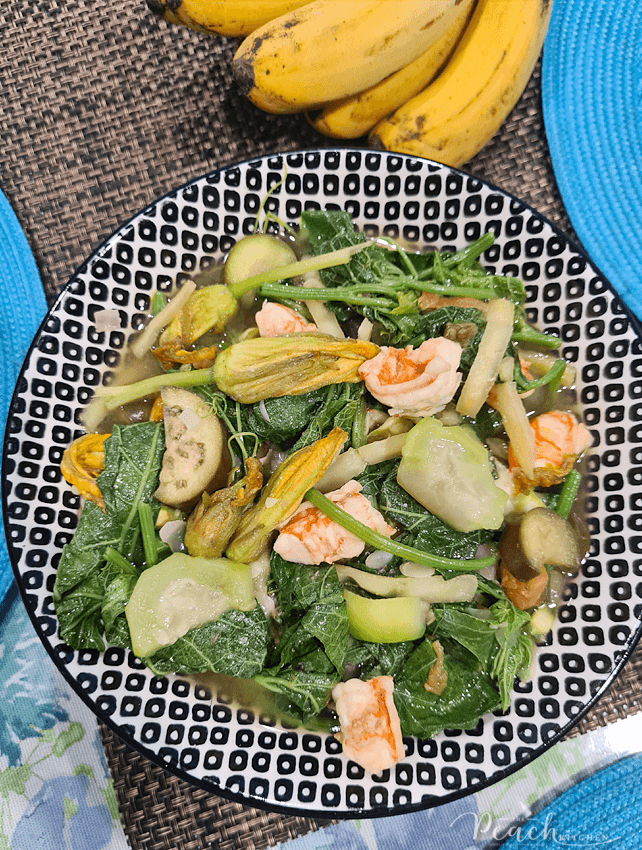 peanutbutter♥ (also known as DaddyDoodleDoo, the husband) has been on the look out for Sayote tops (or talbos ng sayote) for more than three weeks now. He has been craving for Gule Magalang ever since we've tried it at Abe's Restaurant several months ago. Talbos ng Sayote is not a common vegetable to be found at the wet market near our home. So he always try to look for it whenever he goes to the market. Fortunately, there was one bunch available today!
I haven't cooked Gule Magalang before but as per my research, it is also called Gulay Magalang and it is stewed vegetables made mostly of those that are grown at home in the province. Usual ingredients are talbos ng sayote, sayote, patola, eggplant, squash, and squash blossoms.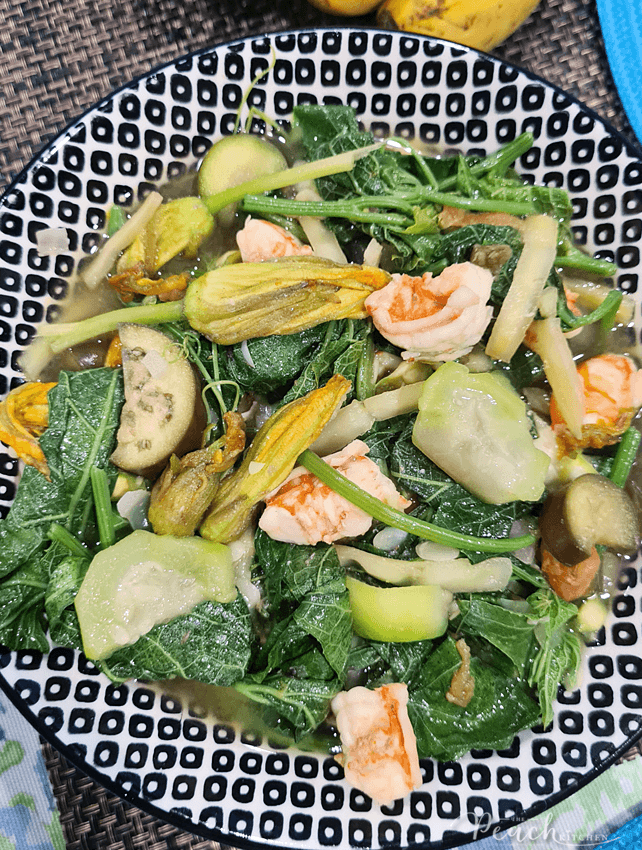 My version doesn't have squash, though because peanutbutter♥ for got to buy one. No squash but still delicious!. This is a healthy recipe that's so perfect for lent.
We love sayote tops and I think this is going to be a staple here at home from now on.
OTHER RECIPES YOU MIGHT LOVE…
Print
Gule Magalang
2 tbsp

cooking oil

4

cloves garlic, minced

1

white onion, chopped

500g

shrimp, shells removes and deveined

2 tbsp

shrimp paste (bagoong)

2 cups

water

2

patola, sliced lengthwise and sliced

1

eggplant, sliced lengthwise and sliced

1 cup

squash blossoms

1

bunch (around 4 cups) Sayote tops or talbos ng sayote

1

sachet Maggi Magic Sarap

2 tbsp

patis (to taste)
Instructions
Heat oil in a wok. Sauté garlic and onion until onion becomes translucent.
Add the shrimps and cook until it turns orange.
Add the shrimp paste and water. Mix Well.
Add the eggplant ang patola and cook for about 4 minutes.
Season with patis and/or Maggi Magic Sarap
Add the sayote tops and cook until wilted.
Add the squass blossoms, simmer for 30 seconds.
Turn off heat and transfer to your serving plate.
♥

IF YOU MAKE THIS RECIPE, KINDLY SNAP A PHOTO AND TAG @THEPEACHKITCHEN ON INSTAGRAM (OR HASHTAG IT #THEPEACHKITCHEN). I'D LOVE TO SEE WHAT YOU COOK