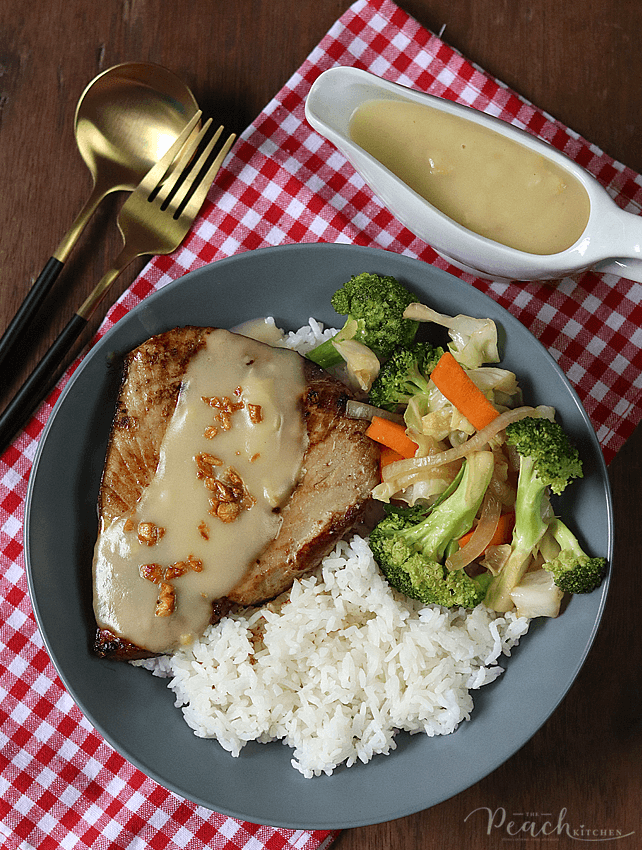 To tell you honestly, I haven't been cooking much these days.. Why? Because a lot of friends are sending food. I love cooking but there are only four of us in the family and sayang naman if we won't consume the food sent to us, diba?
I seldom go to the market too because of the ECQ and the pandemic so most of what I cook are either stock from the fridge or online order. But that one time we went to the market, I saw these fresh tuna steaks and got four slices for ₱260.
I already know what to do with them — these yummy Tuna Steaks that we all love. Super easy to cook, healthy and delicious.
I seasoned the fresh tuna slices with SaintC Cocomansi but if you don't have it, you can also use liquid seasoning or a mixture of soy sauce and calamansi. Then it was fried butter until brown on both sides. To make it more flavorful, buttery gravy is drizzled on top of it before serving. The recipe for the gravy is below — so easy to make. I also had stir-fried veggies on the side. What I have at the time I made this are broccoli, carrots, and cabbage so that's what I used. But sa stir-fried veggies, you can use whatever vegetables you have in your fridge –now's your chance to make use of your not-so-fresh vegetables para mailuto na..LOL!
Do you have a favorite tuna recipe?
OTHER RECIPES YOU MIGHT LOVE…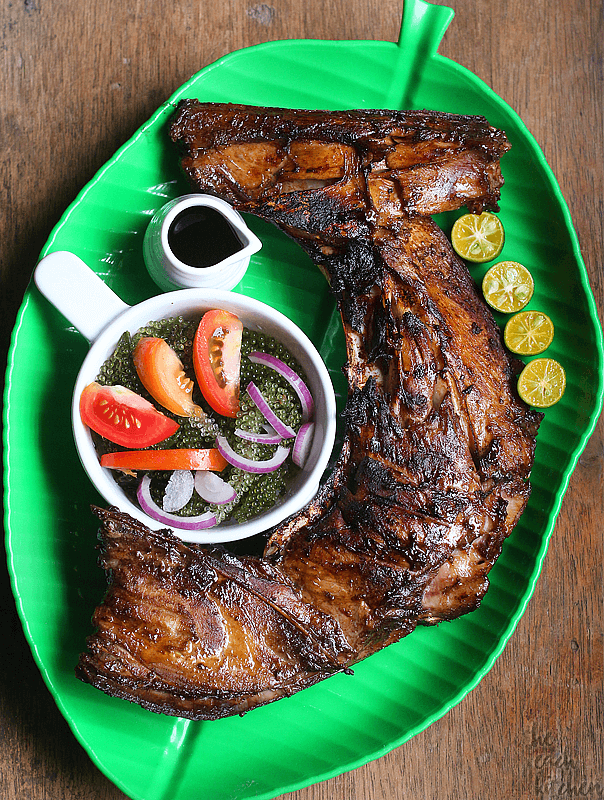 Print
Tuna Steak with Gravy
tuna steak

600g

fresh tuna, cut into steaks

3 tbsp

SaintC Cocomansi
butter for frying
gravy

2 tbsp

butter

2 tbsp

flour

4

cloves garlic, minced

1

chicken cube +

3 cups

water
salt and pepper
stir-fried veggies

1

white onion, sliced

1 tbsp

butter

2 tbsp

liquid seasoning

1

broccoli head, cut into pieces

1

carrot, cut into pieces

1

cabbage, cut into pieces
Instructions
Marinate the tuna steaks in SaintC Cocomansi for about 30 minutes.
[b]While tuna steaks are marinating, make the gravy:[/b] Heat butter and garlic in a pan. Let garlic infuse butter with flavor.Add the flour and continue stirring until it turns brown in color. Add chicken cubes and pour in water. Stir until free of lumps and bring into a boil. Add water if it becomes too thick. Season with salt and pepper to taste.
[b]Cook the stir-fried veggies:[/b] Heat the butter in a pan. Saute onion until fragrant. Add all the vegetables and the liquid seasoning. Stir and cover for about 5 minutes until cooked but still crunchy.
In a pan, heat around 2 tbsp of butter and fry each tuna steak for 2 minutes on each side.
To serve, put tuna steak on a plate and drizzle with gravy. Sprinkle with fried garlic before serving. Serve with stir-fried veggies and steamed rice
♥

IF YOU MAKE THIS RECIPE, KINDLY SNAP A PHOTO AND TAG @THEPEACHKITCHEN ON INSTAGRAM (OR HASHTAG IT #THEPEACHKITCHEN). I'D LOVE TO SEE WHAT YOU COOK