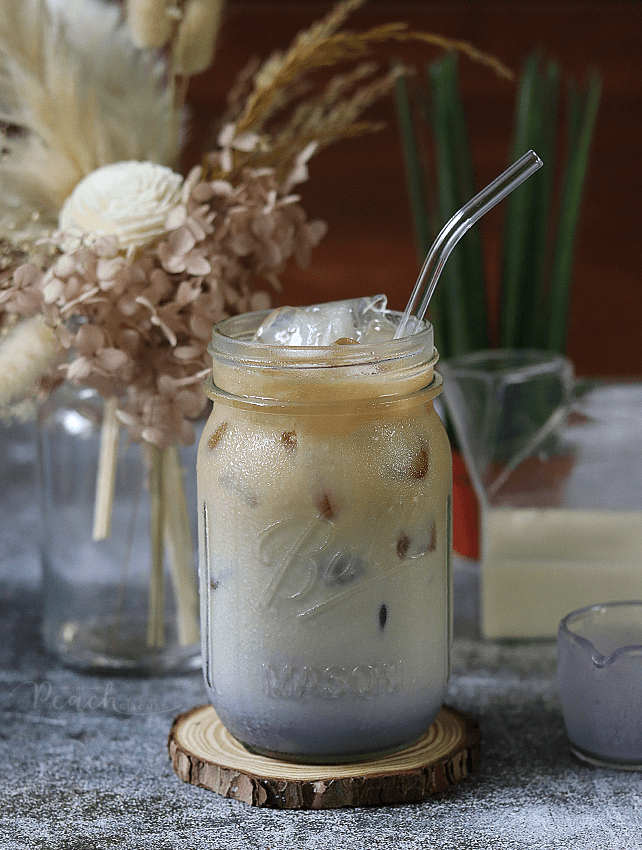 To tell you honestly, I seldom drink iced coffee here at home. When I drink my coffee, it has to be hot. And ever since I put up a coffee corner, I just add whatever ready-made syrup I have available. Among our favorites are French Vanilla, Toffee Nut, Pumpkin Spice, Popcorn, White Chocolate, Caramel Sauce, and Dark Chocolate Sauce.
Pero we had some leftover Ube Halaya this week. So I thought, why not make it into ube sauce, so my coffee can have a Pinoy twist this week? I liked it! Pero parang gusto ko mas violet pa, para mas maganda… I think I'll add some ube flavoring next time to enhance both the flavor and the color of the sauce. What do you think?
WATCH THE VIDEO HERE:

HOW DID I MAKE THE UBE SAUCE?
To make this creamilicious UBE SAUCE, I just combined Ube Halaya and evaporated milk. I mixed it well and let it simmer until it reached my desired thickness.
CAN I USE A DIFFERENT KIND OF MILK?
Yes, you can use whatever you like — whole milk, low fat, non-fat, almond milk, or oat milk. I used soy milk because it's what I like for my coffee and I have to lessen my dairy intake because of my Silent (Acid) Reflux.
WHAT KIND OF COFFEE CAN I USE?
You can use instant coffee, brewed coffee, cold brew, espresso, and even coffee alternatives. I used decaf coffee here because of my Silent (Acid) Reflux.
OTHER RECIPES YOU MIGHT LOVE…
Print
Iced Ube Latte
3 tbsp

ube sauce
lots of ice
soy milk
coffee
Instructions
Pour the ube syrup in a tall glass.
Put lots of ice and then pour in the milk
Brew your coffee or prepare your instant coffee with hot water and pour it on top of the milk.
Enjoy!