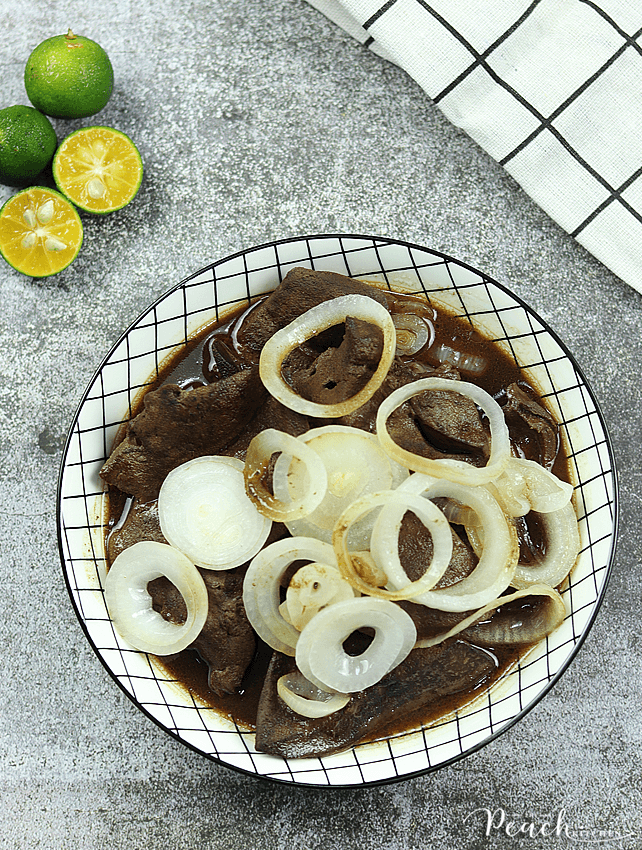 Pork Liver Steak or Liver Bistek is one of the many variants of our favorite Bistek Tagalog which uses pork liver instead of the usual beef. I was introduced to this dish growing up because my nanay told me I was anemic and I had to eat this because it's rich in iron. I had no problem, because — hey, I love liver — in menudo, in pancit, — in any dish you can put it in. So this easily became a favorite.
Just like our regular bistek tagalog, it's very easy to cook — takes 30 minutes – and the ingredients can easily be found in our kitchen everyday — toyo, calamansi, white onions.
WATCH THE VIDEO HERE:

You may season this with patis, if you think it still needs it. But for me, I don't add patis anymore because my family likes to have a dipping sauce of spicy patis with calamansi while eating. Alam nyo naman tayong mga pinoy, hindi nawawala ang mg sawsawan kapag kumakain. So it's really up to you.
Nagluluto rin ba kayo ng Liver Bistek?
OTHER BISTEK RECIPES YOU MIGHT LOVE…
Print
Liver Steak | Liver Bistek
1

kg pork liver, sliced

3/4 cup

soy sauce

3 tbsp

calamansi juice

1/4 cup

cooking oil

3

large white onions, sliced

1/2 cup

water
fish sauce to taste
Instructions
Marinate the pork liver in soy sauce and calamansi juice for one hour.
Heat oil in a pan and cook onions for one minute. Remove and set aside.
In the same pan, fry the pork liver until brown. Add the marinade and water.
Bring to a boil and simmer until the sauce has thicken.
Add back the onions and season with patis to taste.
Serve with steamed rice