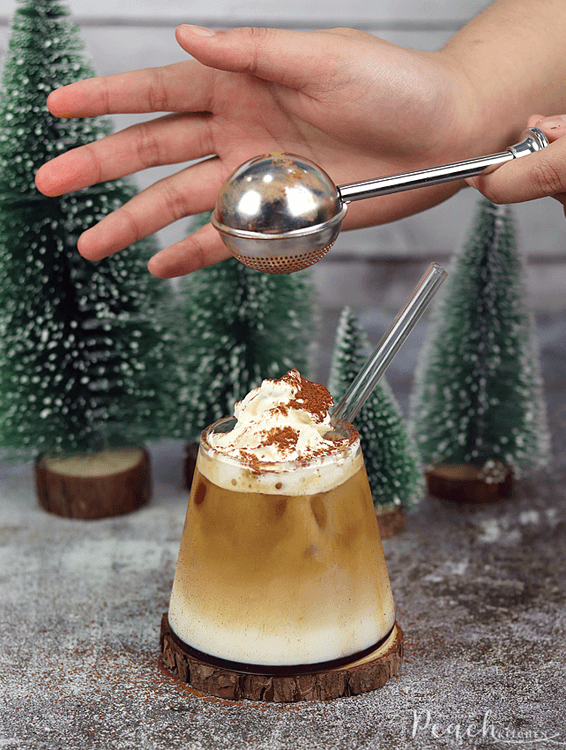 Iced Peppermint Mocha is one of my favorite holiday coffee drinks. I guess the combination of chocolate and peppermint makes it both indulgent and cool — and you associate it with Christmas time when the weather is cold and when it's okay to indulge and be happy.
Making this is very easy, all you have to do is combine chocolate syrup, peppermint syrup, lots of ice and milk. Then you top it off with whipped cream and cocoa powder
CAN YOU MAKE AN AFFORDABLE ICED PEPPERMINT MOCHA?
Yes. For example, you can make your chocolate sauce using (dark) cocoa powder, sugar, and water. Then use instant coffee for your coffee. You can also combine an instant chocolate drink and coffee. Pwede rin mag-melt ng chocolate bar and then use it as chocolate sauce. It's really up to you.
For the Peppermint syrup which is a bit pricey, lalo na if you're going to buy a big bottle, you can use Peppermint or mint extract(s). Start with ⅛ teaspoon and add more from there if needed.
CAN I USE A DIFFERENT KIND OF MILK?
Yes, you can use whatever you like — whole milk, low fat, non-fat, almond milk, or oat milk. I used soy milk because it's what I like for my coffee and I have to lessen my dairy intake because of my Silent (Acid) Reflux.
WHAT KIND OF COFFEE CAN I USE?
You can use instant coffee, brewed coffee, cold brew, espresso, and even coffee alternatives. I used decaf coffee here because of my Silent (Acid) Reflux.
For those who are coffee lovers out there like me, hope you give this coffee recipe a try. Let me know if you like it ha.
WATCH THE VIDEO HERE:
Print
Iced Peppermint Mocha
1 tbsp

chocolate syrup

1 tbsp

peppermint syrup

1/2 cup

ice

3/4 cup

milk

1

shot of espresso
whipped cream
cocoa powder for sprinkling
Instructions
Pour your chocolate syrup and peppermint syrup in a tall glass.
Put lots of ice and then pour in the milk
Brew your coffee or prepare your instant coffee with hot water and pour it on top of the milk.
Top with whipped cream and sprinkle cocoa powder before serving.
Enjoy!