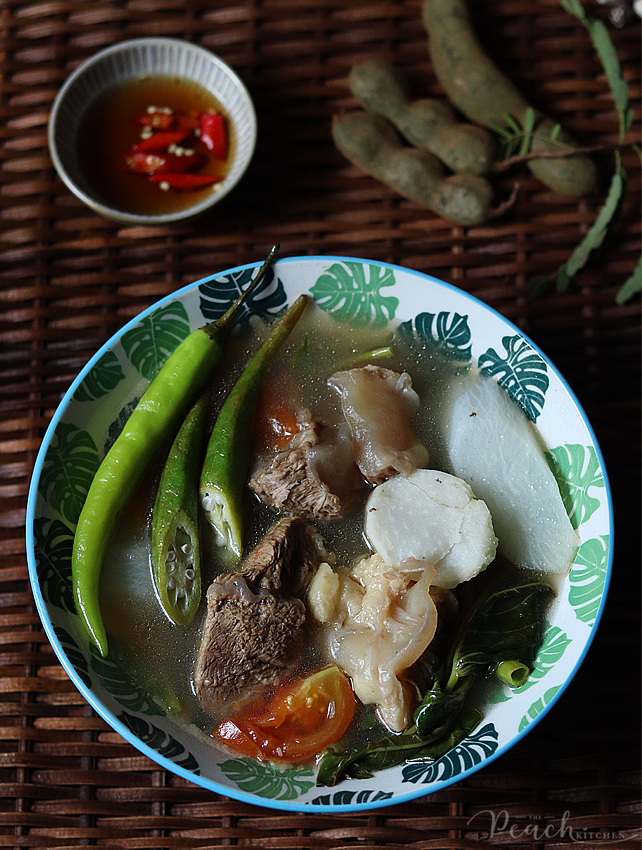 The remedy to an exhausting week : a bowl of steaming hot BEEF SINIGANG made from beef kneecap and ribs! I chose a mixture of the two beef parts because beef ribs is meaty and beef knee cap is bony, fatty, and has lots of tendons. This makes your Sinigang a lot more tasty.
Beef Sinigang is flavorful hug in a bowl and it could warm you up and comfort you like you could never imagine. I'm sure agree kayo dyan mga mommy. Maybe that's why this dish is everyone's favorite. Nobody could ever resist a serving of extra rice especially kapag may sawsawang patis na maraming sili!
What's your favorite SINIGANG, mommies?
OTHER SINIGANG RECIPES YOU MIGHT LOVE…
Print
Beef Sinigang
600g

tuhod ng baka (beef kneecap), chopped

400g

beef short ribs, cut into pieces

4

tomato, quartered

¼

kg unripe tamarind, boiled and juices squeezed out or sinigang mix

2

medium taro root (gabi), peeled and halved

1

large radish, peeled and sliced

12

pieces okra, cut in half

1

bunch of kangkong leaves, washed

2

pieces green chilies (siling pansigang)
patis with siling labuyo for sawsawan
steamed rice for serving
Instructions
Put the tuhod ng baka and beef ribs in your pressure cooker and pour enough water to cover it. Don't lock it. Bring it to a boil, removing scum just before the water starts to boil.
Turn heat to low. Add the tomatoes and simmer for 45 minutes.
Lock the pressure cooker and cook for another 30 minutes with the pressure cooker locked in.
After 30 minutes and pressure is removed. Skim the excess fat on top of the soup.
Turn on heat and bring to a simmer. Add the gabi and the radish.
Cook for 5 minutes then add the okra and green chillies, cook for three more minutes then add the kang kong leaves. and cook for an additional 2 minutes.
♥ If you make this recipe, kindly snap a photo and tag @thepeachkitchen on Instagram (OR hashtag it #thepeachkitchen). I'd love to see what you cook!