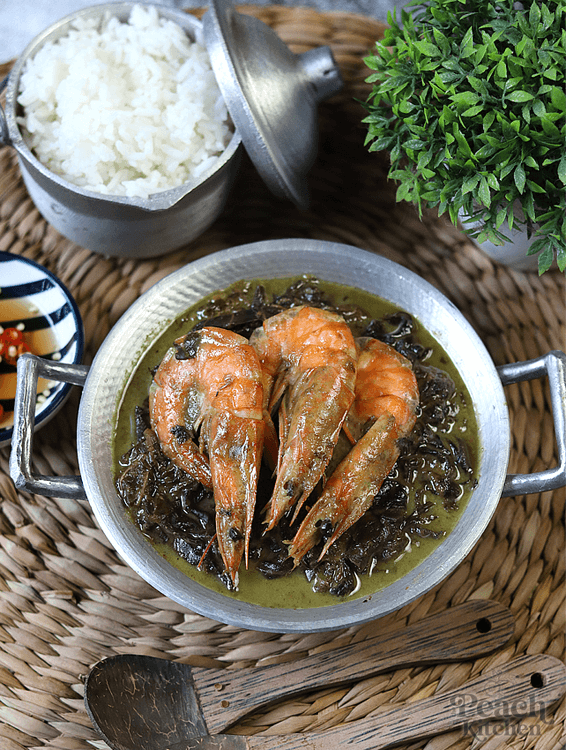 Whenever I cook Laing, I usually cook Laing with Pork or without any meat at all because it's usually paired with either fried fish or fried pork. It's my first time to cook Laing with Shrimp.
Laing is a Filipino dish made of dried taro leaves with meat or seafood cooked in thick coconut milk spiced with labuyo chili. It can be dried (nagmamantika) or creamy with thick creamy sauce.
Laing with Shrimp Video Recipe
I used to love super spidy Laing but these days I don't put chili na because I have LPRD ( Silent Reflux, a form of acid reflux) at bawal sa akin ang anything spicy. Another reason is, Twinkle is also eating this.
Ano pa bang pwedeng isahog sa Laing? Share nyo naman sa comments.
Print
Laing with Shrimp
2 tbsp

cooking oil

6

cloves garlic, minced

1

-inch knob of ginger, sliced

250g

shrimp, washed and cleaned

1/4 cup

sweet bagoong

3

–

4

cups coconut milk

1 cup

coconut cream (kakang gata)

2

bowls dried gabi (taro)leaves

1 tbsp

patis
siling labuyo (optional)
Instructions
Heat oil on a wok and sauté the garlic and ginger for about 1 minute.
Add the shrimp and cook for another minute.
Add the sweet bagoong and mix well.
Add the coconut milk and bring to a boil.
Add the gabi leaves and mix well.
Bring to a simmer and simmer for about 10 minutes. Remove the shrimp because it will become overcooked.
Continue simmering on low heat until the leaves are wilted and soft — about 20 minutes. Adding water or more coconut milk if the sauce is drying up.
Add the coconut cream and simmer for 5-10 more minutes. Add the bird's eye chili, if using.
Season with patis and add back the shrimp.
Mix well and it's done.
Serve with steamed rice.