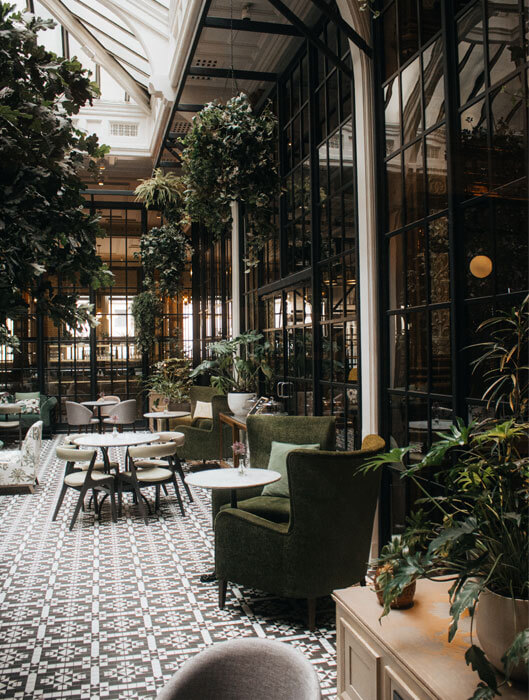 These days, so many people own dogs that bars, cafés, and restaurants have seen an opportunity and now also welcome their customers' canine companions.
In fact, a quick Google search will present you with a dazzling range of venues that cater to dogs as well as their owners. There are even eateries that offer special menus for dogs!
Here, in no particular order, are our favorite top ten dog-friendly restaurants in the US!
1. The Watering Bowl, Denver, Colorado
The Watering Bowl in downtown Denver is a firm favorite with many dog owners and their pampered pooches.
This remarkable place incorporates a dog park and restaurant. Although the restaurant doesn't provide meals for dogs, your furry friend can romp and play off-leash with other canines on the massive outdoor patio. Meanwhile, you can refuel on delicious chicken wings, or mammoth burgers washed down with an ice-cold Colorado beer.
2. Fred 62, Los Angeles, California
You'll find the legendary Fred 62 on the edge of Griffith Park in Los Angeles.
This hugely popular eatery is open 24 hours a day, offering a wide range of food, such as mouthwatering fried chicken, ramen, waffles, or a tasty brunch. Veggies are not forgotten, thanks to the extensive plant-based menu
You can also enjoy an endless supply of excellent specialty coffee to wash down your meal or simply start your day with a caffeine boost.
Your dog is welcome to join you, so you can enjoy a spot of celebrity spotting with your furry friend while you sip your coffee or enjoy an excellent meal.
3. Lost Dog Café, Virginia
The Lost Dog Café is a popular chain of restaurants and bars with multiple sites across the state of Virginia.
Here, you can refuel after a long dog walk by choosing from an impressive selection of pizzas and quenching your thirst on a warm day with one of the craft beers on offer. Fido isn't forgotten, thanks to the range of tasty treats for Goldendoodles and other pups on the menu.
And, for an added feel-good feeling, you know that a generous percentage of the Lost Dog's profits are donated to the Lost Dog & Cat Rescue Foundation to help homeless and unwanted pets.
4. Boris & Horton, New York City
Boris & Horton in New York City has to be one of the most pet-friendly places on the planet!
This eatery is totally dog focused. Your dog can wander off-leash around the restaurant, and he's even welcome to hop up onto the seats if he feels the need to rest his paws. You can relax and watch your furry friend enjoying his freedom to roam while you snack on posh toast or a delicious Danish.
Boris & Horton hosts canine CPR courses, puppy birthday parties, and other celebrations too. In addition, the restaurant holds regular events to raise funds to support the city's unwanted dogs and find them loving, forever homes.
5. Tin Shed Garden Café, Oregon
The Tin Shed Garden Café in Portland, Oregon, is the perfect venue to visit if you want a delicious brunch after a long walk with your canine companion.
The food they serve here is all responsibly sourced, including scrambled egg stacks, French toast, and breakfast burritos. Your dog won't feel left out, thanks to the separate menu of doggy dishes, including the yummy free-range chicken! You can make a donation to the restaurant's selected animal charity by purchasing a branded bandana for your furry friend.
6. Bangers, Austin, Texas
Bangers restaurant is unique among dog-friendly eateries in that it's a "sausage house" and beer garden. If you love sausages and associated porky fayre, this is the place for you!
At Bangers, you can munch on an incredible range of homemade sausages, pig roasts, and even pickled veg. On Sundays, come here with Fido to enjoy brunch washed down with a glass of craft ale.
Your furry friend can accompany you to Bangers, and if he wags his tail hard enough, the restaurant staff might even present your pup with a sausage or three!
7. The Olde Pink House, Savannah, Georgia
The Olde Pink House restaurant in Savannah, Georgia, is found within a splendid 18th-century mansion. The restaurant serves an impressive selection of traditional favorites, including jumbo shrimp cocktail and chicken pot pie. The restaurant's wine list is pretty impressive, too!
Obedient, leashed dogs are welcome to sit with their owners on the vast patio area where you can enjoy stunning views across the countryside. But if you want to enjoy the delights of the Olde Pink House, you'll need to book well in advance, as this restaurant is hugely popular.
8. Yellow Dog Eats Kitchen & Bar, Florida
If you live in Florida, you must check out the Yellow Dog Eats Kitchen & Bar in New Smyrna Beach, Florida.
When you come to the Yellow Dog, you must be hungry! The menu here is incredible, featuring delicious delights like turkey or tuna with maple roasted bacon, pulled pork sandwiches, and Mexican wraps, to name a few. If you've worked up a thirst as well as an appetite on a dog walk, you'll want to grab a craft beer on tap too.
The staff here are all dog-lovers, so your pet is assured of a warm welcome and lots of fuss!
9. Lazy Dog Restaurant & Bar, Las Vegas
In the Lazy Dog Restaurant & Bar, dogs get to enjoy their very own menu!
Even a fussy furry friend will be tempted by chicken breast and grilled hamburgers, served up with brown rice and healthy vegetables. Meanwhile, you can choose from a range of scrumptious cakes and pastries, or perhaps a smaller snack from the huge, small plates menu.
10. The Original Crab Shack, Georgia
The restaurant's motto, "where the elite eat in bare feet," sets the tone for the Original Crab Shack in Tybee Island, Georgia.
This is a super-casual, incredibly popular restaurant that started life as a modest seafood shack. Here, you can chow down on all-time favorites, including raw oysters, clam chowder, and fresh, locally caught seafood.
Dogs are also welcome to relax and kick back here with their owners. The dog-loving staff here host doggy parties and other canine events, and all the proceeds from the restaurant's branded merchandise go to a local canine rescue.
Final Thoughts
Many restaurants across the US now welcome well-behaved dogs with their owners. Many eateries also offer a dog-focused menu so that your dog can munch on lunch alongside you.
What could be more fun than a delicious lunch or brunch for you and your pampered pooch after a long, long hike on a weekend morning?