Flavorful and tender chicken breast cutlets in bright lemon sauce with tangy capers and touch of fresh herbs over pasta… oh, and did I say you can make this in under 30 minutes?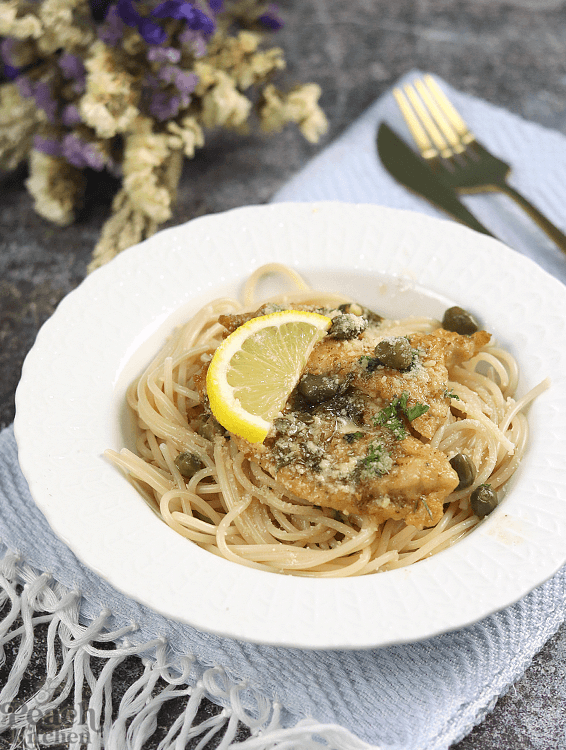 Oh well, my number one problem these days aside from mahirap mag-isip ng ulam … is mahirap din mag-isip ng baon! It's a good thing that Ykaie sometimes makes a request of what she wants to eat and what she wants for baon. This Chicken Piccata tops the list this week. This pasta dish has easily become her favorite and mine too — because aside from being delicious and healthy, it's soooo easy to cook as well.
For baon, I put this in her Bubee Lunch Jar which I love so much because it keeps her food warm until lunch time. If you want to buy this for your child, here's a link: https://tinyurl.com/lunchjar
WATCH THIS CHICKEN PICCATA RECIPE VIDEO
Did you watch the video and see how easy it is to cook this? Saya no? But sometimes, you may find the sauce to be too thin — to make the sauce thicker, you can add 1-2 tbsp of butter towards the end of cooking.
Hope this pasta recipe finds its place in your weekly menu too! Thanks for dropping by today.
Print
Chicken Piccata
500g

chicken breast fillets, butterflied and cut

1/4 cup

flour

3 tbsp

butter

3 tbsp

olive oil

1 1/2 cup

chicken stock (or

1 1/2 cup

water + 1 chicken cube)

1/3 cup

capers
juice of

1

lemon
salt and pepper to taste
chopped parsley
grated parmesan cheese

300g

spaghetti, cooked according to package directions
Instructions
Season both sides of chicken breast with salt and pepper.
Put flour on a plate and dredge each side of chicken breast lightly, shake off excess.
Heat butter and olive oil in a pan.
Fry the chicken breast until golden brown, around 3-4 minutes each side. Put it on a plate and set aside.
In the same pan, add chicken stock, lemon juice, and capers. Whisk to scrape off the bits and let it dissolve into the sauce. Bring to a boil and simmer for 2 minutes.
Put the chicken back in the pan and simmer for another two minutes.
Sprinkle with chopped parsley.
To Serve: Put cooked spaghetti on a plate. Top with 1-2 pieces chicken and then a few tbsp of sauce. Sprinkle with grated parmesan cheese and more parsley.