Cookies are small, sweet treats made of flour, sugar, and butter. They come in various shapes and sizes, from classic chocolate chip cookies to exotic creations like gingerbread or snickerdoodles. Bakers worldwide have been perfecting the art of making delicious cookies for centuries; today's bakeries use specialised techniques to ensure that their cookies remain fresh and tasty.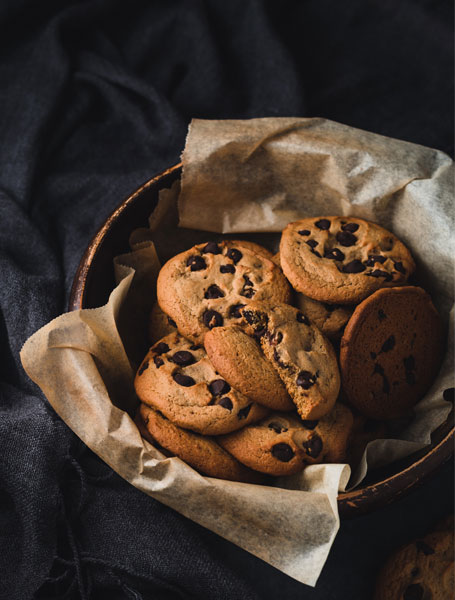 One of the most common techniques bakers use is controlling the temperature and humidity of their store or bakery space. Inconsistent temperatures can cause air moisture, affecting how quickly food spoils. Keeping temperatures consistent helps keep cookies crispy for more extended periods. Additionally, bakeries often use sealed containers or bags to help protect against excess moisture from getting into the cookies and keeping them from becoming soggy.
Bakers also take precautions when it comes to the ingredients they use. As cookies have multiple ingredients that can go bad, bakers must use quality products and only store them for a short time. Doing so helps keep the cookies fresh and delicious for longer.
Another way bakers keep their cookies fresh is through packaging. Many bakeries use specialised packaging to protect their goods' quality, increasing their baked treats' shelf life, which includes using airtight containers or bags that help trap moisture and preserve cookies for days or weeks. Some bakeries also employ vacuum sealers to remove any air from inside the packages, further preserving the freshness of their cookies.
Bakers may also take steps to reduce waste by ensuring customers purchase what they need. Many bakeries use smaller packages containing two or three cookies instead of packing them in large batches. This method helps keep cookies from getting old too quickly and makes it easier for customers to buy what they need.
Finally, bakers must pay attention to the expiration dates on their products. By paying close attention to these dates, bakers can ensure that their customers receive fresh goods every time. By following the methods described above, bakers can help ensure their cookies remain crisp and delicious for as long as possible. From controlling humidity levels and using quality ingredients to packaging accurately and monitoring expiration dates, there are many practices that bakers can employ to keep their customers coming back for more.
Why You Should Consider Using a Cookie Delivery Service
Using a cookie delivery service can save time and energy for busy bakers. Instead of having to bake, package, and deliver cookies alone, they can rely on a professional delivery service to take care of it all. This approach means that bakers don't have to worry about spending hours in the kitchen or making multiple trips around town to get their treats into customers' hands.
A cookie delivery service also ensures that customers receive fresh goods each time they order. As the cookies are delivered straight from the bakery, there's no need to worry about them going stale before they arrive at their destination. Additionally, an experienced delivery team will know how to transport sensitive items like cookies to remain as fresh as possible throughout transit.
Another benefit of using a cookie delivery service is a convenience for both bakeries and customers. Customers immediately get their orders since deliveries are usually made within 24-48 hours after purchase, meaning those delicious treats could be in your hands sooner than you think. And with many services offering tracking updates along the way, customers can stay updated on when exactly their order will arrive without having to call or email the bakery directly.
Finally, opting for a cookie delivery service can save bakeries money on packaging and delivery costs. Many services offer discounts for bulk orders, making it more affordable to deliver goods directly to customers' homes or businesses. Additionally, as the delivery service takes care of all the packing and shipping details, bakers won't have to worry about paying extra for materials or staff time. Some cookie delivery services also offer cookie of the month clubs, allowing bakers to offer customers recurring discounts and loyalty rewards.
By using a cookie delivery service, bakers can keep their cookies fresh while providing convenience to their customers. With professional assistance taking care of all the hard work, bakers can focus on what they do best: delicious baking treats that keep customers coming back for more.
The Bottom Line
Bakeries use several ways to keep their cookies fresh and delicious. From controlling humidity and using airtight containers to monitoring expiration dates and using cookie delivery services, there are many steps that bakers can take to ensure their customers receive the best-tasting treats every time. With these methods in mind, bakeries can keep their cookies fresh and delicious for as long as possible.