With our busy lives and limited time for shopping and cooking, it's no surprise that we sometimes run out of the inspiration that's needed to create delicious and interesting dinner menus.  To help spark your creativity and put some fun and flair back into your offerings, here are7 great ideas which can help you approach menu planning from a different angle.  Find 4 menus that fit into each theme, and you'll have an entire month of original and enticing dinners!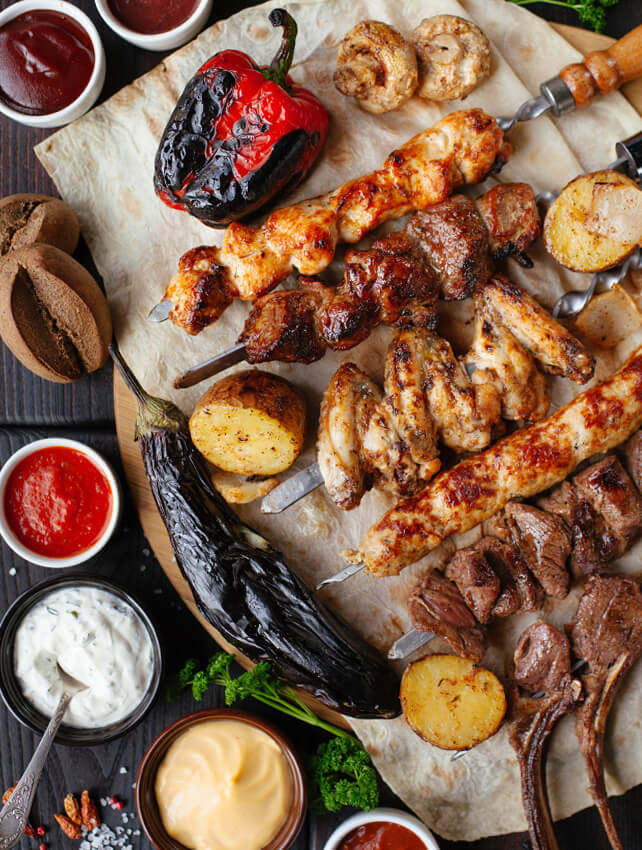 1.      Choose a Regional Food Theme
Choose a theme based on national or regional cuisines.  While Italian and Mexican might be the obvious choices, why not be a little more adventurous? What about some fabulous Eastern European comfort food, or a wonderful Lebanese grill with dips? Or go regional with some modern Californian classics or Creole casseroles. If you're concerned about the extra time you'll need shopping for unfamiliar ingredients, why not opt for a home delivery service so that what you'll need for the week ahead will be delivered to your doorstep?
2.     Choose a Health Theme
If you're at the point when you feel that you'd like you and your family to switch to a healthier way of eating, but feel that a drastic change would cause some resistance, why not include one dinner per week with a healthy theme? For example, ketogenic diets have been a massive trend in 2020, so why not prepare a delicious dinner rich in proteins and micronutrients, for everyone to try?  There are a huge number of low-carb keto-friendly recipes online, even including desserts.  Alternatively, you could go for  'raw food' or 'detox' dinners with a huge range of salads, and fruits. The key here is to focus on an attractive presentation, and ensuring that there's plenty to go round, so everyone feels satiated.  There are plenty of ways to incorporate a health theme with menus for weight-loss, energy gain, or heart health, among others.
3.     Choose a Period Theme
Travel back in time with some favorites from the decade you grew up in. The 1970s: maybe you loved prawn cocktails in a glass, quiches, Watergate salad (actually a dessert), and so on. The 1980s: Chicken kievs, beef stroganoff, vol au vents, and, wait for it, dirt cake. The 1990s: tuna mac and cheese, stuffed crust pizzas, molten lava cake, and virtually anything that could be layered or shaped into a tower. And who could forget the classic Doritos casserole?  By the 2000s, we were moving more into smoothies, and healthier watermelon and feta salads, with just time for the occasional cupcake
If you really want to surprise everyone, why check out some vintage recipes from the 40s and 50s? Most likely these will be economical and won't need any exotic or hard to find ingredients.
4.     Choose a Service Theme
Getting bored with serving your food in the same old way? Try some out of the ordinary serving options. Fondues, whether sweet or savory, are always fun as people dip and share. If you don't already own a fondue set, they're easy to pick up at sales or online, as almost everyone seems to have received one as a gift at some point.
Alternatively, go Spanish with tapas. Instead of one main item as the focal point for the meal, choose several simple, tasty dishes inspired by the fresh cuisine of the Iberian peninsula, and let everyone take what they want from each plate.  These can include cold hams, spicy sausages, and cheeses, so there doesn't need to be a huge amount of cooking or elaborate ingredients.
5.     Choose Organic and Local
Very often, local organic producers will deliver to your door, often providing all the ingredients you need to assemble and prepare a 'recipe of the week'.  Surprise your family with an unexpected seasonal menu, bursting with freshness and flavor.
6.     Choose Traybakes
The ultimate prepare and forget option, there are a huge number of ways you can assemble a traybake. Then just place in the oven to let it cook slowly so the flavors combine perfectly grab a glass of wine, and wait for the compliments.
7.     Choose Modern Vegan
Feel you've been too heavy on meat and dairy ingredients recently? If you're convinced that vegan food will be stodgy and tasteless, just check out some of the chefs and recipes trending on Instagram. Modern vegan food is light, healthy, and bursting with flavor, so there's no need to dive in full time:  just choose to make it a welcome change from time to time, then let your family and friends tuck in and enjoy.