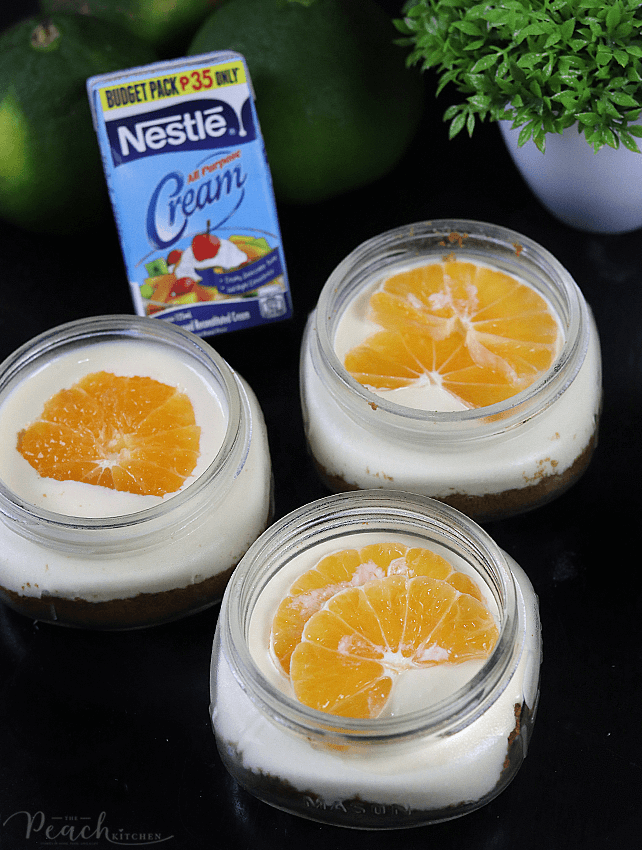 The second recipe we made during our 2nd FB Live is this: Calamansi and Dalandan Graham Ref Cake. Ykaie and I both love ref cakes.. eh alangan namang puro Mango Graham Cake na lang ang gagawin natin parati. Of course, we have to try different flavors from time to time so we can have variety.
Perfect timing 'cause it's dalandan season. We could use a boost of Vitamin C. Those are just some of the reasons why we chose to make this graham ref cake. Another reason is that citrus and cream is one of the best flavor combinations… I hope you agree with me.
And I hoped you watched us on our 2nd Fb Live too.. In case you missed it, you can catch a replay below.
WATCH THE FB LIVE HERE:
You can make this using a square container very much like the traditional graham ref cake or you can also make this using a jar. It's cuter and it will come in a single serve size, you don't have to cut it anymore.
Make this for your family this weekend. I'm sure they will love it.
OTHER GRAHAM RECIPES YOU MIGHT LOVE…
For more cooking creamspirations, drop by www.createwithcream.ph.
Print
Calamansi and Dalandan Graham Ref Cake
4

pcs calamansi

¼ cup

cream cheese, softened

1

pack NESTLÉ® All Purpose Cream 125ml, chilled

1/3 cup

condensed milk

12

pcs graham crackers, crushed

3 tbsp

butter, melted

1 tbsp

sugar

3

pcs dalandan, peeled and sliced
Instructions
Zest 1 tsp of calamansi rind. Squeeze calamansi juice.
Combine cream cheese with calamansi zest and juice. Add NESTLÉ® All Purpose Cream and condensed milk. Whip until light and smooth.
Mix graham crackers, butter, and sugar. Press at the bottom and sides of a pie pan.
Pour into the serving container and top with dalandan. Chill overnight. Serve well chilled.
♥ If you make this recipe, kindly snap a photo and tag @thepeachkitchen on Instagram (OR hashtag it #thepeachkitchen). I'd love to see what you cook!