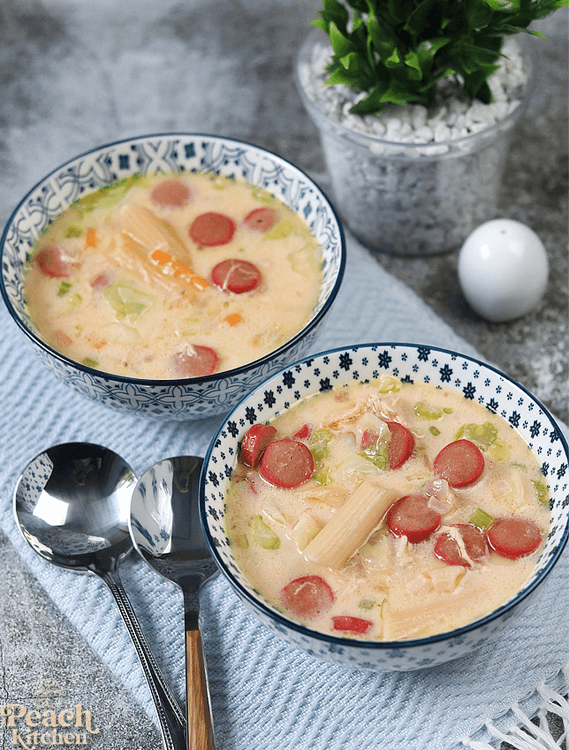 Like I said before, it's been raining non-stop for three weeks now. Partially, because of the two typhoons that passed by the country. but now, it's just the Habagat being pulled by it. The weather's really cold and wet. That's why I think this Chicken Sopas is long overdue…heehee.
Chicken Sopas is a classic Filipino dish that is loved by many for its comforting flavors and creamy texture. It is a hearty soup made with chicken, macaroni noodles, vegetables, and milk. Perfect for chilly days or when you're in need of a warm and nourishing meal.
WATCH CHICKEN SOPAS RECIPE VIDEO HERE
To give my sopas a small twist, I decided to mix penne and macaroni pasta in today's recipe. It was a creative way to use up the leftover pastas I had in my kitchen, and it turned out to be a delicious amalgamation of flavors and textures.
With each spoonful of this comforting chicken sopas, you'll be transported to a cozy place where the rain outside only adds to the warmth and comfort inside. It's a dish that brings people together, nourishes the body, and lifts the spirits.
So, the next time the rain starts pouring and the weather turns cold, make yourself a bowl of Chicken Sopas. Indulge in its creamy goodness and let it bring comfort to your soul.
Notes:
Serve the chicken sopas hot and garnish with chopped spring onions or fried garlic for added flavor. It pairs well with toasted bread or pandesal.
You can also add hard-boiled egg to make it more hearty.
You can also try other ingredients to flavor it.. like corned beef. Try my Corned Beef Sopas Recipe
Print
Chicken Sopas : A Comforting Filipino Delight
1 cup

macaroni, cooked according to package direction ( I used

1/2 cup

penne and

1/2 cup

salad macaroni)

half a

chicken breast, boiled and shredded, chicken stock set aside
chicken stock that you set aside, add water to make it about 3-4 cups

2 tbsp

cooking oil

5

hotdogs, sliced

1

onion, chopped

4

cloves garlic, chopped finely

1

large carrot, julienned

2

stalks celery, cut into pieces

1/2

cabbage, cut into small pieces

1

chicken cube
patis and pepper to taste

1

large can evaporated milk
Instructions
Heat oil in a pot and fry the hotdogs. remove from pot and set aside.
In the same pot, sauté garlic and onion until translucent.
Add the shredded chicken, season with patis, and sauté for 30 seconds.
Pour in the chicken stock. About 3 cups, add water if needed.
Add the carrots, celery, cooked pasta, and hotdog. Mix well.
Add the chicken cube. Cover and bring to a simmer.
Add the evaporated milk and cabbage.
Bring to a simmer and simmer until cabbabe is cooked.
Season with patis and pepper.
Turn off heat and serve piping hot.