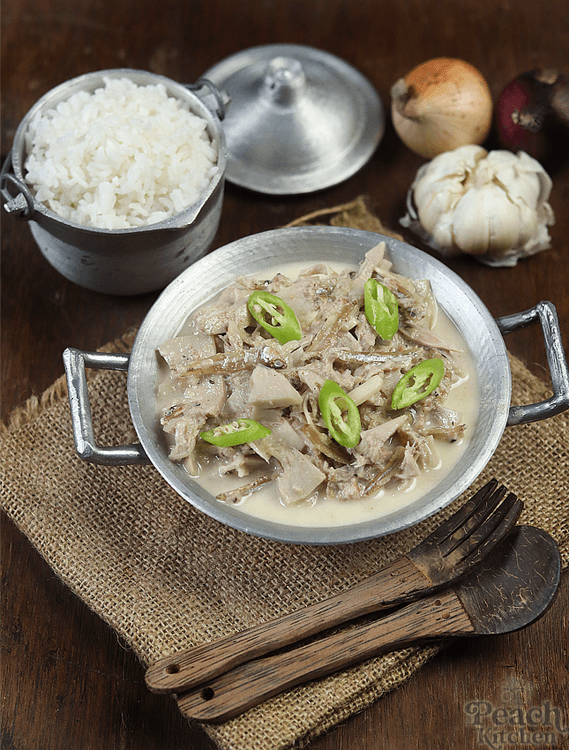 It's been almost three weeks of rain due to two typhoons that passed by the country. Dahil hindi makalabas, for us rainy days are a great opportunity to experiment in the kitchen. We try out new recipes we've been wanting to tackle or whip up some comfort food favorites so we can cozy up the living room to watch Netflix… hihihi. So for today's ulam, we tried adding dried dilis to our Ginataang Langka instead of the usual pork.
Ginataang Langka with Dilis is a delightful creamy Filipino dish that combines the unripe jackfruit, the rich creaminess of coconut milk, and the savory dilis (anchovies). This dish offers a perfect balance of flavors and textures that will surely satisfy your taste buds.
WATCH GINATAANG LANGKA WITH DILIS RECIPE VIDEO
My original plan was to fry the dilis and just top it on the Ginataang Langka. Kaya lang ito namang si Daddydoodledoo gusto ay kasama sa pagluto kasi parati syang nasusugatan ng malulutong na pagkain 😅 Kaya ayan, kasama na lang.
Notes:
You can adjust the amount of dilis according to your preference for a stronger or milder flavor.
If you like a bit of heat, you can add chopped chili peppers or chili flakes to the dish.
This dish pairs well with steamed rice or can be enjoyed with adlai or cauliflower rice.
Try this twist on the classic Ginataang Langka and experience the delightful combination of flavors. Ano pa ang sinasahog nyo sa Ginataang Langka, mga momshies? Share nyo naman sa comments para ma-try ko rin.
Print
Ginataang Langka with Dilis
1 tbsp

cooking oil

1

onion, chopped

4

cloves garlic, chopped finely

1 cup

dried dilis (anchovies)

3 tbsp

sweet bagoong

500g

unripe langka or jackfruit, sliced thinly

3

–

4

cups coconut milk

1/4 tsp

ground black pepper
patis (to taste)
Instructions
Heat oil in a pot and sauté the garlic and onion until translucent.
Add the dilis and cook for about 1-2  minutes.
Add the bagoong and cook for about 1-2 minutes.
Add the unripe langka and mix well.
Pour in the coconut milk and stir.
Cover and simmer for 20 minutes or until the jackfruit is tender.
Adjust the seasonings. Season with pepper and patis (depending on your taste)
Add chili if using
Turn off heat and serve with steamed rice.