This flavorful Rice Cooker Chicken with Mushroom and Chinese Sausage is packed with tender chicken, aromatic Chinese sausage, and earthy mushrooms. It's a simple and convenient one-pot meal that you can easily prepare in your rice cooker.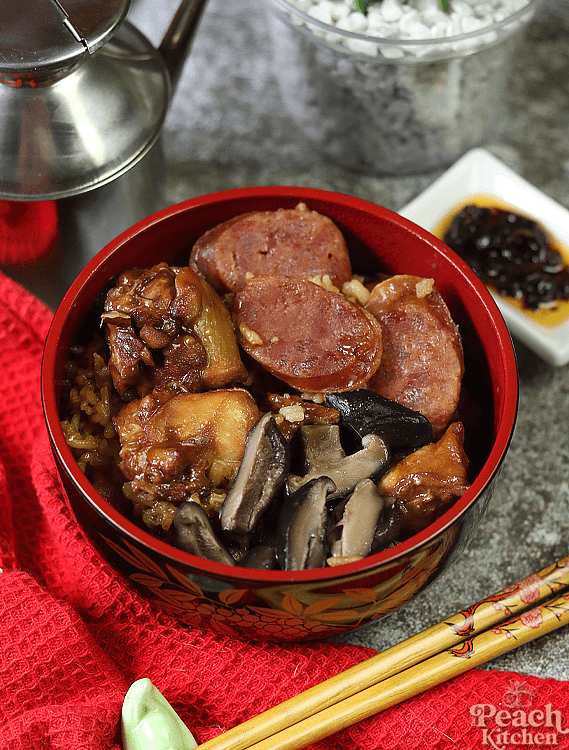 Moms like us are often in search of flavorful dishes that requires minimal effort to cook. Look no further fellow busy momshies! I'm gonna share with you a delightful one-pot dish that you can cook on your busy days or tamad days. Paano ko nasabi? Because you can cook this in your rice cooker. Yeees, rice and ulam na isang lutuan na lang… Ang saya diba?
This Chicken with Mushroom and Chinese Sausage is actually one of our favorite dishes to order in a Chinese restaurant. I already tried cooking it the way it's really cooked – steamed but yun nga, on busy or lazy days, you can also just let your rice cooker do the cooking for you.
WATCH CHICKEN WITH MUSHROOM & CHINESE SAUSAGE RECIPE VIDEO
The Magic of the Rice Cooker
One of the greatest advantages of this recipe is its simplicity. By using a rice cooker, you can effortlessly create a delicious meal without having to constantly monitor the stove. Rice cookers are typically associated with perfectly cooked rice, but they can also be utilized to prepare a variety of dishes, including this tantalizing chicken and sausage combination.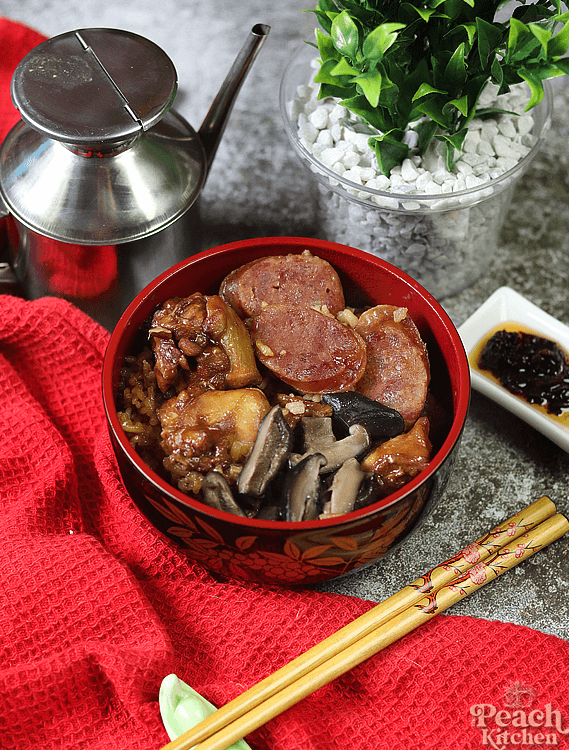 All you really have to do with this is marinate the chicken in the seasoning for at least one hour. Of course, it's better if you can marinate it overnight so the flavors can meld really well together. Then the next thing, dump everything in the rice cooker on top of the rice. Close the lid of the rice cooker and press on.
Next thing you know, you're already eating this flavorful Rice Cooker Chicken with Mushroom and Chinese Sausage. Serve this with Chili Garlic Sauce to give it a spicy kick.
Notes:
I used Shaoxing wine for this recipe. You can buy it in any big supermarkets like SM, Landmark, Robinsons.
Because it was raining and I can't go to the grocery, I used canned shiitake mushroom. I didn't like it. Use fresh or dried and just rehydrate it by soaking it in water.
Print
Rice Cooker Chicken with Mushroom and Chinese SausageRice
750g

grams chicken, cut into bite size pieces (I used  chicken leg quarter fillet)

4

pieces chinese sausage sliced

1/2 cup

canned shiitake mushroom, sliced

3 cups

rice
Seasonings
1 tbsp

sesame oil

1 tsp

shaoxing wine

1 tbsp

dark soy sauce

2 tbsp

light soy sauce

2 tbsp

oyster sauce

1

-inch knob of ginger, sliced

1 tbsp

sugar or honey

2 tbsp

cornstarch
Instructions
In a large bowl, combine all the seasoning ingredients, except for the cornstarch and mix well.
Add the chicken and mix well. Add the cornstarch and mix again. Make sure each chicken piece is coated by the sauce.
Marinate for at least 1 hour.
Wash your 3 cups of rice and add 3 1/4 cups of water.
Layer the marinated chicken (including marinade), chinese sausage, and mushroom, on top of the rice.
Close the lid and press on. Just wait for the rice cooker to turn off, just like when you're cooking plain rice. It's done!
Serve hot with chili garlic oil on the side.
Enjoy!