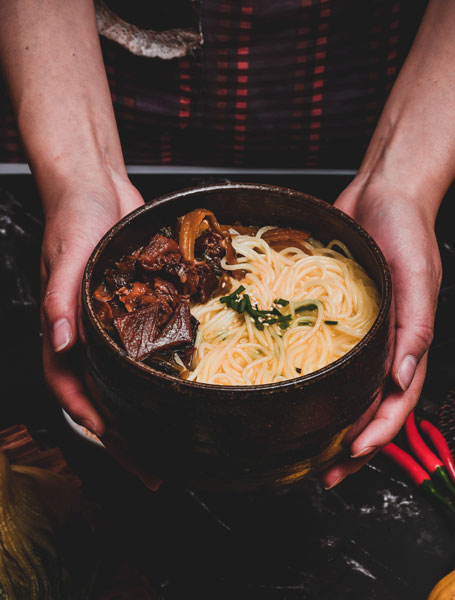 A hot bowl of ramen is like a cozy embrace, a fusion of flavors that comfort the soul and enliven the senses. For those of us who cherish the harmonious blend of noodles, broth, and toppings, each bowl is an exploration, a delightful journey of taste. Now, let me introduce you to five meaty masterpieces in the world of ramen recipes that will make your taste buds dance with joy!
Pork Ramen
First up, let's indulge in the ever-classic pork ramen. Visualize tender noodles partnered with savory pork slices and fresh veggies, all basking in a broth that's a melody of flavors. If ramen is uncharted territory for you, this dish is your golden ticket – uncomplicated yet offering a taste spectacle with every mouthful.
Spicy Beef Ramen
For the spice enthusiasts among us, the spicy beef ramen is nothing short of a celebration. Imagine juicy beef slices melding perfectly with a broth that's as spicy as it is aromatic. It's not just a meal but a warm embrace on a cold day, a dish that ignites the senses and warms the soul with its fiery touch.
Chicken Karaage Ramen
Who can resist the crunch of fried chicken? In chicken karaage ramen, you get crispy chicken pieces on top of your ramen. It's a fun mix of textures that makes every bite interesting. The savory broth and soft noodles balance out the crunch. Trust me; you'll be craving for more!
Grilled Lamb Ramen
Now, this is a bit unusual but stick with me. The grilled lamb ramen is for those who like to try something different. The lamb is juicy and full of flavor, making it a hearty choice. The broth is rich and pairs wonderfully with the meat. It's comfort food turned up a notch!
Duck Ramen
Last but not least, let's talk about duck ramen. If you're looking to indulge, this is the bowl for you. The duck is tender and rich in flavor. Paired with the light broth and soft noodles, it's a match made in food heaven. It's a special dish for those days when you want to treat yourself.
So, there you have it, five meaty ramen bowls to warm your soul and satisfy your taste buds. Each one offers a unique twist, turning a simple bowl of noodles into something extraordinary. Go on, give them a try – your taste buds will thank you!