Salmon Belly Sinigang, another version of sinigang that is sure to give comfort on days when you need it….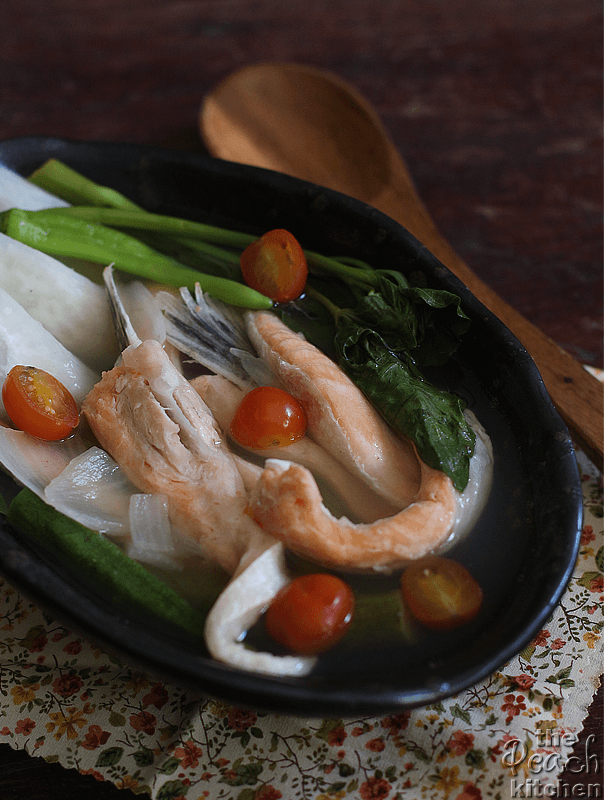 It's yet again the end of another week. You might be wondering why I had been MIA the past week save for a few posts that were already pre-written and I just had to hit publish. Other than that, you won't see any update from me.
Well,  weekend was busy for us — I attended an event and we went out with the family. We even went to über crowded Divisoria to buy some Christmas gifts. We were very exhausted and were actually not feeling well come  Monday. This is when I thought that a hot bowl of Salmon Belly Sinigang was in order. Sinigang is really our comfort food and I know that warming up our tummies with it will definitely make us feel much better.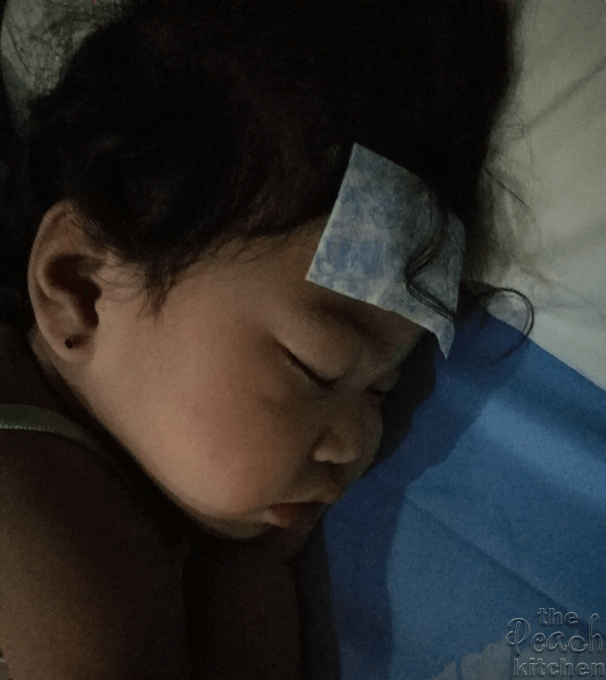 Tuesday started with Twinkle having a fever for the whole day. I was suspected she was just tired because of the weekend. We went to the doctor the next day for a check up and some meds were prescribed. The following days had me worried because blisters started to appear on her skin. Long story short, she was diagnosed with Scabies.
I really have no idea where she got it but we are already treating it and waiting for the blisters to dry up. I can't wait for Twinkle to be back to normal. It had been such a long week, she had been irritable. She doesn't want to leave my side and wants to be carried even when she's sleeping. So we've just been together and hugging all the time the past few days. Mommy duties first, before anything else.
I'm sure she'll be feeling better soon, I just can't wait for it.
It's already December and I'm gonna have to hustle to keep up with the holidays.
♥ If you make this recipe, be sure to snap a photo and tag @thepeachkitchen on Instagram (OR hashtag it #thepeachkitchen). I'd love to see what you cook!
Print
Salmon Belly Sinigang
500g

Salmon Belly, washed

1 tbsp

oil

2

cloves garlic, minced

half a

white onion, chopped

2

tomatoes, cubed

1

pack sinigang mix

1

medium radish, sliced

1

bunch kangkong leaves

8

pieces okra

2

chillies

6

–

8

cups water
fish sauce to taste
Instructions
Heat oil in a pot and saute garlic, onion, and tomato until onion becomes translucent.
Add water, sinigang mix, and radish. Bring to a boil.
Add okra and salmon belly. Simmer until salmon belly is cooked.
Add chillies and season with fish sauce to taste.
Add kangkong leaves. Simmer for 30 seconds or until kangkong is cooked.
Turn off heat and serve Salmon Belly Sinigang with rice.