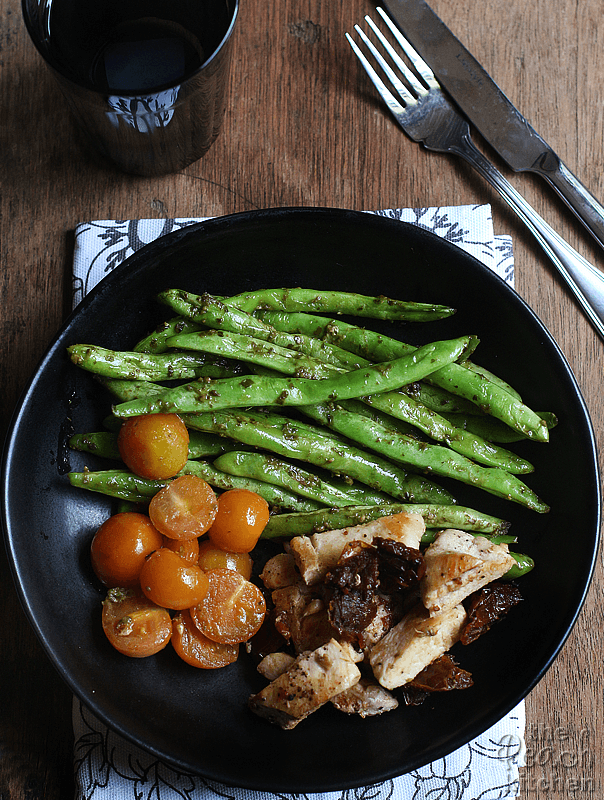 This One-Pan Chicken and Pesto Beans is basically how I eat these days…. portion-controlled, no pork and beef, low carb, low fat, and low sugar.
Like what I told you in my last post, I really need to change my diet because of the result of my blood chem test and those episode of high blood pressure two weeks ago. This is MAJOR adjustment for me because you know how much I love to eat. I love pork, beef, sugar, and carbs… but I have to take care of my health first. My doctor told me I can eat one cup of rice a day but I decided to let go of rice completely.
So for now, I am eating a different meal than what my family eats but I still cook for them. I've been eating a lot of steamed food lately too because I am avoiding too much oil. Because of that, peanutbutter♥ bought me a steamer.. Yay!
If you're thinking I'm eating bland food because of my new diet… Well, let me prove you wrong and share with you the food that I've been eating.
Let's start with this One-Pan Chicken and Pesto Beans. I ate this yesterday both for lunch and dinner. It's a one-pan meal which means, it's very easy to cook and there's very little clean-up. All it took for me to fry three thin slices of chicken breasts is one teaspoon of olive oil. Then I removed the chicken breast from the pan and transferred it to a chopping board to slice.
In goes the green beans along with basil pesto which I sautéed until it was just cooked. It was followed by the cherry tomatoes and then in goes back the chicken pieces. You can mix them all together to get all the flavors of the pesto on all of them but I don't want everything to have just one taste. I put pesto on the green beans and himalayan pink salt for the tomatoes. I also added a couple of pieces of sundried tomatoes with the chicken.
It was divided into two servings. One was reheated later for dinner.
Join me in my journey as I try to regain balance and health for the next three months…
♥ If you make this recipe, be sure to snap a photo and tag @thepeachkitchen on Instagram (OR hashtag it #thepeachkitchen). I'd love to see what you cook!
Print
One-Pan Chicken and Pesto Beans
3

thin slices chicken breast

1 tsp

olive oil

200g

green beans

8

pieces cherry tomatoes, halved

3

pieces sunddried tomatoes, sliced thinly
salt and pepper to taste

1 1/2 tbsp

pesto
Instructions
Season the chicken breast with salt and pepper.
Heat olive oil in a non-stick skillet and fry the chicken breast until cooked.
Remove the chicken breast from the pan, trasferit into a chopping board and slice it.
Put the green beans in the skillet and add the pesto. Stir -fry it until beans are cooked but still crunchy.
Put the chicken back on one side of the pan and add sundried tomatoes. Mix well.
Put the cherry tomatoes on the other side of the pan and season with salt and pepper. It may take a minute to just heat and soften it.
Turn off heat and serve.