This Fresh Fruit Salad with a refreshing honey, lemon, and ginger dressing is a healthy way to satisfy your sweet tooth!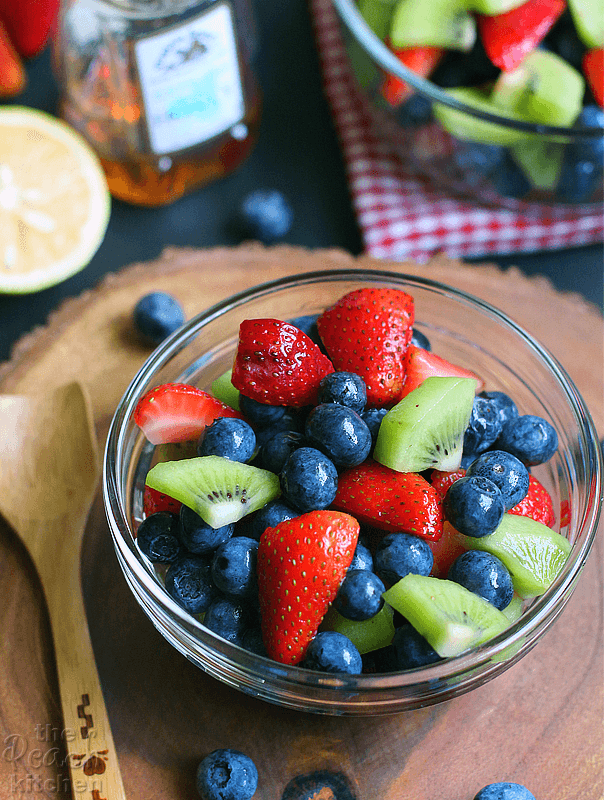 Today, I feel like sharing with you an update about what's happening with the diet and my health. It's Day 48 in my low carb, low fat, low sugar diet. I am still on a no rice, no bread, no pork, and no beef diet. I can now work out at around 1 hour and 15 minutes every morning at home. I am loving what I can do these days versus what I am 48 days ago. I feel more energized and I feel healthier. No rise in blood pressure too. Yes, I did indulge a bit when we went on a three day vacay last week but the moment I am home, it was back to regular programming. My doctor gave me three months to get everything back to normal and that's when he will tell me if I'm going to be on maintenance meds or not. So I'm working really hard to get my health back.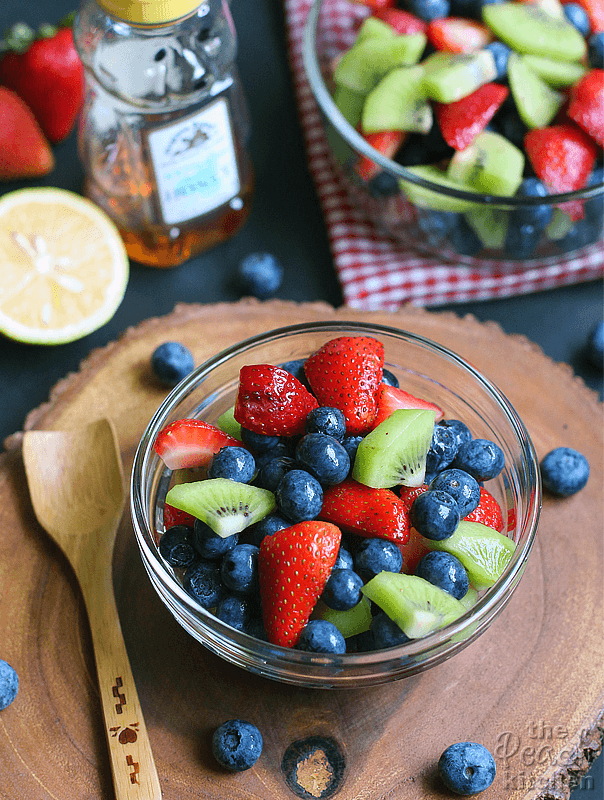 You all know I have a sweet tooth and because of that I always crave for dessert after meals and sometimes for snack too. This Fresh Fruit Salad with Honey Lemon Dressing is a healthy way to satisfy your cravings for sweets. I know, blueberries are quite expensive in this part of the world, so I'm thankful I have a generous kumare who gave me lots of blueberries and strawberries last week. Thank you, Rizza!!!
I love the colors in this Fresh Fruit Salad and I think it's perfect. How's your hump day? ♥ If you make this recipe, be sure to snap a photo and tag @thepeachkitchen on Instagram (OR hashtag it #thepeachkitchen). I'd love to see what you cook!
Print
Fresh Fruit Salad with Honey Lemon Dressing
3 cups

fresh blueberries

1 1/2 cups

strawberries, quartered

2

kiwis, peeled and diced
Honey Lemon Dressing
Juice of

half a

lemon
3 tbsp

honey
1 inch knob of ginger, sliced
Instructions
Make the Honey lemon Dressing: by combining the three ingredients in a small bowl. Mix well and let it stand for 15 minutes so the ginger infuses the dressing. Remove the ginger slices.
Combine the blueberies, strawberries and kiwi in a large bowl.
Pour the dressing and toss to coat.
Serve immediately and enjoy.