Tinolang Tahong is healthy, delicious, and has a comforting ginger-y soup that's perfect for slurping on a cold day…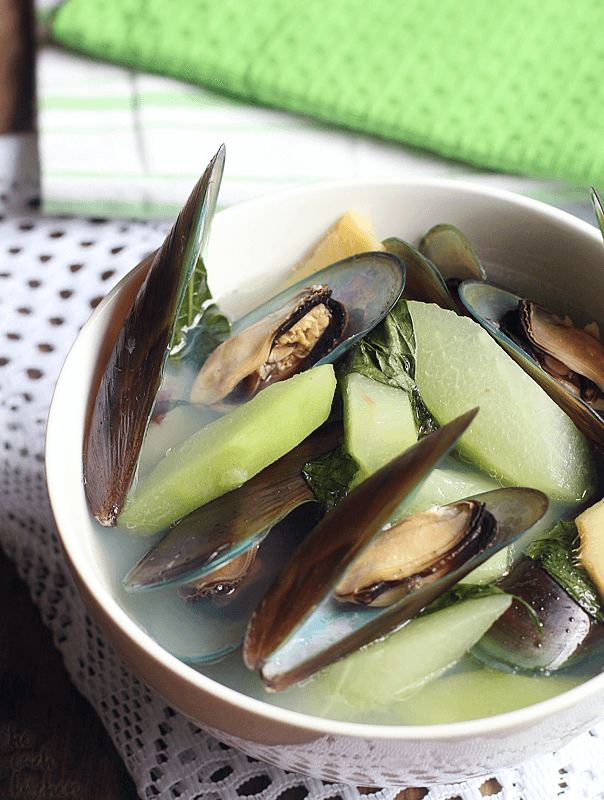 Last week passed by quickly. I had fewer updates than usual because we caught the bug. We had coughs and cold — as in the whole family! I'm guessing it was because of the topsy turvy weather we're having.
It was raining the last few days  because of the typhoon — you know that these are the kind of days that requirs soupy meals. There were times when we were too lazy to go to the market because of the bed weather  so we made do with what we have in the fridge. Made chicken sopas out of leftover roasted chicken, ate a few instant noodle cups too.
Sunday is fun day at the wet market and so I bought a few days worth of meals including these pretty mussels that were turned into Tinolang Tahong (or Mussels in Ginger Soup).
Tinolang Tahong is one of the healthiest meals I know. It has a comforting ginger-y soup too that's perfect for slurping on a cold day. Plus it is delicious on hot steamed rice!
What is your favorite rainy day ulam?
Print
Tinolang Tahong (Mussels in Ginger Soup)
1

kg fresh mussels, washed and cleaned

1

Liter water

1

white onion, chopped

3

cloves garlic, minced

1

inch knob of ginger,sliced

2 tbsp

oil

1 cup

chili leaves

2

sayote, peeled and cut into pieces
fish sauce to taste
Instructions
In a large pot, sauté ginger,garlic and onions in heated oil until onion becomes translucent.
Add the mussels and sauté for one more minute.
Pour in water. You can add more water if you like more soup.
Bring to a boil and simmer until the shells have opened.
Season wih fish sauce to taste.
Add Sayote slices and simmer for a minute.
Add chili leaves, cover and turn off heat.
Serve hot with steamed rice