Oh it's 2018? Why didn't anyone tell me? Yeah, this is the 2nd year that nobody told us we were having New Year's Eve at home so just like last year, our New Year's Eve spread was decided only that morning.
(Check out my year ender post here: 2017 Highlights and #LifeGoals for 2018)
But I'm sure you'll agree that our table looked nice… heehee. Still a Happy 2018 to me! Some of the steak were overcooked but it was good too because the leftovers turned out a delicious Steak Fried Rice the next day. (May brunch na kami..)
Of course, the round fruits won't be missing the table for good luck…
We had a salad made of mixed lettuce and arugula, walnuts, black olives, cherry tomatoes, and strawberries.
We had Lamb Chops with Mint Jelly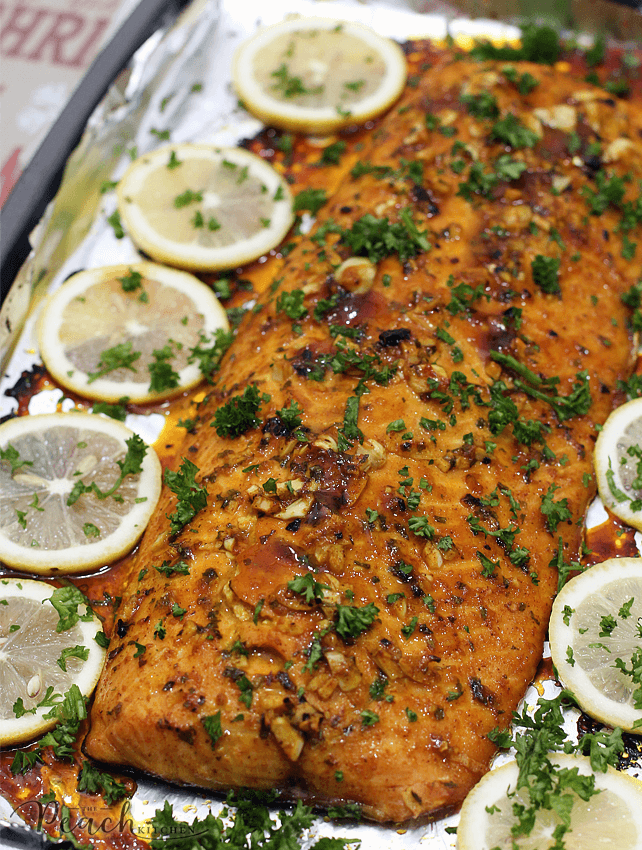 And our favorite at this moment in time: Honey Garlic Baked Salmon.
What's different this year is we were up until 12am to welcome 2018! We used to be asleep at 10pm..LOL!
Twinkle was up until 10pm, though but fell asleep the moment the clock struck 10:01.
I have a great feeling that 2018 will be a great year for us. Cheers to more fun, more challenges, more adventure.
Happy New Year everyone!
Print
Honey Garlic Baked Salmon
1

(1kg) side of salmon
salt and pepper

1/2 cup

honey
juice of

1

lemon

5

cloves garlic, minced

1 tbsp

olive oil

1/4 cup

mustard

1/2 tsp

spanish paprika

1/2 tsp

sweet paprika

1/2 tsp

dried parsley

1/2 tsp

red pepper flakes
lemon slices and chopped parsley for garnish
Instructions
Position a rack in the middle of your oven. Preheat oven to 400°F (200°C). Line a baking sheet with a large piece of foil.
Place the salmon onto lined baking sheet and season with salt and pepper
In a small bowl, combine honey, lemon juice, mustard, garlic, spanish paprika, olive oil, sweet paprika, dried parsley, and red pepper flakes. Mx Well.
Pour over the honey garlic mixture on top of the salmon.
Bake until cooked through, about 10-15 minutes, depending on the thickness of your fish and your preference of doneness.
Garnish with chopped parsley and lemon slices before serving.
Great when paired with pasta and marinara sauce.
♥ If you make this recipe, be sure to snap a photo and tag @thepeachkitchen on Instagram (OR hashtag it #thepeachkitchen). I'd love to see what you cook!