I couldn't say no to Bacon. I'm pretty sure that neither can you.. well, this is the reason why I was very excited when I attended the launch of Greenwich Bacon Crispy Thins pizza a few weeks ago. I was prepared for a baconfest that day because ,you know, the pizza they are launching is thin, crisp, full of bacon, and had lots of cheese. After all, I've already been seeing the commercial on TV and it says #baconized and # #cheesified.
What I was not prepared for that day is that along with the Greenwich Barkada (Yassi Pressman, Jerome Ponce, and Andre Paras) is special guest Chef Ed Bugia of Pino. He discussed a lot of things about bacon and the finished the discussion with the announcement that he prepared a lot of bacon dishes for us! Yay!
Our meal started with the Cheesy Breadstick served with marinara sauce. We always order this at Greenwich because both Ykaie and Twinkle loves it.
It was followed by Chef Ed Bugia's first dish which was Bacon Deviled Egg. It was really delicious and was peanutbutter♥'s favorite.
Then there was the Cream Cheese and Bacon Poutine with Caramelized Onions, Apples, and Chives. I love poutine and I know this dish could have been much much better if it was freshly cooked. I think it was already sitting there too long waiting for the event to start before it was served. The fries was already soggy.
This was my favorite among all the bacon dishes — the Bacon Potato Cream Cheese Soup! You can really taste that it was pureed potatoes and it was so creamy too. The bacon was the cherry on top. This soup is so flavorful. I'm gonna have to make my own version of it at home.
A virgin mojito was the palate cleanser just before the Greenwich Bacon Cripy Thins was served… Yum!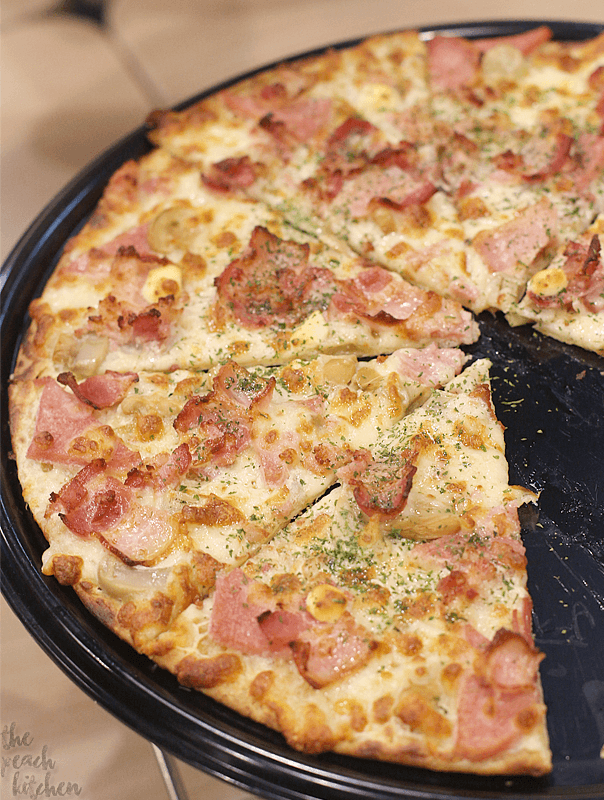 Just the smell of Greenwich Bacon Crispy Thins pizza is enough to keep me excited to try it…
Imagine savory bacon pieces, cream cheese, mozzarella, ham, and mushroom all topped on a crispy thin crust. Biting on all that flavor combination can really make everything alright! — and that's the #BaconEffect.
They also served their classic Lasagna Supreme and Wacky Wings that day but I already have my eyes and my tastebuds set on bacon!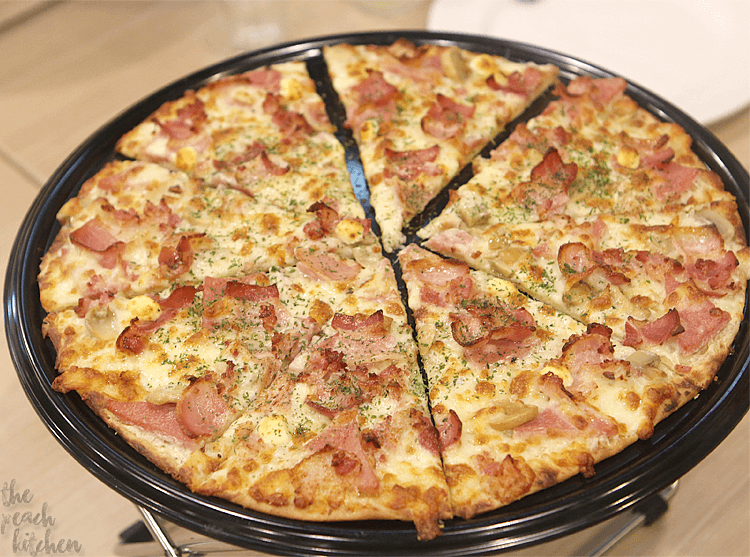 Now, if you want to experience that #BaconEffect for yourselves, then head on to your favorite Greenwich Branch. You can get your bacon fix until September 30, 2016 for a starting price of ₱220 for a double size.
BTW, August 20 is National Bacon Lover's Day, watch out for exciting activities from Greenwich.
P.S. We've been to Greenwich twice for the Bacon Crispy Thins pizza since attending the event. We couldn't seem to get enough of it.