Tasty and fatty Beef Bulgogi Bowl that's made with sukiyaki cut beef and everyday ingredients, an easy peasy weekday meal!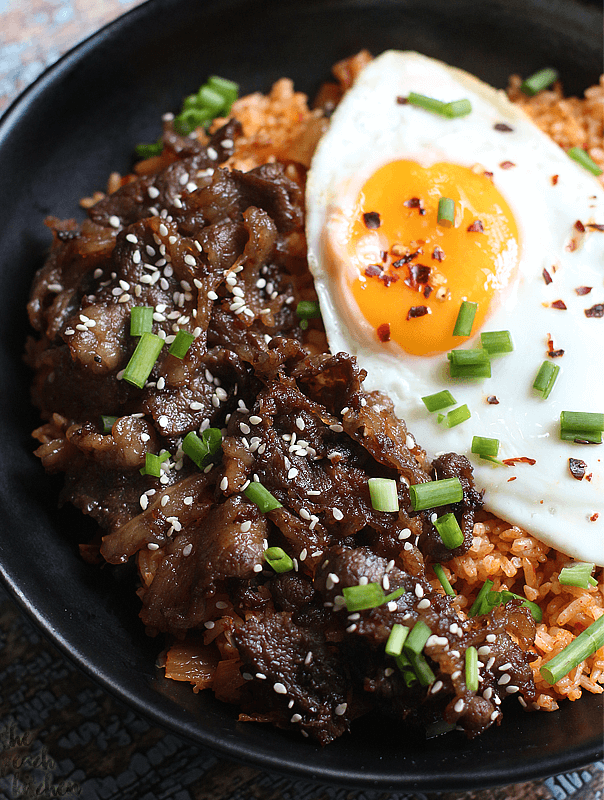 If you find yourself craving for something Korean but is…
(a) too lazy to go out
(b) too lazy to cook something fancy
and (c) too busy to think of what to cook for lunch or dinner..
Well, hey, have I got a solution for you — try this Beef Bulgogi Bowl! Don't let the presentation fool you, this meal takes 30 minutes provided the beef is already marinated.. 'cause well, it takes 30 minutes for you to marinate the beef. If you're not in a hurry, you can marinate the beef the night before or in the morning just before leaving for work or cleaning the house or working at home.
All you need to when you get home is to fry the beef in oil, then sprinkle some chopped scallions and toasted sesame seed right before serving it with steamed rice. If you're feeling fancy, serve it in bowls atop this flavorful Kimchi Fried Rice which takes, like, 15 minutes to make, add a sunny side up egg and it would feel like something ordered in a restaurant. *wink*wink*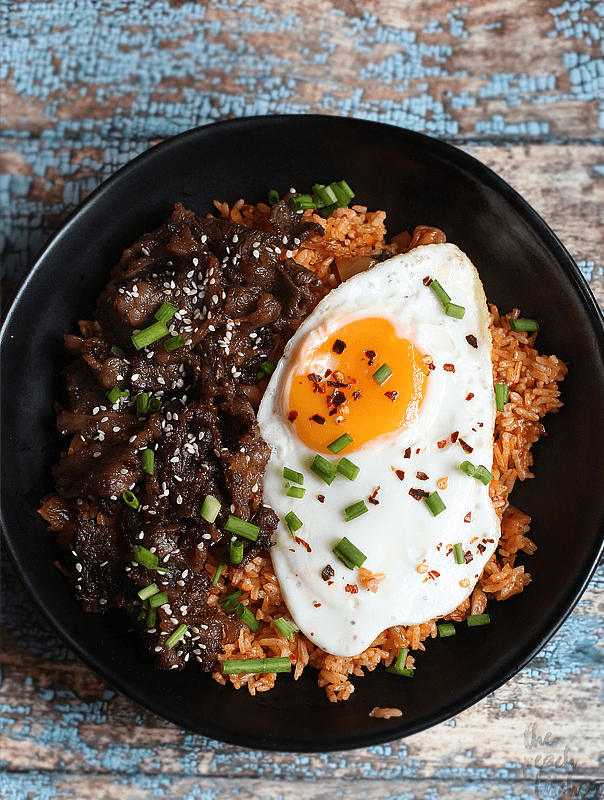 Today at the Adarne household was all work — there was house cleaning and online work. I'm trying to get everything done today because I'll be out doing errands tomorrow.
Ykaie just received a Certificate of Recognition for an outstanding academic performance for the first quarter at school. She's Top 2 in her class and I couldn't be more proud of her! We are off to a great start of the week. I can tell this is going to be an amazing week, this week.
♥ If you make this recipe, be sure to snap a photo and tag @thepeachkitchen on Instagram (OR hashtag it #thepeachkitchen). I'd love to see what you cook!
Print
Beef Bulgogi Bowl
450g

, beef sukiyaki cut

1/2

apple, grated

2

cloves garlic, minced

2 tbsp

soy sauce

1 tbsp

grated ginger

1 tbsp

brown sugar

1 tbsp

sesame oil

2 tbsp

vegetable oil, divided

1 tbsp

crushed red pepper flakes (optional)
salt
Sliced scallions and Sesame seeds (optional, for serving)
For Serving
Instructions
Combine the grated apple, garlic, soy sauce, red pepper flakes, ginger, sugar, and sesame oil in a large resealable bag.
Add sukiyaki cut beef into the marinade and mix it all together so each piece of meat gets well-coated.
Let beef sit in the marinade for up to 30 minutes at room temp, or chill in the fridge for up to 8 hours.
Heat up a tbsp of vegetable oil in a skillet.
Remove about half of the meat from the marinade and spread into a single layer in the pan. Let it cook until it gets nice and brown for about 1-2 minutes then toss and turn it to continue cooking until it's cooked through. Transfer to a plate and cook the other half.
Remove from heat and sprinkle with scallions and sesame seed.
Serve on top of Kimchi Fried Rice and with sunny side up fried egg on the side.