These Shrunken Heads in Cider is made with Oishi Great Lakes and Apples — easiest Halloween drink to make.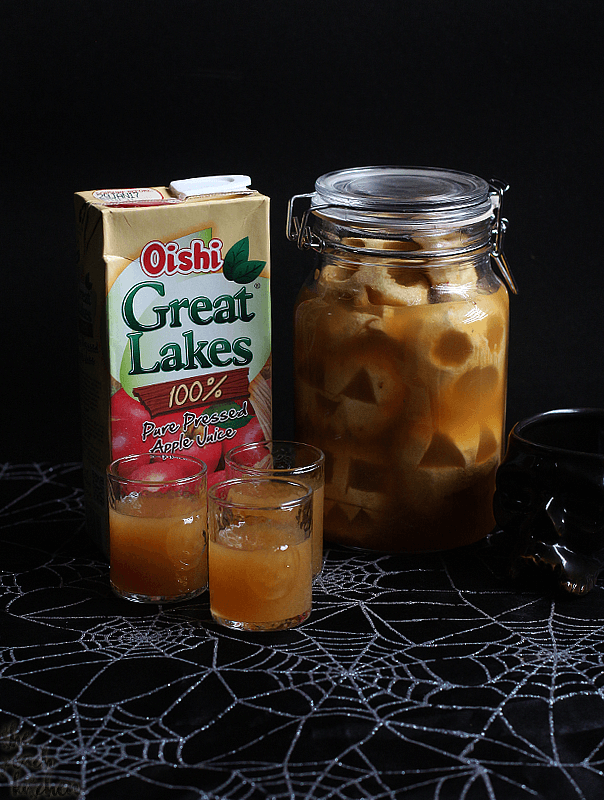 It's the third week of October?! Wait,..whaat?!
Where did the time go? Gosh, my head is in a continuous swirl as we continue to adjust to peanutbutter♥'s night work schedule, our growing Twinkle who loves Frozen and Tangled so much she watches it twice a day every. Single. Day…. and the craziness of it all. Without a helper, the house is simply a mess. I'm sure I can pretty much get away into saying that the dusts and spider webs are really Halloween decorations — until the 31st. After that — Oh, I don't know, I'll cross the bridge when I get there…hahaha. (Forgive me, I know I sound drunk… honestly, I'm just exhausted)
Since chaos and busy are two words that sum up our life right now, I am aiming for all things easy.
I don't even think sis and I could come up with a Halloween party this year.. *sob* maybe a Halloween Movie Night again…just like two years ago when I made this Bloody Shirley Temple, but we'll see.
Oishi sent over two of their new Great Lakes Flavors a little over a month ago: Pure Pressed Apple Juice and Red Grape Juice Drink. Great Lakes is a line of natural fruit juices with pure and wholesome goodness, made from the finest fruits and vegetables. Everything about Great Lakes is all-natural— that means no artificial coloring or flavors, and no sweetener.
Aside from their naturally beneficial properties, the Great Lakes juices have a clean, refreshing taste that is not too sweet, nor too bitter as is expected in natural fruit juice. Great Lakes Pure Pressed Apple is made from 100% apple juice. Cloudy in color is caused by the fiber in apples, thus imparting a different taste than the regular apple juice. Just Right Red Grape, on the other hand, has just the right amount of natural grape juice, giving it a taste that is "just right".
I love the wholesome goodness that these two new juices offers that's why I thought it would be great to have it for Halloween Night. I love the Pure Pressed Apple Juice because it's not clear and it resembles fresh, raw apple cider. It's perfect for this Shrunken Heads in Cider drink!
It's the easiest drink to make because after you make the shrunken heads, all you have to do is open a box and pour to replenish the drink on the table.
Ykaie helped me in carving the apples!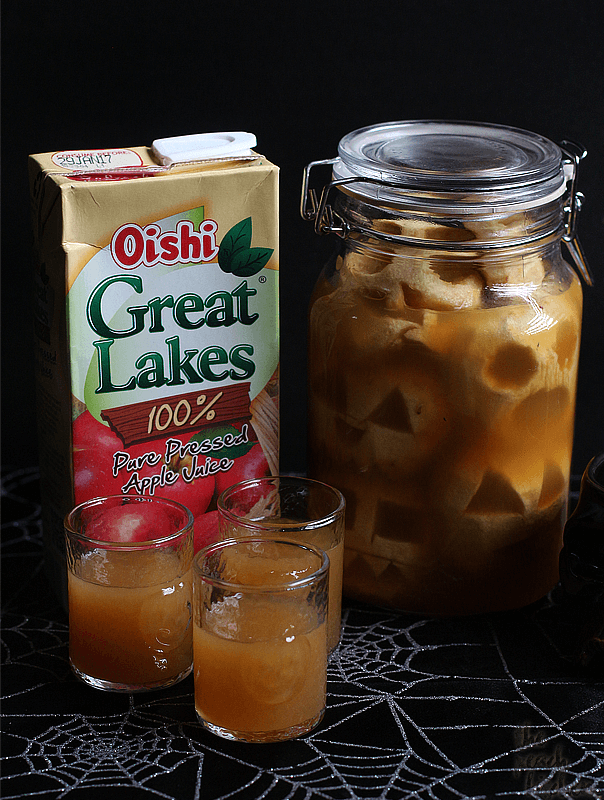 Great Lakes is available nationwide in major supermarkets and convenience stores, for P20.00 for handy 250ml packs, and P70.00 for the resealable 1L variants. It's so yummy, it's worth every peso!
I hope you're having a great week. Mine's chaotic but it's still GREAT!
Make this drink for Halloween, it's creepy, healthy, easy, and delicious.
♥If you make this recipe, be sure to snap a photo and tag @thepeachkitchen on Instagram (OR hashtag it #thepeachkitchen). I'd love to see what you cook!
Print
Shrunken Heads in Cider
Drink
Oishi Great Lakes Pure Pressed Apple Juice
Shrunken Apple Heads
8

Apples
juice of

six

calamansi

2 tbsp

water
Instructions
Combine the calamansi juice and water in a bowl.
Core each apple, halve the lengthwise, and peel.
Using a small knife,carve different faces and facial expressions on the apples.
When done carving, dip the apple in calamansi juice and place them on a lined baking pan.
Pre-heat oven to 220ºF and bake the apple heads in the oven until they have that shrunken effect. It might take anywhere from 1-2 hours.
Once shrunken, you can add to Spiced Apple Cider or just add it to cold Oishi Great Lakes Pure Pressed Apple Juice.