Amaze your tastebuds with this marinated Butter Herb Tapa, you'll never look at TapSiLog the same way again..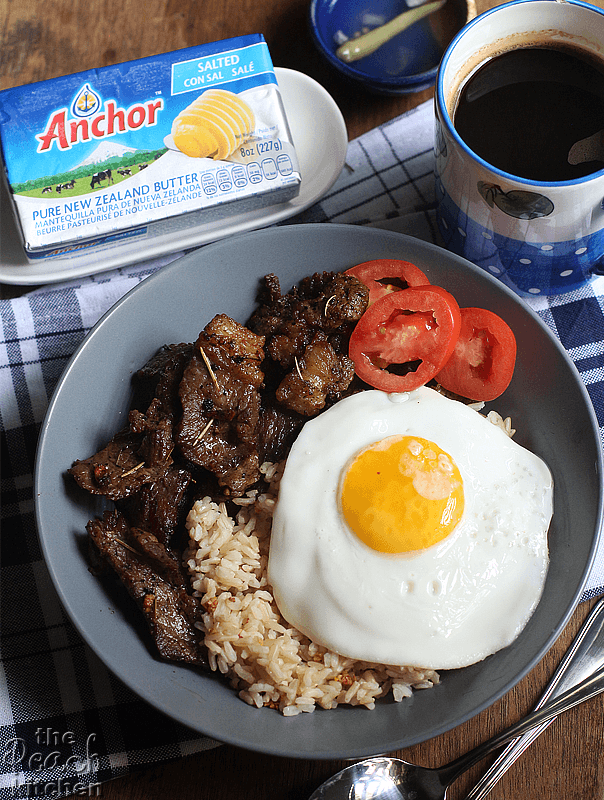 If there's any day of the week that everyone is looking forward to, then it's got to be the weekend. The weekend means rest from work, rest from commute, relaxation at home, and most of all — time with our families. I work mostly at home, so what I look forward to on weekends is our family's time to gather around the table and eat our meals together. You see, this rarely happens these days because of peanutbutter♥'s out-of-this-world work schedule and Ykaie's school. It's only during the weekend when we could sit around the dining table and talk about what happened during the week, you know the good and the bad– but mostly just enjoy a good conversation with people we love.
I know that Ykaie, Twinkle, and peanutbutter♥ are also looking forward to our weekend breakfast not only because of the quality time we'll spend together but because they know I always cook something special for them.
Most of the time I surprise them with a new dish but this week, they are in for a surprise with something that they already love — beef tapa! This is not your ordinary beef tapa, though, because it is marinated in herbs and Anchor Butter…… I call it Herb Butter Tapa. Marinating it in herbs and butter gives it a new elevated flavor that everybody will surely love.
What could be better than waking up to the aroma of your favorite breakfast and hearing it sizzling on the pan as you walk towards the kitchen?
It's so easy to prepare too! You can marinate the beef overnight and have it ready for cooking in the morning.
The marinade is just a simple mixture of Anchor Butter, minced garlic, rosemary, basil, salt, and a bit of sugar. But see what it can do to your beef!
Even everyday dishes like beef tapa tastes even better with Anchor Butter!
Hints of rosemary and basil gives it a refreshing new flavor and Anchor Butter gives it that milk sarap creamy taste that just enhances the taste of beef.
What could be better than waking up to the aroma of your favorite breakfast and hearing it sizzling on the pan as you walk towards the kitchen? Mmmmm, I think I can even smell it right now.
Of course, I served it TapSiLog style with garlic rice and sunny-side up egg… just how we like it.
I love that Anchor Butter adds Milk Sarap to everyday dishes! I can't wait to try adding Anchor Butter to my Beef Mechado and Chicken Caledera next!
To know more about Whole Milk Sarap, and get delicious everyday recipes,visit AnchorPhilippines.com.
♥ If you make this recipe, be sure to snap a photo and tag @thepeachkitchen on Instagram (OR hashtag it #thepeachkitchen). I'd love to see what you cook!
Print
Butter Herb Tapa Made with Anchor Butter
500g

beef sirloin cut into strips, choose those parts with fat, it's really good

4 tbsp

salted Anchor butter, softened

1 tbsp

salt

2 tsp

sugar

1 tbsp

minced garlic

1 tsp

dried rosemary

1 tsp

dried basil

1 tbsp

canola oil for frying
To Serve
garlic rice
sunny side up egg
tomato slices
vinegar for dipping
Instructions
In a large bowl, combine softened Anchor butter, salt, sugar, garlic, rosemary and basil. Add beef strips and mix well. Make sure marinade coats all beef strips.
Marinate for two hours but it's best if you let it sit in the fridge overnight to achieve maximum flavor.
Heat oil in a non-stick skillet and fry the Herb Butter Tapa until cooked.
Serve with garlic rice, sunny side up egg, tomato slices and vinegar for dipping.