This SPAM® Carbonara is simple, quick, creamy, and delicious! Perfect for a quick merienda, lunch, or dinner.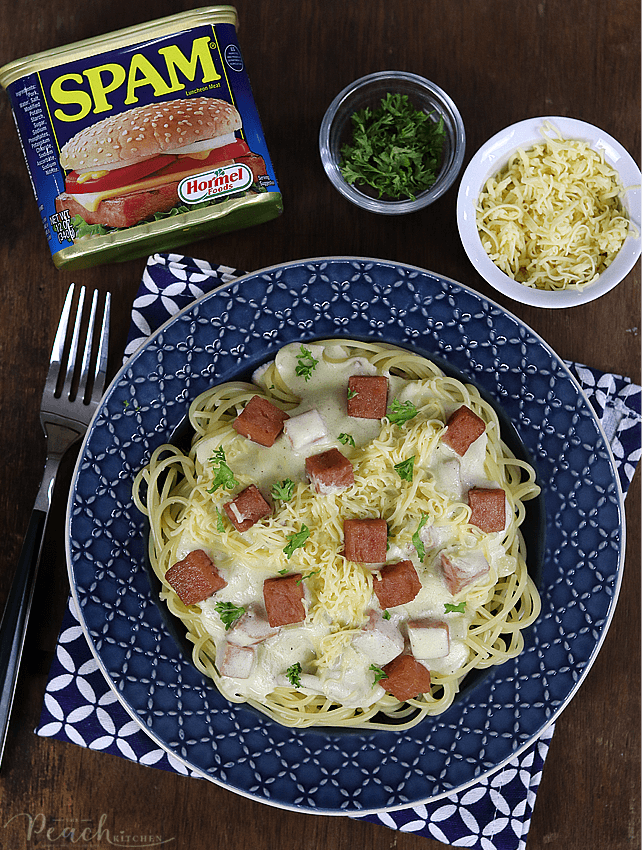 I LOVE
♥

SPAM®.

If you're an avid reader of my blog or if you had the chance to scroll through the pages of The Peach Kitchen, you'll find out that I've said this many times. SPAM® is one of my ultimate comfort food.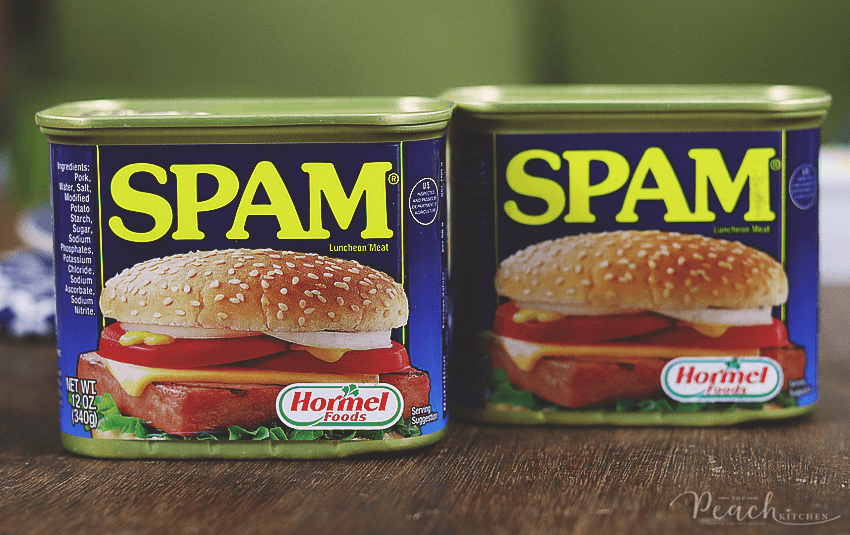 You'll probably wonder why. Well, my mom is a SPAM® fan and our household wouldn't be caught without a couple of cans of Spam®s (or five!) on the cupboard. It's included in the breakfast menu rotation when I was growing up because it's very easy to cook and you can pair it with either bread or rice.
The smell of SPAM® frying in the morning is enough to get me out of bed and straight onto the breakfast table. Now that I'm the one who does the cooking, it's still the smell that gets me excited and that sizzle it makes on the frying pan. –Oh, music to my morning ears!
But aside from our usual SPAM®-SI-LOG, we have another favorite way of cooking it — SPAM® Carbonara! You know, our usual Filipino style creamy Carbonara but instead of bacon I put freshly fried SPAM® cubes which makes it more tasty. It's a certified hit with the kids too!
COOKING
Cooking this is super duper easy. You can make this in 30 minutes. To start off, fry the SPAM® cubes in 1 tbsp oil, then set aside. In the same pan, add the butter and sauté the onions and garlic until translucent. Add the flour and the chicken cube and let it cook for a minute before poring the water. Stir until the sauce thickens and it's free of lumps. Turn heat to low and pour in the all purpose cream. Add the mushroom too and 3/4 of your SPAM® so the flavors will marry. If the sauce becomes too thick, you can add more water or milk and keep on stirring. Bring to a boil and simmer for about three minutes. Add a pinch of nutmeg and season with salt and pepper to taste.
You can add the pasta at this time and stir to coat or you can serve it by putting pasta on a plate and just top it with the sauce. Make sure you garnish it on top with the SPAM® cubes you set aside, grated cheese, and chopped parsley before serving to make it appetizing. As you know, you eat with the eyes first, right?
I'm sure this will be a hit in your family too. This is actually Ykaie's packed lunch today…
Kayo mommies, what's your favorite way to eat or serve SPAM® to your loved ones?
For more Spam recipes, visit https://spam-ph.com/recipes
OTHER SPAM® RECIPES YOU MIGHT LOVE…
Print
SPAM® Carbonara
500g

, spaghetti, cooked according to package direction

1 tbsp

oil

1

can SPAM®, cut into cubes

2 tbsp

butter

1

onion,chopped

3

cloves garlic, minced
chicken cube

1 tbsp

all purpose flour

2 cups

water

1/2 cup

sliced mushrooms

1 1/2 cup

all purpose cream
a pinch of nutmeg
salt and pepper to taste

1 cup

cheese, grated
parsley flakes for garnish
Instructions
Heat oil in a non-stick skillet, and fry SPAM® cubes for 3 minutes or until cooked.Set aside.
In the same pan, add the butter and sauté garlic and onion until translucent.
Add all purpose flour and chicken bouillon cubes and cook for 1 minute.
Pour in water and stir (or whisk) until it's free of lumps. Add the all-purpose cream and stir on low-heat.
Add the mushroom and 3/4 of the SPAM®. Simmer for 3 minutes. IF it becomes too thick, you can add more water or milk to think it out.
Add a pinch of nutmeg
Season with salt and pepper to taste.
Add Spaghetti. Mix well. Make sure pasta is well-coated with sauce.
Transfer to serving plate, top with the SPAM® you set aside, grated cheese, and chopped parsley.
Serve and enjoy.
♥ If you make this recipe, kindly snap a photo and tag @thepeachkitchen on Instagram (OR hashtag it #thepeachkitchen). I'd love to see what you cook!