All of the buttery and garlicky goodness of Salpicao without the meat — Portobello Mushroom Salpicao.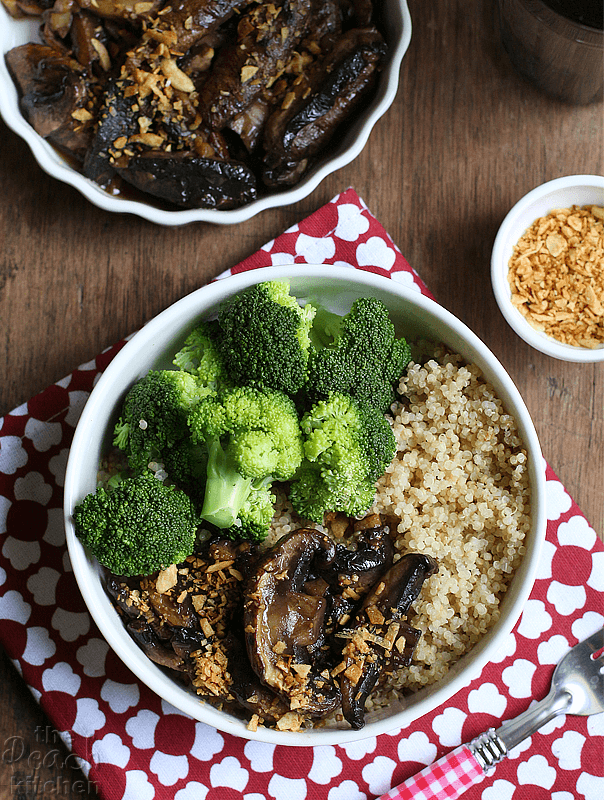 I think I'm turning into a semi-vegetarian. Yeah, I know there isn't a semi-vegetarian. You have to either be a vegetarian or not. The past four months, I opted for mostly vegetables, chicken, and fish because I need to (you know, hypertension and all). But these days, I notice that majority of my food choices are vegetables. Sometimes with chicken and fish, other times without. Oh, and I've come to love vegetarian restaurants too!
I do eat pork or beef too but most of the time just to have a taste or give it a try. Well, I cook them for my family so I don't think it's something I'm gonna give up completely.
Yesterday's brunch, though, was Portobello Mushroom Salpicao. I've been craving that buttery, garlicky flavor of Salpicao but I didn't feel like eating meat. I know portobello mushrooms have that meaty texture plus I have some in the fridge.. Yaaay!
It just went on a hot skillet with some olive oil and fried garlic, I added liquid seasoning and worcestershire sauce, then ended with a bit of butter and more fried garlic on top.
I assembled it on a bowl together with some quinoa and steamed broccoli… Super duper yummy and super duper healthy.
Print
Portobello Mushroom Salpicao
300g

portobello mushrooms, sliced

1 tbsp

liquid seasoning

1 tbsp

worcestershire sauce

8

cloves garlic, chopped finely

2 tbsp

olive oil

2 tbsp

butter
Instructions
Heat olive oil in a nonstick pan or a skillet and fry the finely chopped 8 cloves garlic until brown, remove and transfer half to a small plate..set aside for later.
Add sliced portobello mushroom and sauté for 30 seconds.Add liquid seasoning and worcestershire sauce.
The mixture will become saucy because the mushroom will produce some liquid. Simmer for about 1-2 minutes until some of the liquid evaporates.
Turn off heat and add butter. Mix thoroughly until butter is melted.
Transfer to a serving plate and sprinkle with fried garlic.
OR turn it into a Portobello Mushroom Salpicao Quinoa Bowl by putting in into a bowl with 1/2 cup cooked quinoa and 1 cup steamed broccoli.
♥ If you make this recipe, kindly snap a photo and tag @thepeachkitchen on Instagram (OR hashtag it #thepeachkitchen). I'd love to see what you cook!