Fish Souvlaki Salad that's so tasty and delicious, it doesn't even taste like light meal!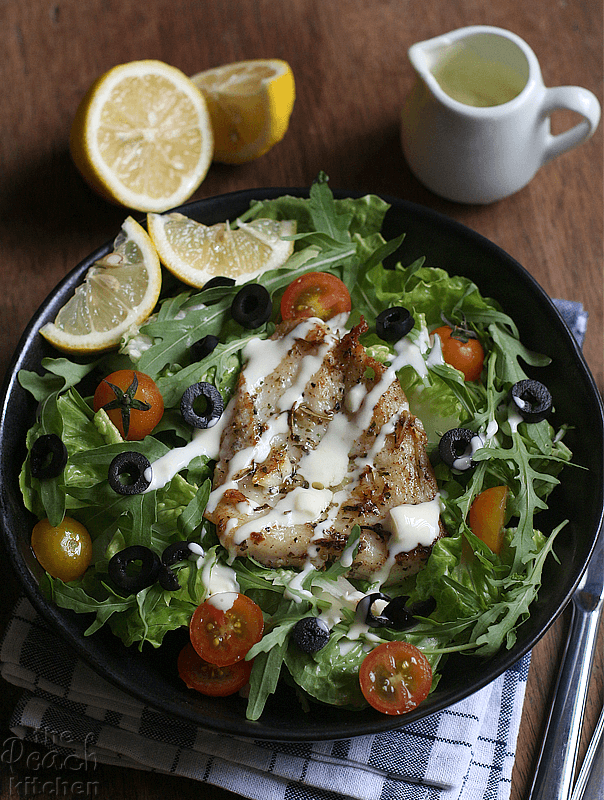 We've been eating a lot of sweets lately. I'm guessing this is partly due to stress (because my househelp, Lani, resigned a few weeks ago to go back to the province and I'm back to taking care of everything at home) but mainly because of cravings.
Now that the cravings has subsided, it's time to go back to healthy eating habits. I've been in the mood to eat a lot of Greek and Persian food lately and this salad here today is inspired by it.
Fish Souvlaki has been on the table for a couple of weeks now. I pair it with rice for Ykaie's school baon and peanubutter♥'s office lunch. I thought it would really be healthy to turn it into a salad. So I made this with ingredients I have here at home like the black olives and cherry tomatoes. I'm thinking this would be great with a lot cucumbers, feta cheese, and kalamata olives.
If you're into salads, then you have got to make this. You can marinate the cream dory overnight and have them ready the next day for pan-grilling or pan frying. You can have this for lunch, dinner, school baon for the kids, office baon for the husband and as a salad if you prefer a lighter fare like we have here.
Since I made a lot of it, I set aside some in microwaveable containers for easy meals ala diet delivery. Kunin na lang from the fridge and voila! you have yourself a light dinner.
Print
Fish Souvlaki Salad
Fish Souvlaki
300g

Cream Dory, sliced into palm sized pieces

1/4 cup

olive oil
juice of

1

lemon

1 tsp

dried oregano

1 tsp

dried rosemary

1 tsp

dried parsley

4

cloves garlic, minced

1/2 tsp

salt

1/4 tsp

pepper
For The Salad
Bunch of romaine lettuce

1/4 cup

arugula leaves

1/4 cup

black olives

1/4 cup

cherry tomatoes
Garlic Cream Dressing:
1/2 cup

sour cream (or yogurt)

3

cloves garlic chopped finely

1 tbsp

parmesan cheese (optional)

2 tbsp

lemon juice or calamansi juice
salt and pepper to taste
Instructions
In a medium bowl, combine olive oil, lemon juice, oregano, rosemary,parsley, garlic, salt, and pepper. Mix well.
Marinate cream dory for 1 hour or overnight (for best flavor) in the fridge.
To make the Garlic Cream Dressing: Combine sour cream, lemon juice, garlic, parmesan cheese,salt and pepper. Mix well and set aside in the fridge until later use.
Assemble the salad in a large platter, layer the romaine letttuce and arugula leaves, add halved cherry tomatoes, and black olives,
In a non-stick skillet, pan grill the marinated cream dory for 2-3 minutes each side.
remove from the skillet and put it on top of your salad.
Drizzle with Garlic Cream Dressing and garnish with lemon wedges on the side before serving.
♥ If you make this recipe, kindly snap a photo and tag @thepeachkitchen on Instagram (OR hashtag it #thepeachkitchen). I'd love to see what you cook!