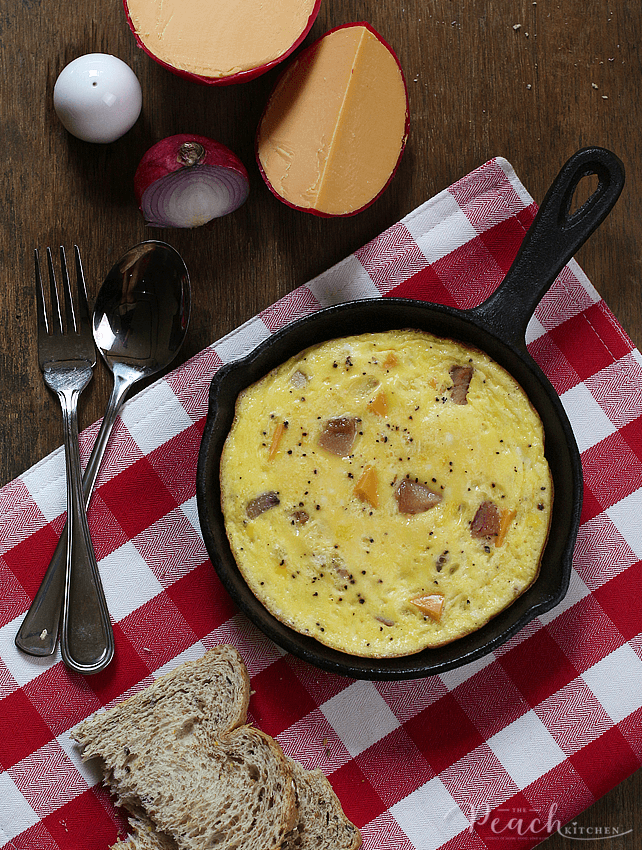 It's only a week until January ends. I can't be the only one with Christmas Ham and Queso De Bola leftovers in the fridge. Or am I? Last year, we didn't have leftover Christmas ham because it was consumed the day after Christmas. Well, with all that has been happening at home lately — like peanutbutter♥ also having hypertension — we are trying to avoid eating red meat as much as possible. We sometimes eat red meat only on weekends or if we feel like it over the week — basta as much as possible once a week or once in two weeks.
Well, like I said, I still have some of these Christmas goodies left. Since we are also trying to avoid sugar, I am resisting the urge to make Queso De Bola Cheesecake. So what I did today is I turned this into something good for breakfast — Jamon and Queso De Bola Frittata.
Frittata is a fancy omelette or crustless quiche or scrambled eggs all loaded with your favorite things or whatever you have in the fridge. In this case, I put cubed jamon and queso de bola.
Then I paired it with some toast and my current favorite salad and I had something healthy for breakfast. I had my share of pork but not too much. Leftovers are put to good use…..
Kayo mga momshies? What did you do with your leftover Christmas hams and Queso De Bola? Maybe you can share your recipes in the comment section.
Print
Jamon and Queso De Bola Frittata
2

large eggs

3 tbsp

milk
half white onion, chopped

1/4 cup

cubed jamon or christmas ham

2 tbsp

cubed queso de bola

2 tsp

butter
Instructions
Whisk together eggs and milk in a bowl. Season with pepper. Set aside.
Heat butter in a small iron skillet, add onions and sauté until translucent.
Add cubed jamon and cooked for 2 minutes until a little brown.
Pour on egg mixture and make sure it evenly coats everything.
Wait until base starts to form, then sprinkle with the cubed cheese. Cheese will sink in the egg mixture.
Remove from stovetop and place into oven under grill. Grill until golden brown or until cooked.
Serve with toasted bread and/or salad on the side.
♥ If you make this recipe, kindly snap a photo and tag @thepeachkitchen on Instagram (OR hashtag it #thepeachkitchen). I'd love to see what you cook!