Singapore is a cosmopolitan city, home to individuals of a vast number of nationalities. Many Filipinos move to Singapore due to work opportunities and commitments, and some would eventually decide to settle down there with their families. From time to time, it is always nice to visit your original hometown and reconnect with your old friends, family members and loved ones. When this happens, bringing back home gifts or souvenirs are usually the norm. However, gifts and souvenirs along the lines of touristy products are never really appreciated in the long run.
Singapore is a nation with influences from many different cultures from all over the World. It is safe to say that anything you want can be found there. Be it high end brands or new innovative products, Singapore is a safe place to be. Today, we have come up with a list of the 8 best gifts and souvenirs that you can get for your loved ones from Singapore. The ones that are the most popular already among Filipinos are of course the items not found in the Philippines!
1. Modern Home Décor Items
It is worth noting that the style of homes in Singapore fall in the category of modern and westernized. The home décor themes in Singapore are very minimalistic and this is a trend that the rest of Asia is catching up on. Singapore is home to many modern home décor products that can help users bring about such an effect. Some examples could be a really cool looking geometric photo frame , a funky bean bag that can also provide comfort, or perhaps some new bedsheets to change the overall look of the bedroom!
Such items are easily available online and you could even head down to the local heartland shopping mall that would be bound to have a lot of such items. Unique home décor items will definitely be appreciated because not only do they look amazing, but they are extremely practical too.
Believe it or not at least 30 percent of the customers from a particular online furniture shop in
Singapore who purchase the ADOR Drop Front Shoe Boxes are Filipinos. It is not known why, but the assumption is that many Filipinos love sneakers and they certainly love caring for them! It is to our understanding that many customers air freight them back home to the Philippines for their friends and relatives to enjoy. This perfect storage solution goes beyond the storing of shoes.
3. Kaya Spread
If you love Filipino cuisine, there is a great chance you will love Kaya. In food outlets in Singapore, bread with this magical spread is referred to as Kaya Toast. Kaya is a traditional local jam made from a concoction consisting of coconut and eggs. The dream breakfast in Singapore would be to have some Kaya on a toasted slice of bread, bundled with hard boiled eggs and a cup of hot coffee or tea. A bottle of Kaya Spread can be purchased from any bakery easily found in shopping malls or shops within residential estates. My SIL brough home a jar of Kaya spread and I made it into Kaya and Cheese Toast.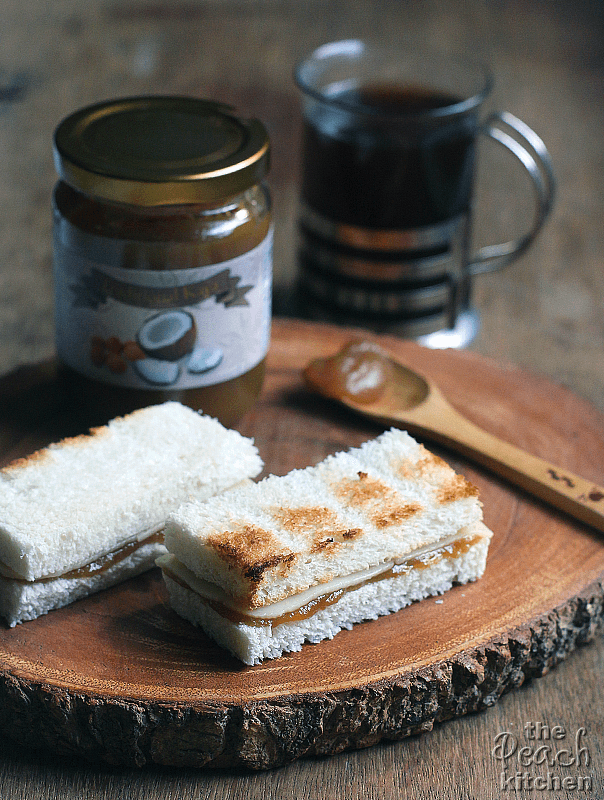 4. Street Wear
We know that the trend of street wear has been dominating the fashion scene in the western world for some time. As of late, it seems to have hit the Philippines. The shopping district of Singapore has a huge variety of street wear. Head down to Far East Plaza along Orchard Road and you may find the perfect gifts for those at home who will love them!
5. Bakwa (BBQ Meat)
Bakwa is a type of dried pork of Chinese origin. It is prepared through very unique cooking methods. It is a sweet delicacy loved by many. For Filipinos who work in Singapore, having the chance to try them is inevitable before Chinese New Year celebrations. They are offered everywhere, especially in office. It is known that many Filipinos purchase this delicacy from local stores such as Bee Cheng Hiang for their families at home to try when they go home to visit.
6. Fashion
Singapore is a great place to source for fashion apparel. Regardless of whether they are basic pieces or high end luxury items, you can easily get them under one roof at any shopping mall along Orchard Road. The best part is that tourists are entitled to a tax refund upon departure!
7. Sneakers
Sneaker heads unite! Basketball is huge in the Philippines. A popular social activity among the Filipino males in Singapore is basketball. They can engage in the sport daily at the courts within the residential estates. Their love for the sport has also resulted in their interest towards the footwear that is worn by their favourite basketball stars. In Singapore, you could find a shopping mall within every 2 to 3 kilometres and every single one of these malls is bound to carry at least a range of sneakers.
8. Local Food and Snacks
Being in a cosmopolitan country that is diversified would also mean that the food and snacks are diversified. In the world of food, it is common for east to meet west to result in a huge variety of new cuisines. In the local supermarkets, you can find a wide array of these food and snacks. They even sell preserved seasoning for you to use when you cook at home!