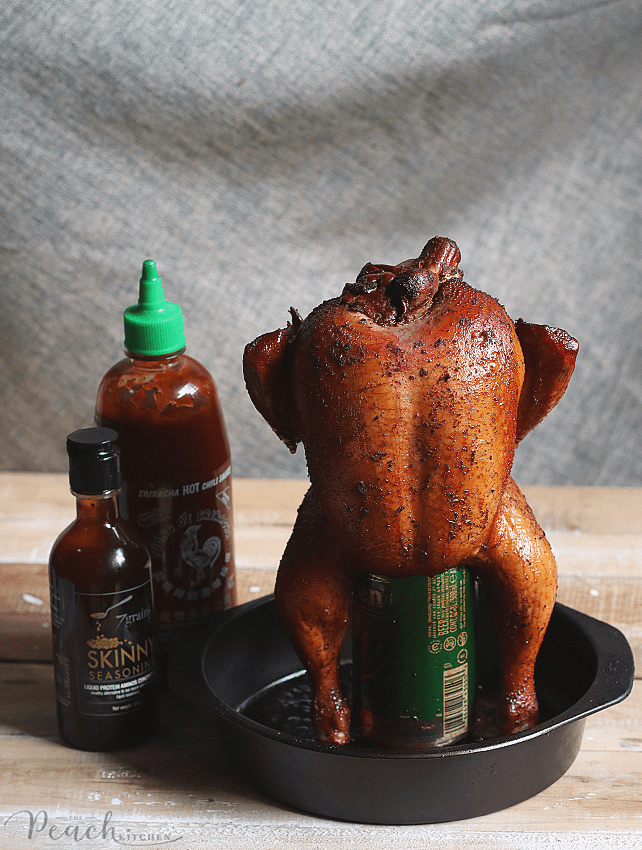 One of the many dishes that peanutbutter♥ and I are curious about is Beer Can Chicken. I always cook Pinaupong Manok, Kinulob na Manok on special occasions, and Roasted Chicken but Beer Can Chicken is something I haven't tried making.
These photos have been sitting in my laptop for a month now. I don't know why I haven't gotten around to sharing this so I'm sharing it to you now.
Beer Can Chicken is also called Chicken on a Throne, I think it's aptly posted today now that the final episode of Game of Thrones in showing…LOL! The chicken is made to "sit" on a beer can. The steam from the beer adds flavor to the chicken and keeps it moist while being smoked.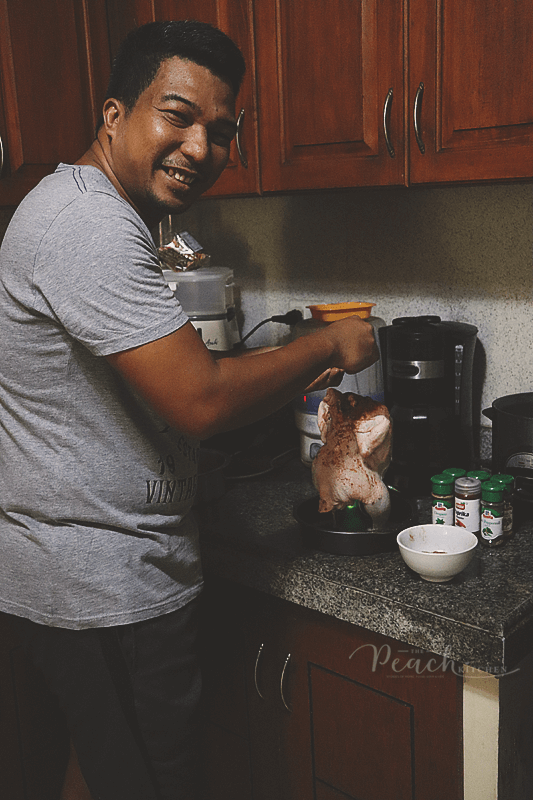 I made the rub but it was peanutbutter♥ who did the rubbing and the smoking.  To make the Beer Can Chicken Rub, I combined black pepper, cayenne pepper, dried oregano, dried thyme, ground cumin, salt, and paprika and mixed them well. You can brush olive oil or melted butter on the chicken before spreading the rub and put the leftover rub inside the beer can.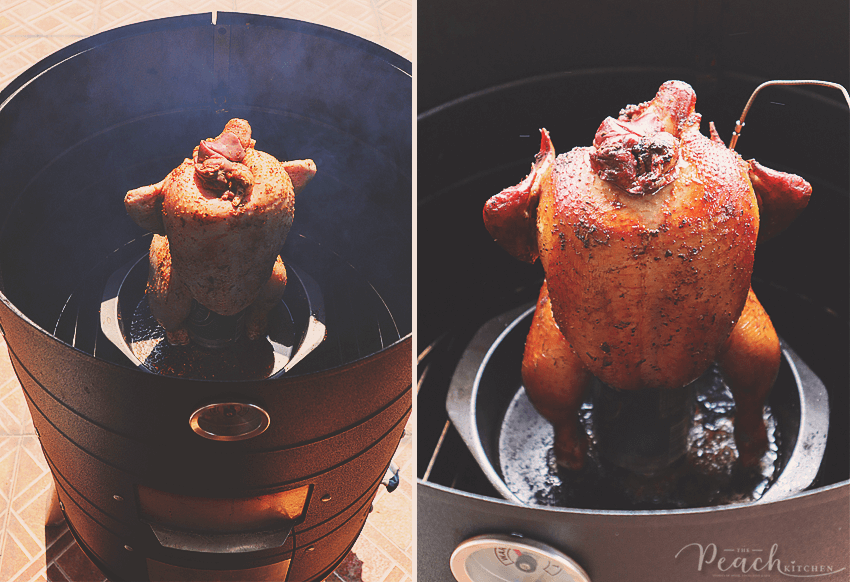 Then we smoked the chicken for about 60 minutes or just until the internal temperature reaches 165º in the thickest part of the breast. We let the chicken rest for 10 minutes before attacking…heehee! Sarap! The skin was a bit chewy but the meat remained juicy and tender, kinda like those meaty sausages (yung mga hungarian, kielbasa.. mga ganern). It tastes a bit like it too! We dipped it in a sauce made of sriracha and 7 grains skinny seasoning…
I think this recipe is worth repeating and perfecting ….what do you think? Have you tried this recipe?
Print
Beer Can Chicken
1

whole chicken, cleaned

1

can of your favorite beer, we used Heineken
olive oil or butter
BEER CAN CHICKEN RUB
2 tsp

. black pepper

1 tbsp

. cayenne pepper

2 tsp

. dried oregano

2 tsp

. dried thyme

1 tbsp

. ground cumin

2 tbsp

. salt

2 tbsp

. paprika
Instructions
Clean the chicken and pat it dry with a paper towel.
Open a can of beer and poor about 1/2 a cup into a glass. Hold the chicken above the can of beer and slide the chicken over the can.
Place it on a baking sheet or a round pan and brush it with olive oil or melted butter.
Apply the dry rub to chicken and put the remaining dry rub into the beer can to mix with the beer.
Start your smoker and if you can, set your smoker to 350º and preheat, lid closed for about ten minutes.
Place the chicken in the smoker and cook for about 60 minutes or until the internal temperature reaches 165º in the thickest part of the breast.
Remove from the grill and let rest for about ten minutes.
Serve with a sriracha and soy/seasoning dipping sauce.
Notes
[foodie-nl id="29075″]
The nutrition information provided are only estimates based on an online nutritional calculator. I am not a certified nutritionist. Please consult a professional nutritionist or doctor for accurate information and any dietary restrictions and concerns you may have.
♥ If you make this recipe, kindly snap a photo and tag @thepeachkitchen on Instagram (OR hashtag it #thepeachkitchen). I'd love to see what you cook!