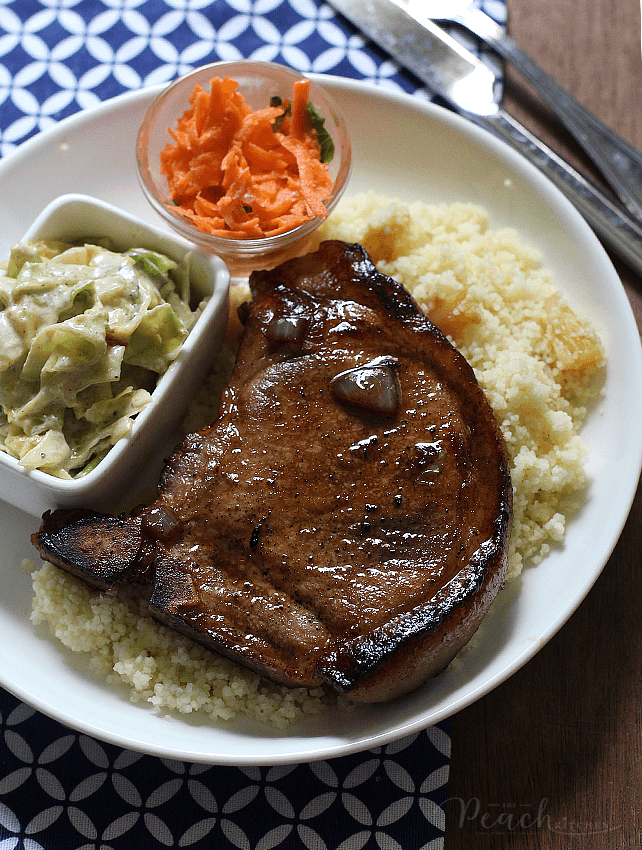 What's the hardest part of your day? For me, it's thinking about what meal to prepare for my loves. It's actually my number one everyday problem. If you're a stay at home mom (or husband) or a work at home mom (or husband), I'm sure you'll agree that it is indeed the hardest part of the day. You have to come up with a meal (or meals) that everybody at home will love. There comes a time na wala ka na talagang maisip kung anong ihahanda for your family. What do you do when that happens? (well, ehem, aside from looking up recipes here at The Peach Kitchen)
Well, if you're going to ask me, what I do is I watch cooking shows or cooking contests. THIS Asian-Inspired Pork Chops came from a new show called CULINARY GENIUS UK on 2nd Avenue. The show premiered last February 18, Sunday at 9 PM.
On Culinary Genius UK, nine participants battle it out daily for a £1,000 cash prize, with a different chef each week. It begins with the lead chef offering a cooking task demonstration for nine amateur home chefs who serve as the day's contestants. Contestants compete to be named the culinary genius of the day.
In the first week, Gordon Ramsay sets the contenders with their tasks, demonstrating how two of them should be done. In second week, Rosemary Shrager takes over the kitchen, in third week with Phil Vickery, and in the fourth week with Jean-Christophe Novelli.
It is such an exciting show and you'll be inspired with the contender's recipes!
This Asian-Inspired Pork with Couscous, Cabbage, & Slaw is a recipe from one of the contestants named Mike. It features a flavorful pork chop paired with couscous with pineapple AND a side dish of creamed cabbage and carrot slaw. What I love about this recipe is that the ingredients are mostly pantry staples and if you don't have it at home, it's easily available at the supermarket.
peanutbutter♥, Ykaie, and Twinkle loved this recipe so I am looking forward to trying out more from the show like David's Fried Chicken with Mushrooms and Chinese Preserved Vegetables and Maggie's Citrus Summer Salmon with Chimichurri Sauce. At least medyo kakaiba from the usual meals you cook at home.
2nd Avenue can be seen on UHF Free TV Ch. 29, SkyCable Ch. 19, Global Destiny Cable Ch. 29, Cablelink Ch. 35, Cignal Ch. 28, and Dream Channel Satellite Ch. 32. It is is the only general entertainment channel on Free TV and Pay TV that offers diverse content, featuring delightfully driven characters for the discerning market.
To be updated on the show and know more about 2nd Avenue, you may check it out on www.facebook.com/2ndAvenue, http://2ndavenue.ph/, on Twitter via @2nd_Avenue, and on Instagram via @2ndavenuetv.
Print
Asian-Inspired Pork with Couscous, Cabbage, & Slaw
This recipe is good for one. I made adjustments to make it good for three.
For the couscous:
½ cup

chicken stock

2½ oz

couscous

¼

pineapple, peeled and diced

1 tbsp

extra virgin olive oil
For the pork:
1 tbsp

rice wine

1 tbsp

soy sauce

2 tsp

honey

1 tsp

sesame oil

⅓

lime, juice only

8 oz

pork chop
For the carrot slaw:
1

carrot, peeled and grated

1

orange, juice only

1 tsp

dijon mustard

1 tbsp

white wine vinegar

1 tbsp

cilantro, chopped
For the cabbage:
1 tbsp

olive oil

¼

cabbage, sliced

¼ tsp

garlic powder

3 tbsp

butter

¼ cup

heavy cream
pinch nutmeg, freshly grated
For the sauce:
1

shallot, peeled and diced
Instructions
For the Couscous
Bring the stock to a simmer. Place the couscous in a heatproof bowl, pour over the stock, stir and cover with plastic wrap. Set aside.
Place a griddle pan over a medium high heat. Add the pineapple, and cook for 3-5 minutes each side.
Stir the griddled pineapple through the couscous and drizzle with extra virgin olive oil.
For the pork:
Mix together the rice wine, soy, honey, sesame oil and lime juice and place the pork in this mixture to marinate for 10 minutes.
Heat a frying pan over a medium-high heat. Remove the pork chop from the marinade. Place the fatty edge of the chop down in the pan for about 5 minutes or until the fat turns golden. Cook the pork chop in the rendered fat for 3 minutes each side, then remove from the pan and allow to rest in a warm place.
For the carrot slaw:
Mix the carrot with the orange juice, mustard, vinegar and cilantro.
For the cabbage:
Heat the oil in a sauté pan. Add the cabbage, season to taste with salt and pepper, add the garlic powder and butter and cook until the cabbage wilts. Stir in the cream and nutmeg.
For the sauce:
Using the pan that you cooked the pork in, add the shallots and sweat until softened. Add the reserved marinade and reduce slightly to create a sauce. Return the pork to the pan and coat in the sauce for 1 minute to warm through.
To serve:
Spoon the couscous onto the plate and sit the pork chop on top. Pour over the sauce and plate the carrot slaw and cabbage alongside.
♥ If you make this recipe, be sure to snap a photo and tag @thepeachkitchen on Instagram (OR hashtag it #thepeachkitchen). I'd love to see what you cook!