Easy healthy Taco Salad with ground chicken that's perfect for lunch or dinner. Also great for meal prep!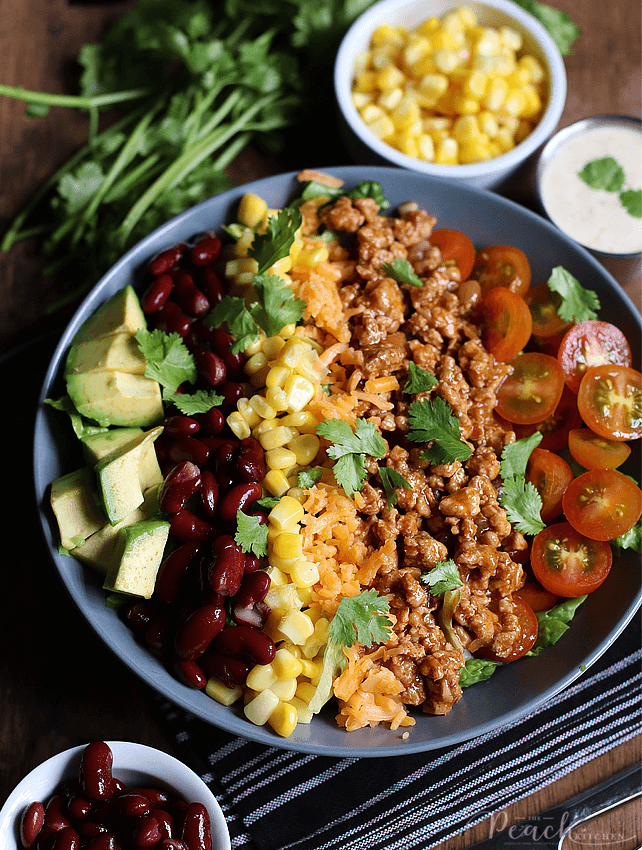 By now, I'm sure you know how much our family loves anything TACO. Heck with so much taco recipes here in the blog, I'm pretty much sure you are wondering if we eat tacos everyday. Read Beef Tacos, Walking Tacos, Fish Tacos, Hawaiian Pulled Pork Tacos, Taco Soup, and Shrimp Tacos with Cabbage Slaw.
Even when we tried Keto, I whipped up a nice low carb, keto-friendly Taco Soup.
Yesterday lunch, a nice batch of this Chicken Taco Salad is in order because friends from Jolly sent a box of their Jolly Whole Corn Kernels and we were craving something taco-ish…
Besides Ykaie only eats THIS salad. I absolutely want to encourage her to eat more fresh fruits and veggies and less red meat, hence — Chicken Taco Salad. I used ground chicken because it's something I've never tried before, we always use ground beef. And you know what, Ykaie wasn't able to tell the difference! She loved everything about this salad minus the tomato (she only eats tomato in Sinigang).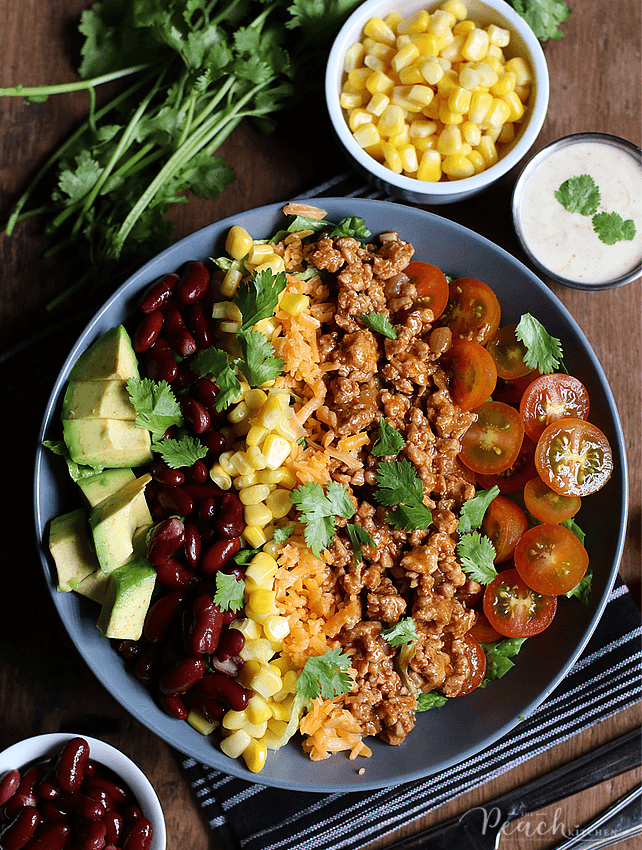 I'm pretty sure I'm gonna be making a lot more Taco Salads next week… we'll be extending Taco Tuesday into a Taco week.
In other news, it's Father's Day today and we'll catch The Incredibles at Uptown Parade. Where are you off to?
Print
Chicken Taco Salad
500g

ground chicken

1

packet taco seasoning

1 tbsp

cooking oil, (I use olive or canola)

2

clove garlic, chopped finely

1

white onion, chopped
for the salad
2

heads Romaine Lettuce, cut into pieces

1 cup

cherry tomatoes, cut in half

1 cup

con kernels, (I used Jolly Whole Corn Kernels)

1 cup

canned kidney beans, drained

1 cup

grated cheddar cheese

1

avocado, peeled and chopped
chopped cilantro for garnish
store bought ranch dressing
Instructions
Make your Chicken Taco: Dissolve taco seasoning in 2/3 cup water. Set aside. Heat oil in a pan. Sauté chopped garlic and onion until translucent. Add ground chicken and cook until brown. Pour in taco seasoning in water. Bring to a boil and simmer until cooked and sauce has thickened.
Layer lettuce on your serving plate and then assemble all the other ingredients on top: cherry tomatoes, kidney beans, corn kernels, cheddar cheese, and avocado. Sprinkle with chopped cilantro on top.
You can serve the ranch dressing drizzled on top of the salad or on the side.
♥ If you make this recipe, be sure to snap a photo and tag @thepeachkitchen on Instagram (OR hashtag it #thepeachkitchen). I'd love to see what you cook!