We're aiming for easy and gory this year, so… Bloody Fingers Hotdog Sandwiches for breakfast, yes?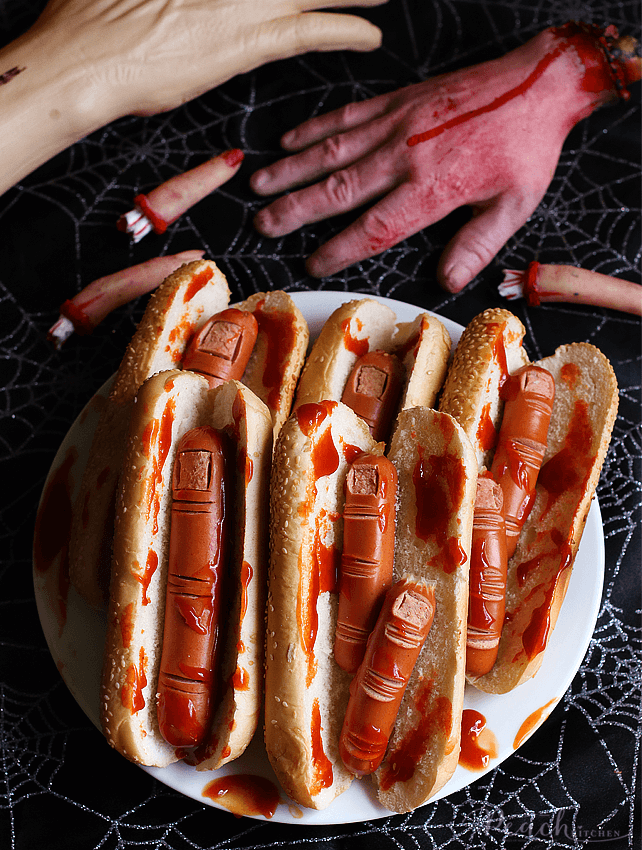 It has been such a sad October for us because of my nanay's passing on the second week of October. I felt heartbroken and the week following that was just a blur. It was sad and I cried most of the time. I didn't wanna do anything but sit down and stare at something. So I stared at the tv instead of staring at nothing and thinking until I become crazy.
Last weekend, I told myself I needed to move on and let go of that sad feeling because my nanay is in a happy place now with my tatay. To be able to do that, one of the things I have to do is to keep myself busy. So I pushed myself back in the kitchen and I reminded myself that there's still a few days before Halloween and I still have a few days left to make a few gory food for the family. Of course, we weren't able to prepare for a Halloween party… so THIS will have to do for now.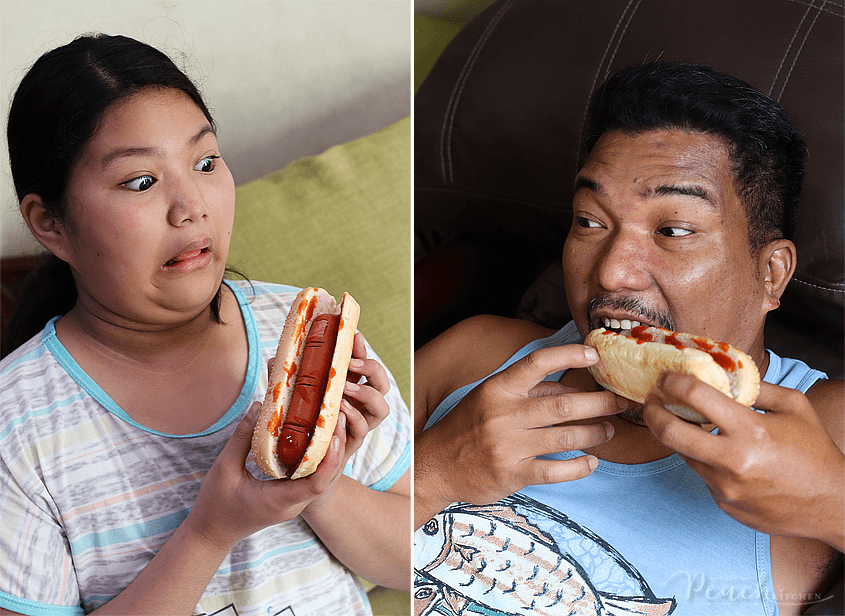 I used chicken hotdogs because it's beige and it resembles the color of real fingers. To make the fingers, I just did what I did with the severed fingers here at SWAMP PESTO WITH SEVERED FINGERS. Only I added more "knuckles" since we're having whole fingers instead of halves.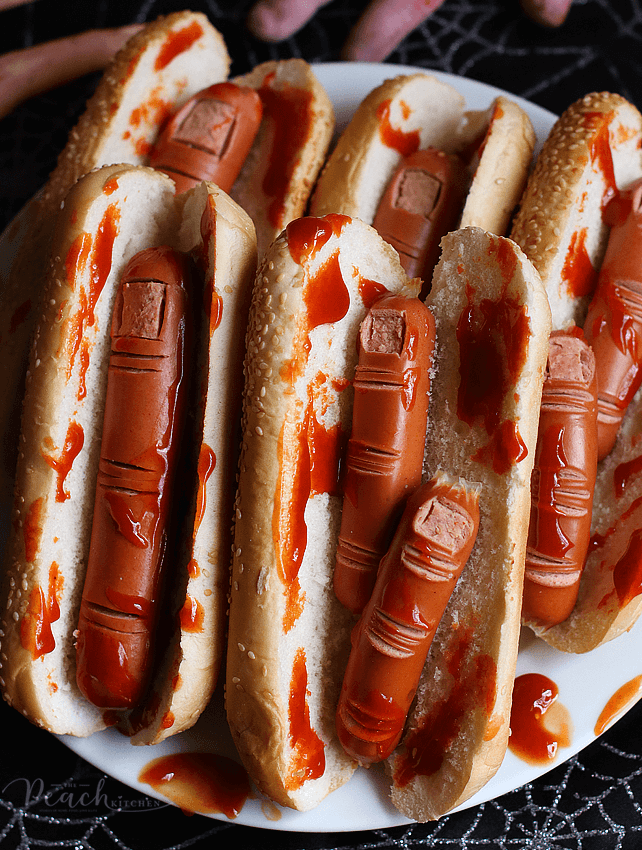 Then I smeared lots of banana ketchup (you use tomato ketchup, peanutbutter♥ just prefers banana) all over it to make it "bloody". Ykaie loved the idea even though she didn't like ketchup….
but Twinkle? Oh, Twinkle was scared!  Well, wouldn't you? These Bloody Fingers Hotdog Sandwiches look so real! This would look great on your Halloween Party table, don't you think? 
WATCH THE VIDEO HERE:

Btw, what's your Halloween Party theme this year? Share it with me in the comment section. That would be fun to read through since we won't be having any this year…
Oh, and if you need a party idea, here's our ZOMBIE APOCALYPSE HALLOWEEN PARTY.
Print
Bloody Fingers Hotdog Sandwiches
chicken hotdogs
hotdog buns
ketchup (tomato or banana, your call)
thinly sliced white onion for fingernails just like inhere (optional)
Instructions
Make the "Fingers": In the rounded end of the chicken hotdog make a shallow square-shaped cut to make the fingernails. Then carefully slice the tiny piece off the top.
To make the knuckles, make two small cuts after the finger nail, three small cuts in the middle, and two near the end.
Boil the hot dogs for 2-3 minutes in water or until cooked.
Then place each "finger" into a hot dog bun and smear with lots of ketchup for a gory look.
If you want, you can add a thinly sliced square piece of white onion for the "nail."
To make the "nail": Cut your white onions into small square pieces to resemble finger nails.
Microwave this for about 30 seconds in a shallow plate with a bit of water to cook it.
Squeeze a small dollop of ketchup to make bloody nails and attach the cooked white onion pieces to make it look like bloody finger nails.
♥ If you make this recipe, be sure to snap a photo and tag @thepeachkitchen on Instagram (OR hashtag it #thepeachkitchen). I'd love to see what you cook!