Homemade Pumpkin Spice Latte that's made with low-fat milk, homemade pumpkin spice, and lots of l♥ve to get me through a busy November…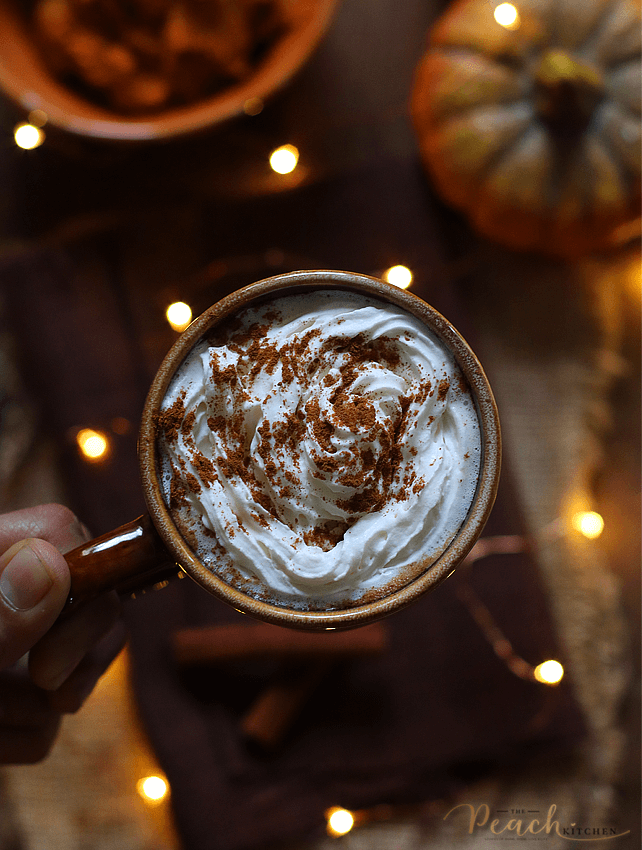 Cheers to the weekend! Such a busy week we're having these days, huh? A few years ago, I found November awfully relaxing — hey, I even had time to have a "Fall Tea Party" I love Fall so much so even if we don't have it here in the country — I make sure we get a feel of it here at home. The warmth….. apples, cinnamon, and some other spice in the air , caramels,– oh and lots of browns and oranges!
So today, I made homemade Pumpkin Spice Latte… a warm, fragrant cup just enough to inspire us to sit down, breathe, and enjoy the moment…
It's starting to get cold, have you noticed? It's gonna be Christmas soon and if we don't take time to relax, sit down, and take in these little moments — then we're gonna be swept away in a whirlwind of Christmas decorations, gift shopping, and….. life. Busy,hectic life during the last quarter of the year.
And who wants that? I don't even want this year to end. Not yet, anyway. I think I still have a lot of things to do and weight to lose. (Hah! I have to make peace with the weighing scale.) And I don't want Ykaie and twinkle to grow up. *sigh*
Sorry for the "mom thoughts". If you're a mom, come sit with me, and here's a cup of Pumpkin Spice Latte.
Let's talk. Let's think. Let's obsess about our kids…
…and our house that never gets clean….
..and our laundry baskets that never gets empty..
…and our sink that's always full of dirty dishes..
But let's also take time to think about how blessed we are…
…for having the sweetest kids who we love to pieces…
..for having clothes and that washing machine we love so much…
.. for having yummy food to put on the table for our family to enjoy..
..for having this sweet, beautiful, exhausting mommy life we wouldn't change for anything in the world.
Just so you know, I've been making PSL ever since I discovered how delicious it is.. (Here's the very first one I made in 2011).. and I don't think I would ever stop. But over the years I've learned to mellow down, instead of using half and half, now I'm using low fat milk. Don't get me wrong I still like it creamy, so I top it off with whipped cream just to get that first sip with utmost creaminess as I get a whiff of that pumpkin spice sprinkle.
Ooooh Fall is delicious! And Pumpkin Spice is addictive.
So even if I'm late, I'm happy to announce that, it's finally Fall at The Peach Kitchen….
Print
Pumpkin Spice Latte
1 cup

of espresso or your favorite coffee, I used 2 tbsp coffee brewed in a coffee maker

1/2 cup

low fat milk

1 tbsp

pumpkin puree

1/2 tsp

pumpkin spice

1 tbsp

sugar, condensed milk, or sweetener of your choice
whipped cream
pumpkin spice for sprinkling
Instructions
Heat the milk, pumpkin, sugar, and spices over medium heat for a few minutes until the milk is simmering.
Pour into mugs with hot coffee and stir.
Top with whipped cream and sprinkle with some more pumpkin pie spice
Notes
Make sure you have a spoon handy as you need to give this coffee a stir from time to time. The spices and pumpkin settles in at the bottom
♥ If you make this recipe, kindly snap a photo and tag @thepeachkitchen on Instagram (OR hashtag it #thepeachkitchen). I'd love to see what you cook!