Yummy Beef Caldereta made even more delicious with EDEN Melt Sarap Cheese ! A great addition to your Noche Buena table…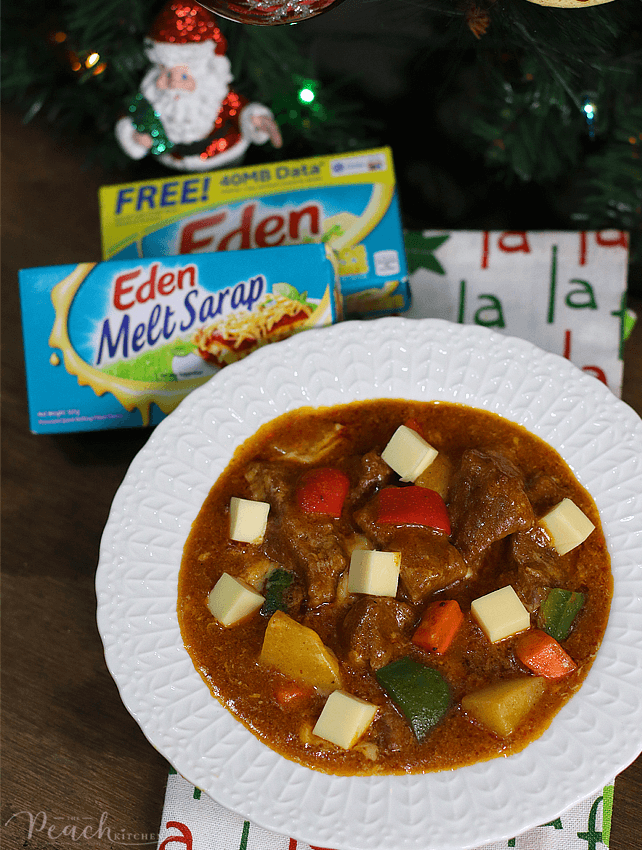 It has been such a busy December. Christmas rush kung Christmas rush ang drama ng lola nyo! I was just back from Baguio the other day and I'm telling you, never ever schedule a trip during the holidays most especially if you still have a lot of pending work. "cause, you know, that would result in a lot more pending work.
I still have a lot more gift to pack and our menu isn't totally ready yet… Acckk!!
Good thing I was able to try out a few recipe prior to the trip like this Arroz Valenciana and this Cheesy Caldereta with Eden Melt Sarap Cheese.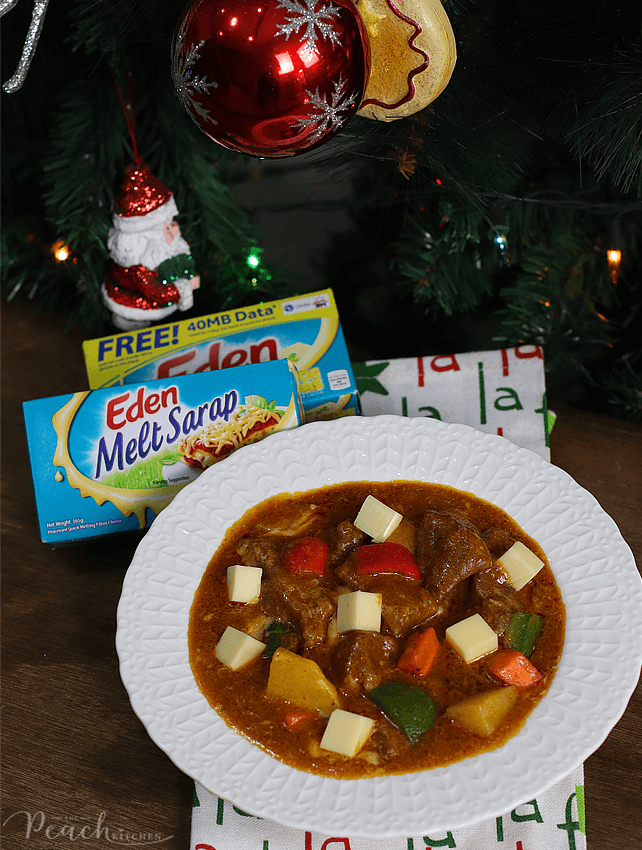 I'm sure you know by now that the family loved it and they said that it's my Caldereta but leveled up 9999 times. Of course my sister who calls herself Anney and my cousin Rome invited themselves to join the fun and ate lunch at home with lots of extra rice.
Next time I'll try to make this with Coconut Milk. I love super creamy Beef Caldereta.
Oh, and I also made a cooking vlog to make it easier for you to follow the recipe. It's my first time to edit a video so please don't judge if there's something wrong with it. It's usually my sister who does the editing for me but now I'm trying to do it myself…. Tadah! Achievement unlocked for 2018! Wohoo!!!
Here's a great Christmas for everyone! Cheers!
OTHER RECIPES YOU MIGHT LOVE…
Print
Eden Cheesy Caldereta
2

–

3

tbsp cooking oil

2

pcs potatoes, cut into pieces.

1

large carrot, cut into pieces

1

kg stewing beef, cut into cubes

5

cloves garlic, minced

1

large onion, chopped

2 cups

water

1½ cup

tomato sauce

1

can liver spread

3

pcs bay leaf

2 tbsp

fish sauce

1

red bell pepper, diced

1

green bell pepper, diced

1 cup

cubed Eden Melt Sarap Cheese
salt and pepper to taste
Instructions
Heat oil in a pot. Fry potatoes and carrots until cooked. Remove from pan and set aside.
In the same pan, add beef and brown on all sides.
Add onions and garlic and continue cooking.
Pour in the water and tomato sauce.
Add the bay leaves, fish sauce, and liver spread.
Bring to a boil and simmer until beef is tender. Around 1- 1½ hours. Add water if needed.
Add teh cooked potatoes and carrots. Simmer for an additional 3 minutes.
Add the bell pepper and mix well.
Add the EDEN Melt Sarap Cubes and cook for an additional 5 minutes to melt the cheese.
Season with salt and pepper if needed.
Transfer to a serving plate and garnish with more EDEN cheese cubes on top .
Serve with steamed rice and Enjoy!
♥ If you make this recipe, kindly snap a photo and tag @thepeachkitchen on Instagram (OR hashtag it #thepeachkitchen). I'd love to see what you cook!