These Oatmeal Raisin Cookies are so easy to make and delicious, best of all, it's soft, chewy and loaded with raisins. We love to eat it cold straight from the fridge!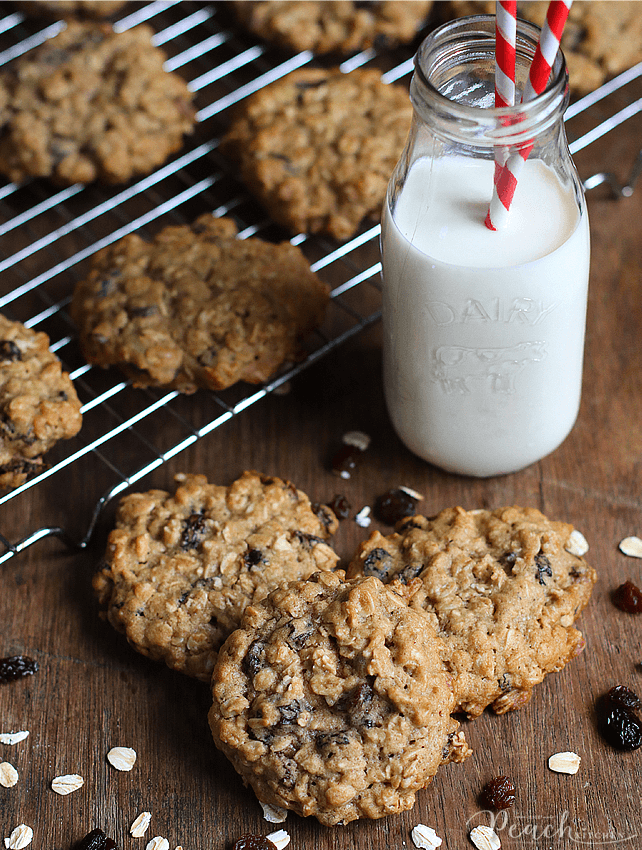 Woohoo! It's friday and our house had a significant "Christmas" makeover over the last few days. We've put up the Christmas tree, we have a nativity set over Twinkle's cabinet in the living area, and our good ole' little Santa Clause is standing upright beside the tree. We have our Parol on the bedroom window. And we are putting up Christmas garlands and stockings on the stairs today which signifies we are finally done with decorating. Yay!
We still have a loooong way to go, though. We have gifts to wrap, places to be, people to hug, a birthday to plan (gasp! mine!) and more Christmas planning to do. But first things first. THIS Oatmeal Raisin Cookies. Our December coffee needs a partner, after all
peanutbutter♥ and I are such huge fans of Oatmeal Raisin Cookies. Because it has rolled oats (and raisins, instead of chocolate chips) we think it's healthier than the usual cookies. *wink*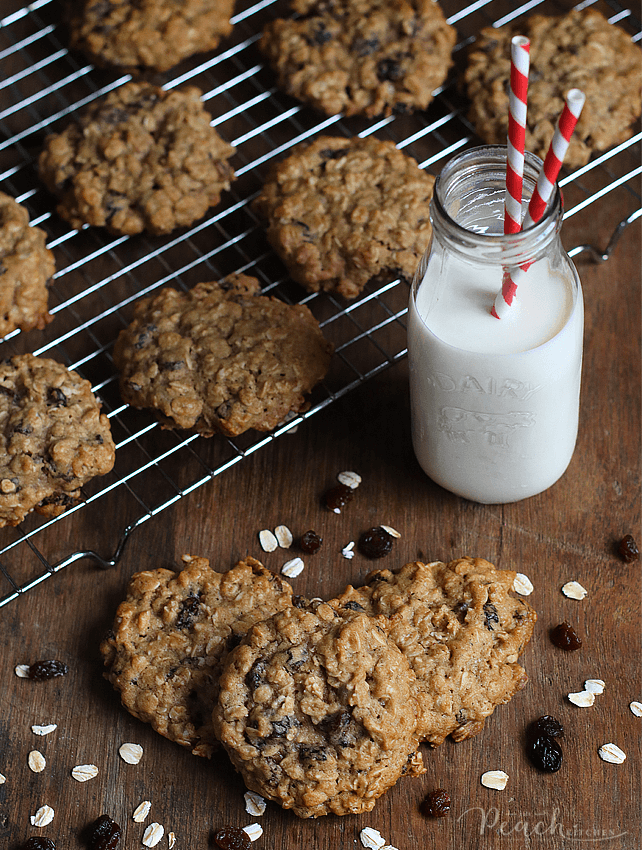 This cookie starts off by combining all purpose flour, ground cinnamon, baking soda, and salt. Then the butter and sugars are creamed. We add in an egg, vanilla extract, and the flour-cinnamon mixture. After that, in goes the old-fashioned rolled oats and the raisins.
It's best to refrigerate the cookie dough before baking to allow the flavors to blend in and to prevent them from spreading itself thin while baking. We want these cookies thick, remember?
You may bake it for 10 minutes if you prefer softer cookies but I find baking it a bit more for 12-14 minutes just right. It's cooked a little toasted and provides the perfect chewiness.
Then in goes in the fridge. 
Yes! We love eating it chilled because it tends to get more chewy when cold. It's perfect with a cup of hot coffee or a glass of cold milk. Whichever you choose to pair it with, I'm sure you'll love it 100%
How do you prefer eating your Oatmeal Raisin Cookies?
OTHER RECIPES YOU MIGHT LOVE…
Print
Soft and Chewy Oatmeal Raisin Cookie
Instructions
Mix together the all-purpose flour, ground cinnamon, baking soda, and salt. Mix it well and set aside.
In the bowl of your stand mixer, cream together the butter, brown sugar, and white sugar for two minutes until well combined. Add the egg and vanilla extract and mix until fully combined.
Slowly add in the flour and mix until fully combined.
Turn off mixer and add in the rolled oats and raisins and mix by hand.
Cover the cookie dough with plastic wrap and refrigerate for 30 minutes.
While cookie is chilling, preheat the oven to 350°F and line two large baking sheets with parchment paper.
After 30 minutes, get your cookie dough from the fridge and using a small ice cream scoop, scoop the cookie dough and drop onto the prepared baking sheets. Make sure to leave a small space in between cookies as they will spread a little while baking.
Use the round side of the scooper to flatten the cookie dough just a little.
Bake in separate batches at 350°F for 12-14 minutes or until the edges of the cookies are lightly golden brown.
Remove from the oven and cool on the baking sheet for 5 minutes, then transfer the cookies to a wire rack to finish cooling.
Serve warm or chilled. We find this best eaten when chilled!
♥ If you make this recipe, kindly snap a photo and tag @thepeachkitchen on Instagram (OR hashtag it #thepeachkitchen). I'd love to see what you cook!