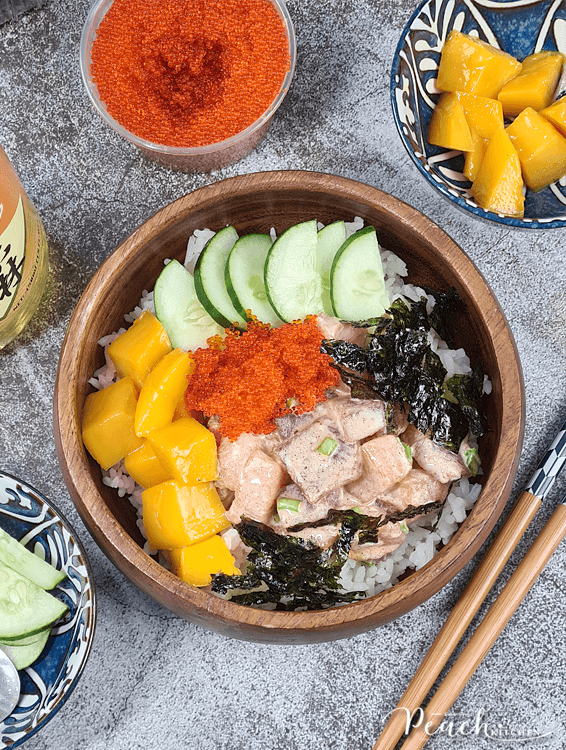 DaddyDoodleDoo ordered sashimi the other night… It was my chance to make a Poke Bowl for myslef for dinner. Yes. For myself lang.. kasi ako lang ang may gusto ng Poke Bowl here at home.
I made a quick and easy one because , well, because I was already hungry…
What I did was combine tuna and salmon sahimi, soy sauce, rice vinegar, sugar, sesame oil, kewpie mayo, and spring onions. Then topped it off over rice along with sliced cucumber, diced mango, and shredded nori sheet.
I would have loved this with sriracha but, you know, bawal spicy because of acid reflux — so I didn't put any. But if you make it, be sure to put around 2 tbsp — it will taste a lot more delicious.
WATCH THE VIDEO HERE:
OTHER RECIPES YOU MIGHT LIKE:
Print
Poke Bowl
1/3 cup

diced tuna/salmon sashimi

2 tsp

soy sauce

1 tsp

sesame oil

1 tsp

rice vinegar

1 tsp

sugar
chopped spring onion

1 tbsp

kewpie mayonnaise

2 tsp

sriracha (optional)
rice
sliced cucumber

1/4 cup

diced mango
nori sheets
Instructions
Combine tuna,salmon, soy sauce, sesame oil, sugar, rice vinegar, spring onions, kewpie mayo, and sriracha in a bowl. Mix well.
In a large bowl, add your rice, top with the tuna mixture, diced mango, sliced cucumber, and shredded nori sheet.
Enjoy!