There are so many types of mushrooms — from Portobello to oyster to beech to Maitake and everything in between, which makes the possibilities (and recipes) virtually endless. They're popular around the world because they're versatile and easy to find in any given grocery store. As an added bonus, they're high in fiber and vitamins while remaining cholesterol-free! So how should you utilize mushrooms in the kitchen? What are some different, fun ways to incorporate them into meals you already enjoy?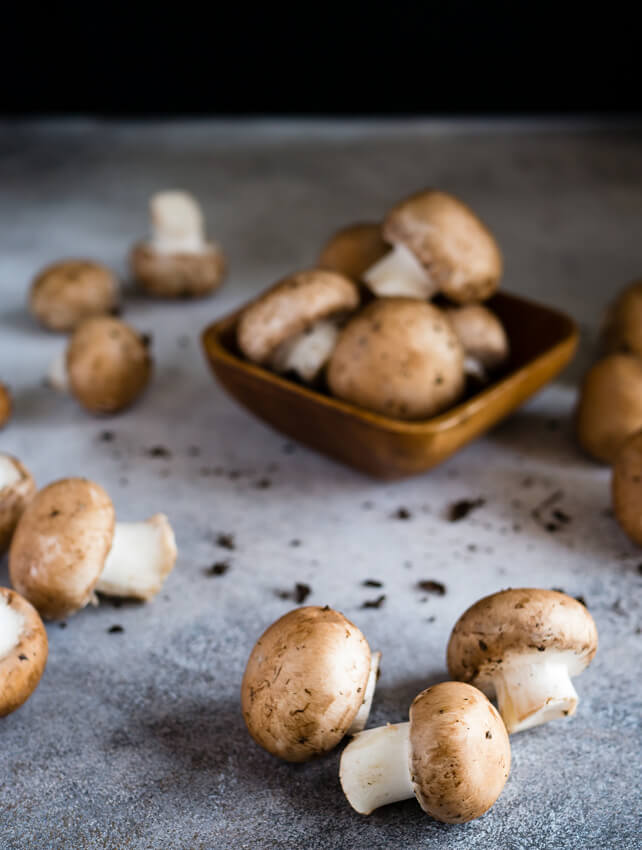 If you're looking to switch things up, mushrooms are a great way to go! Whether you're already a huge fan or you're looking to test out some healthy choices, here are 9 ways to utilize mushrooms in cooking.
1. Add them to burgers
Is there anything better than a delicious hamburger? There sure is! Try adding a Portobello mushroom to the mix. Simply scrape out the inside and form your burger into the cap of the mushroom. When you grill, make sure you grill meat side down and flip at the end to avoid overcooking.
2. Throw them in the slow cooker
The slow cooker will bring out the delicious taste of any given mushroom. Try adding them to your next soup or stew recipe. You can even use them alongside a roast, carrots, and onions for an incredible meal with minimal effort. Just throw everything in the slow cooker and set the table!
3. Sauté them for an easy side dish
When you're low on time and you need a quick, easy side dish for dinner, chop up some mushrooms and sauté them in a little butter, garlic, wine, and parsley. You'll want to cook until they're a deep brown color. This side dish is perfect on its own or added on top of steaks or pork chops.
4. Stuff them to create an appetizer
If you have a dinner party coming up, stuffed mushrooms make a great appetizer that doesn't take too much planning or cooking. Parmesan, crab, cheese, dill, lemon — the options are endless. Simply scrape out the inside enough to make room for your filling and throw them in the oven for 20 minutes.
5. Use them as a base
Portobello mushrooms are perfect for using as a base for a lot of different meals. Try lasagna-stuffed Portobello mushrooms for a yummy take on a common, beloved recipe. Simply fill Portobello mushrooms with your favorite pasta sauce and cheese, then bake for 20-30 minutes. You can even add other vegetables. A list of keto veggies at MyLowCarbMeals can help you with your selection.
6. Try them in a gravy
Have you ever had mushroom gravy? It's phenomenal and surprisingly simple to make at home. Heat ¼ cup of butter over medium heat in a saucepan, then add 16 oz. of your favorite mushrooms chopped up. Simmer until liquid evaporates, then stir in ¼ cup flour and stir for about 5 minutes. Add 1 cup of beef stock and stir quickly until incorporated, then add 3 more cups of beef stock and mix thoroughly. Keep simmering until thickened.
7. Make a comforting soup
On a cold day, a comforting bowl of soup can make a world of difference in terms of lifting you up and making you feel a bit more positive. Sauté a bit of chopped onion, green pepper, garlic, carrot, and mushrooms until they're soft. Add enough vegetable broth to cover, then add a handful of pearl barley. Boil and reduce heat until barley is almost cooked. This should take approximately 40 minutes.
8. Bread and fry them
If you're looking for an appetizer that's a bit closer to traditional "bar food," this is perfect. Toss the mushrooms in flour, coat them in egg, then roll in breadcrumbs before deep-frying them until they're golden brown. You can use a traditional deep fryer, an air fryer or a skillet with an inch of oil. Serve with your favorite dip, such as ranch dressing.
9. Incorporate them into breakfast
This is a great way to incorporate some healthy vegetables into your children's breakfast. Add chopped up mushrooms into egg bakes, scrambled eggs or frittatas for an exciting change to your typical breakfast. If you're low on time, choose egg bakes or frittatas because they can be made ahead of time.
Conclusion
Mushrooms are a great choice when you're looking to switch things up in the kitchen. Why? Because they're one of the highest antioxidant foods in the world! They've been found to stimulate and regulate the body's immune system. In fact, research has shown that mushrooms can reduce the risk of two of the most common kinds of cancer: breast and prostate. Try one of the creative ideas above to incorporate mushrooms into your diet and we're sure you'll enjoy the outcome!