Satisfy your craving with this Vegetarian Kare-Kare! I promise you won't be missing the meat…
You don't need to be a vegetarian to eat vegetarian food. The primary reason you should is because vegetarian food is delicious! Second, it's healthy. And third, you won't be harming any animals and you'll be helping the earth in the process. I am not a vegetarian but when I feel like I'm eating too much meat, I like to balance the scales and lay low in eating meat for a while. One of my favorite vegetarian dish is Vegetarian Kare-Kare. Well, you can also call it Vegetarian Crispy Kare-Kare because it has a "crispy lechon kawali" that goes along with it.
Traditionally, Kare-Kare is this rich, creamy peanut based Filipino dish that's stewed using various meats like beef, ox tail, and tripe. I've made my own version of it with Oxtail, Tripe, and tendons. I've also made Seafood Kare-Kare. This time, I'm sharing with you my vegetarian version both for the health conscious and those who cannot eat too much meat.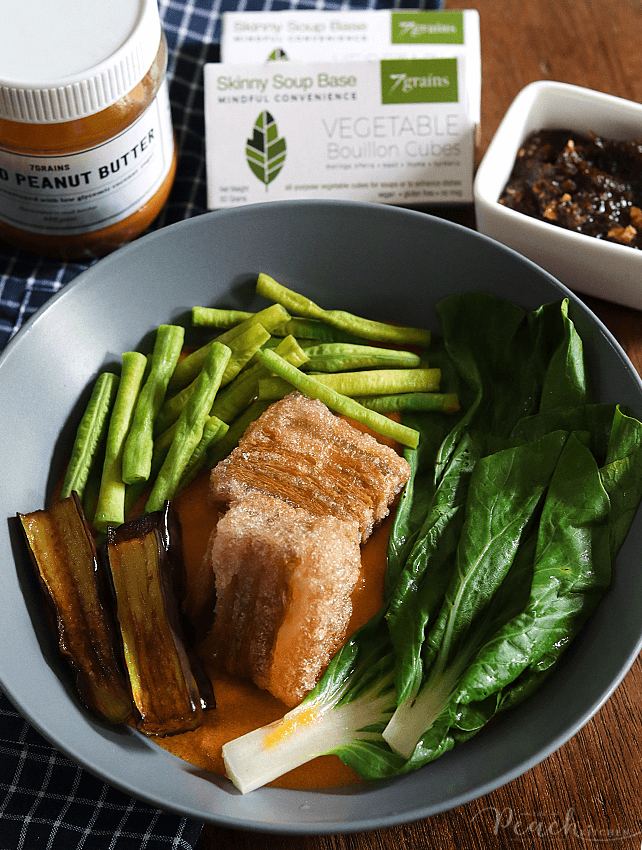 To make the soup base, I used this Skinny Soup Base from 7 Grains. This is an all-purpose vegetable cubes made with malunggay, basil, thyme, and turmeric. You can use it to make soups or enhance dishes just as you would your chicken cubes or beef cubes. You might be wondering how it tastes like and you're probably thinking it tastes like a bunch of grass that's boiled to make soup. Oh my gosh, it doesn't! You know how your soup tastes like when you cook nilaga and you've mixed up all your veggies with the meat and it has boiled into one flavorful dish? That's how it tastes like minus the meat taste — a mixture of different kinds of vegetables plus that wonderful umami taste. Imagine this flavoring your Veggie kare-kare.. ang sarap no?
Syempre, we want our Vegetarian Kare-Kare to be a little sweet. That's when you add the 7 Grains The Good Peanut Butter. (alam nyo naman how much I love peanut butter, diba?) What I love about this one is that it's sweetened with coconut sugar which means it has low glycemic index. So pwede sya even if you're diabetic.
The Vegchon or "Vegetarian Lechon" naman I ordered from The Vegan Grocer.
When I see the word Kare-Kare before, I used to get intimidated. Feeling ko ang hirap lutuin, but it's really easy to make. Especially in this vegetarian version because there's no simmering of beef or ox for long hours to soften them. All you need is to make the sauce, cook the vegetables, and fry the vegchon and you're done.
To make the sauce, I sautéed the onion and garlic in annato oil. Then I just added everything in the pot: skinny soup base cubes, ground peanuts, the good peanut butter, and ground rice. I simmered it until the sauce thickens then I tasted it and adjusted the seasoning accordingly. If you want it saltier, just add more salt. If you want it sweeter (and thicker) add more peanut butter. As for the vegetables, you can steam or boil it and then top it over the sauce. Or you can also add it when you're simmering the sauce so it gets cooked in it. Your call. But the Vegchon should always be added right before serving so it stays crispy.
If you'd like to try this Skinny Soup Base and The Good Peanut Butter, you may order at 7 Grains Pantry Facebook Pagee. Just send the a message and they will reply immediately. You'll also find many healthy and delicious products if you browse through their page.
OTHER RECIPES YOU MIGHT LOVE…
Print
Vegetarian Kare-Kare
1

white onion chopped

4

cloves garlic minced

1 tbsp

annato oil (or cooking oil with annato powder)

4 cups

water

2

cubes 7 Grains Skinny Soup Base

1/2 cups

ground peanuts

1/2 cup

The Good Peanutbutter

3 tbsp

ground rice
salt and pepper to taste

4 cups

string beans or sitaw, steamed until cooked

2

bunches pechay, washed, steamed until cooked

3

eggplants, sliced and fried

4

blocks Vegchon
Oil for frying
vegetarian bagoong or bagoong alamang for serving
Instructions
Sauté onion in annato oil until translucent, then add garlic. Continue cooking until fragrant.
Pour in water. Add skinny soup base cubes, ground peanuts, the good peanutbutter, and ground rice.
Bring to a boil and simmer for 10-15 minutes until the sauce thickens.
Meanwhile, fry the vegchon until golden brown and crispy.
Taste the sauce and adjust the seasonings. Season with salt and pepper. If you want it sweeter, add more the good peanutbutter.
You can choose to turn off heat at this time and top the sauce with the different vegetables and the vegchon. OR, you can also mix the vegetables with the sauce and top with the vegchon before serving.
Serve with vegetarian bagoong or bagoong alamang on the side.
♥ If you make this recipe, kindly snap a photo and tag @thepeachkitchen on Instagram (OR hashtag it #thepeachkitchen). I'd love to see what you cook!