We tried Soban K-Town Grill's Mega Meat BBQ Set for 2 and we loved it!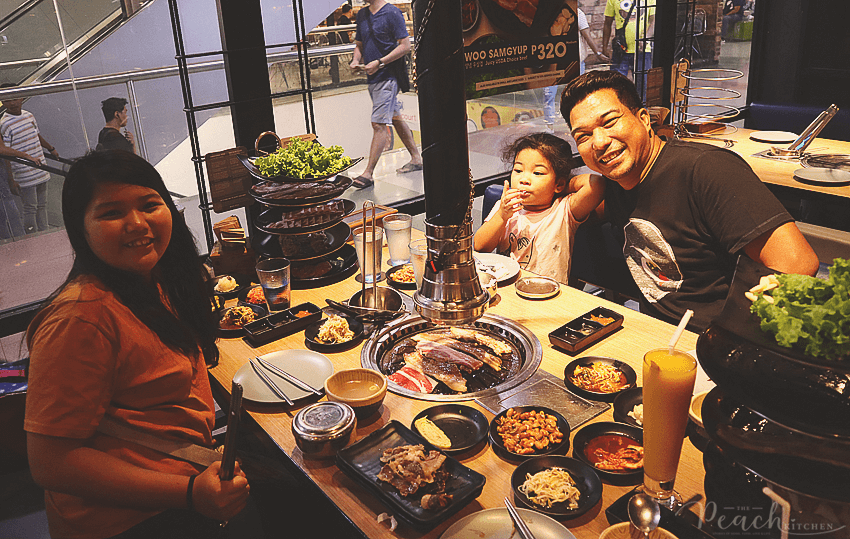 We are having our last Summer getaway at the end of the month — May 29-31 to be exact. So to avoid the rush, we decided to do our school supplies shopping last Thursday. Before heading to NBS, we stopped over to Soban K-Town for lunch which is just right across it.
They have this Mega Meat BBQ Set for 2 which we wanted to try. The Mega Meat BBQ Set for 2 is nicely priced at ₱1,000. It comes with a whopping 720g of high-grade meats which includes fresh beef belly, fresh pork belly, marinated chicken or pork belly, AND unli white rice, banchan, and soup
Since there are four of us and Twinkle is more than 3 feet, we had two orders of the Mega Meat BBQ Set.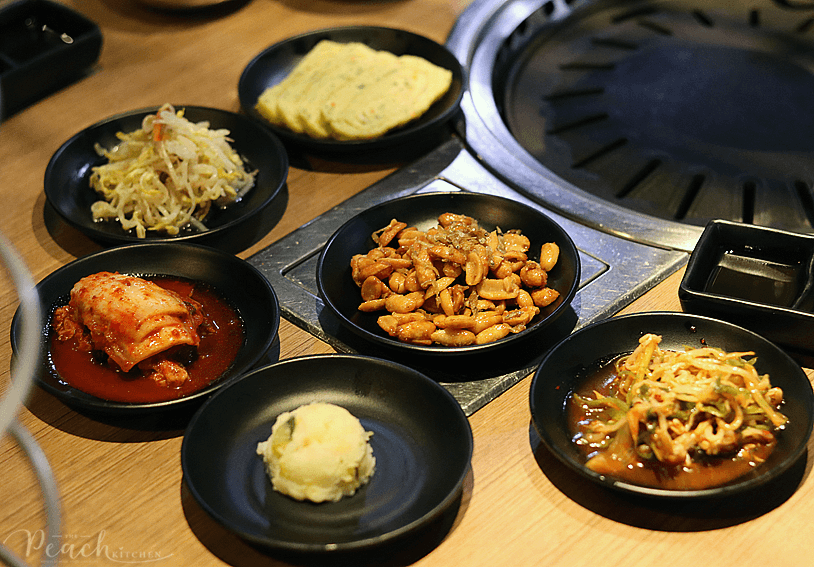 The first batch of their unli banchan was served immediately after ordering. It was composed of Gyeranmari (Egg Roll), Kongnamul (Seasoned Beansprouts), Pamuchim (Leek Salad), , Gamja Sarada (Potato Mash), Myeolchi Bokkeum (Roasted Peanuts with Anchovies), and of course, their homemade Kimchi.
After a few minutes, the meats were served…
These are the fresh beef belly…
These fresh pork belly which comes in thick slabs…
and we ordered marinated pork belly and chicken for the last meat sets. You may choose among this six flavors: Original, Fruity, Soy Garlic, Honey Spiced, Black Pepper, and Gochujang.
We chose soy garlic pork belly and gochujang chicken.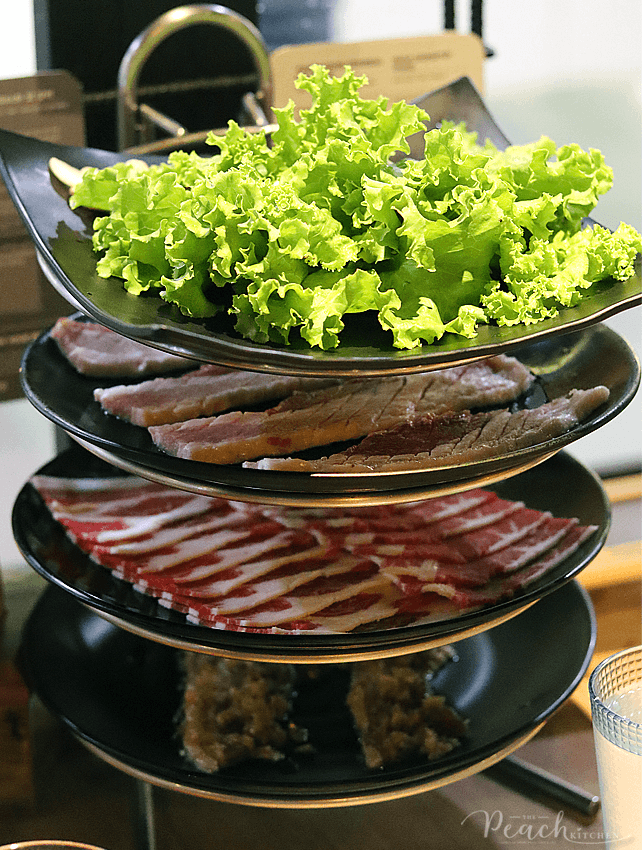 The set came with fresh lettuce and sliced garlic as well…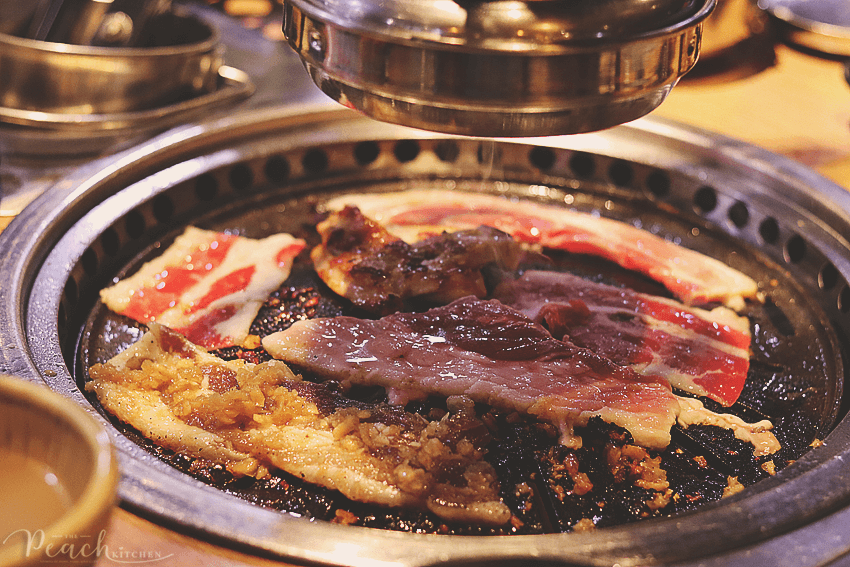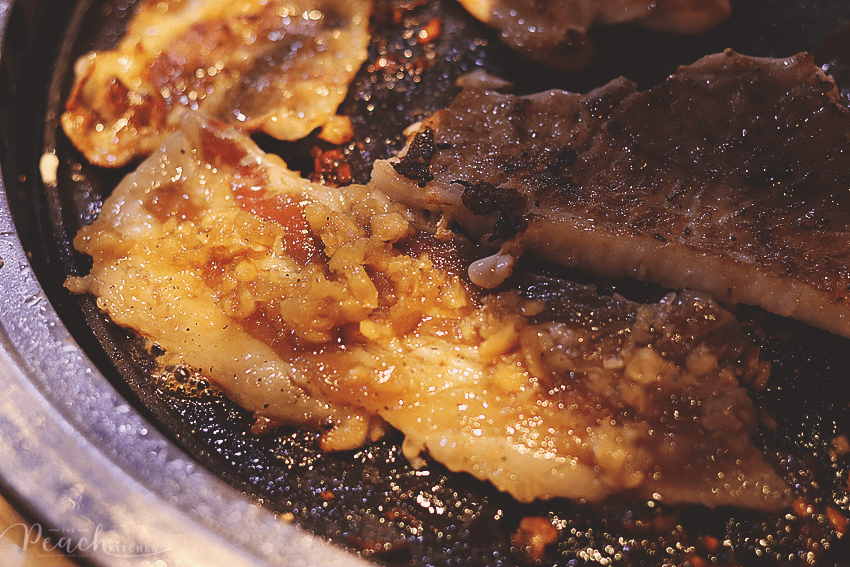 We enjoyed grilling our food and stuffing the meat in lettuce leaves and then drizzling it with the different kinds of sauces.
The gochujang chicken has a nice kick to it and you will absolutely love it especially if you like spicy food.
But you know what I discovered?? I have a new favorite pork belly flavor! Their soy garlic pork belly is sooooo good! You can see that it has lots of garlic diba? It also has the perfect balance of sweet and salty — ang sarap, promise! I actually made a mental note to order just that when we go back with my ILs.
As usual, our rice-loving Twinkle ate just that — plain rice.
Apparently, the two sets were more than enough for us and we had our leftovers wrapped to take home. It was such a satisfying lunch — the staff were very accommodating and the food was delicious. What I loved about it is that we were able to have three kinds of high quality meats in just one set of meal. We had chicken, pork, and beef. Oh, and they have six flavors of meat too!
If you still haven't tried eating at Soban K-Town, then now is a great time. Treat the dads in your life there this upcoming Father's Day. Or just spend a nice lunch with friends.
We visited the SM North EDSA branch but they have other branches too:
Greenbelt 3
3/F, SM Megamall B
2/F, One Bonifacio High Street
G/F, Pedro Gil Wing, Robinsons Place Manila
2/F, Eastwood Mall
G/F, ATC Corporate Center
and to keep updated on promos, drop by their FB page: https://www.facebook.com/Soban.KTown/