Crisp, flavorful deep fried pork belly sits on top of steaming hot Sinigang soup….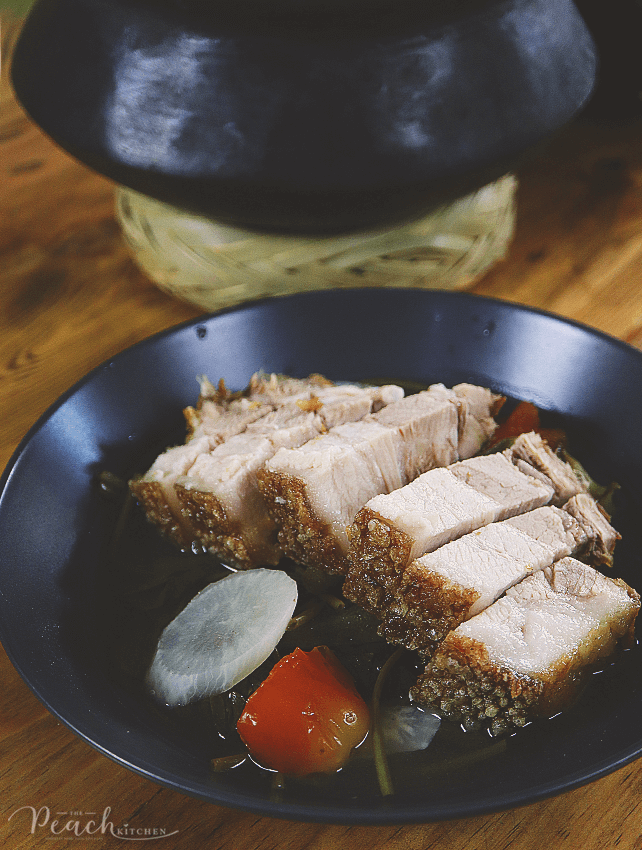 For many of us mommies, Sinigang is a weekend dish during schooldays, right? Why? Because this is one of the most requested ulams of our chikitings. Pork Sinigang is Ykaie's ultimate favorite ulam and she can actually eat this everyday. Pero ewan ko ba, mas masarap yata ang Sinigang pag pinagsasaluhan ng buong family on a weekend lunch. It may be too hot to move at noon but it's never too hot to slurp on that sour umami soup and bite on that tender pork fat and meat.
Ooooo, aminin!
Sinigang is just one of the many favorite dishes in my family. That's why if you're gonna scroll around the blog, you'll find many sinigang versions… some are really old and needs updating… (Oops) like the Beef Sinigang, Sinigang na Bangus sa Bayabas, and Pork Sinigang sa Kamias.
You really can't go wrong with this Filipino dish. You might even have an extra bowl of rice. If you'rre going low-carb, you might want to pair this with Cauliflower Rice or eat it with no rice at all.
Print
Lechon Kawali Sinigang
for the lechon kawali
1/2

kg pork belly (liempo)

1/2 tsp

salt

1/2 tsp

peppercorn

2

cloves garlic

1

bay leaf
water for boiling
oil for frying
for the sinigang soup
1

liter water

2

medium ripe tomato, halved

1

medium yellow or white onion, quartered

2

medium taro root (gabi), peeled and halved

¼

kg unripe tamarind, boiled and juices squeezed out or sinigang mix

2

pieces long green pepper (siling pansigang)

1

bundle kangkong leaves

1

medium radish, sliced

12

pieces okra
Fish sauce (patis) to taste
Instructions
Cook the Lechon Kawali: Combine all the ingredients in a pot except for the oil. Bring to a boil and the lower the heat and simmer for 15-30 minutes. Deep fry in cooking oil until golden brown and skin is super crispy.
While the Lechon Kawali is frying, cook the sinigang soup.
Boil the water in a cooking pot.
Add the tomato and onion. Set the heat to medium and continue to boil for 15 minutes.
Add gabi or taro. Continue to boil in low heat for 10 minutes until the gabi is tender.
Add the tamarind juice or sinigang mix. Stir.
Add the long green chili and boil for 3 minutes.
Stir-in the okra and radish cook for 3 minutes.
Add the kangkong and fish sauce. Stir. Cover and turn off the heat. Let it stay covered for 5 minutes.
Transfer to a serving bowl and top with the crispy Lechon Kawali.
Serve as is or with steamed rice and spicy patis dipping sauce