A healthier take on Sisig using San Marino Corned Tuna! You get to satisfy your cravings while getting a dose of omega 3!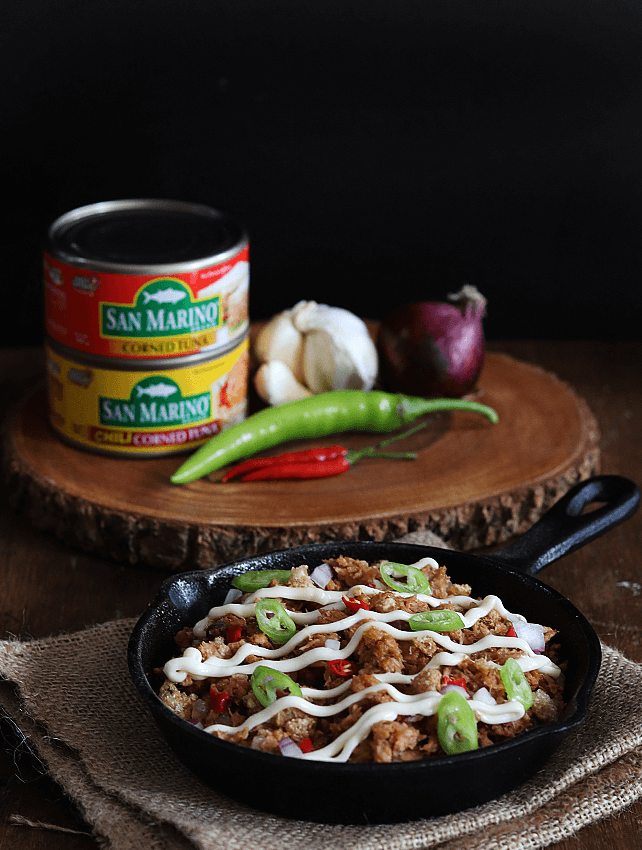 I've always loved sisig and it's always a number one dish on my menu when it comes to comfort food. It's the combination of flavors — the meat, the seasoning, the chillies –makes it so soooo delicious and tasty and flavorful. Ay talaga namang mapapa-extra rice ka sa sarap diba?
But the thing is, we all know it's not the healthiest thing on the planet.
So what I did today is I made a healthier version of it. It is composed of almost the same ingredient except for its main ingredient which is pork. To make it healthier, I used San Marino Corned Tuna.
San Marino Corned Tuna has less oil and has lots of omega-3 which can only mean one thing- it's good for you.
WATCH THE VIDEO HERE:
This Tuna Sisig can be your ulam and paired with garlic rice steamed rice for breakfast, lunch, or dinner. It can be a filling for wraps or sandwiches. It can also be your pulutan (beer chow) when you're drinking and you want a delicious but healthier pulutan (beer chow). Or it can be your kid's baon. I'm sure she/he loves sisig too. Just use the regular San Marino Corned Tuna para hindi spicy.
It's super easy to cook this. First you have to drain the San Marino Corned Tuna using a strainer. Kailangan thoroughly drained. You can use a fork or spoon para i-press yung tuna sa strainer to amke sure that no sauce or oil is left. Next is you have to fry the drained tuna in oil. You can use a non-stick pan and make sure you cover it. Kasi magtatalsikan yung oil and tuna flakes habang pini-prito. Fry it until it's brown then you can add the onion and garlic. Just sauté until soft and then mix the seasoning — knorr, pepper, calamansi juice, sugar, finger chili, siling labuyo — and half the chicharon. Kung ayaw nyo ng spicy, don't put finger chili and siling labuyo.
Just continue cooking for 1 more minute and then transfer to a plate or sizzling plate. Top with the leftover chicharon and drizzle with mayonnaise. Mix-mix lang before eating! Sarap! Try nyo rin to mommies!
Kayo, what else do you make with San Marino Corned Tuna? Share nyo naman so I can also try.
Just in case you also want my mini-Cast iron skillet, pwede nyo sya mabili rito: https://tinyurl.com/CastIronSkillet2
Yung Wood Log Chopping Board naman dito: https://tinyurl.com/WoodLogChoppingBoard
Print
San Marino Tuna Sisig
1

can (180g) San Marino Corned Tuna

1

can (180g) San Marino CHILI Corned Tuna

1

–

2

tbsp cooking oil

1

red onion chopped

2

cloves garlic, minced

1 tbsp

liquid seasoning

1/4 tsp

pepper

1 tsp

sugar

1

green finger chili (siling panigang), sliced

2 tbsp

mayonnaise
juice of

2

calamansi

1

bird's eye chili (optional)

1/2 cup

ground chicharon
Instructions
Drain your corned tuna through a strainer. Make sure it is thoroughly drained. Set aside.
Heat oil in a non-stick skillet and fry tuna until brown. Make sure to cover the pan because the oil (and some of the tuna flakes) are going to splash from the pan.
Add chopped onion and minced garlic. Continue sauteing until onion becomes soft.
Add the liquid seasoning, pepper, sugar, sliced finger chillies, and juice of 2 calamansi.
Add half the chicharon (and bird's eye chili, if using) and mix well, cook for 30 more seconds.
Transfer to a sizzling plate. Sprinkle with the other half of the chicharon and drizzle with mayonnaise.
You can garnish with more slices of green finger chili.
Serve hot with steamed rice.
♥ If you make this recipe, kindly snap a photo and tag @thepeachkitchen on Instagram (OR hashtag it #thepeachkitchen). I'd love to see what you cook!