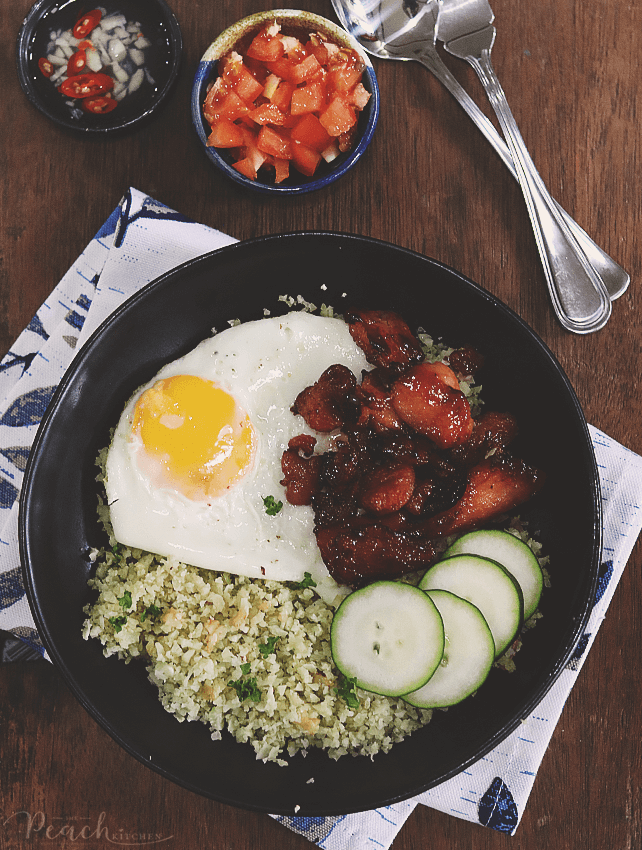 Waaaaaah!! It's really hard to stay on a low carb diet — specially on BER months….
AND you're a food blogger.
AND you want to blog about (and eat) indulgent food!
peanutbutter♥ and I has been on a, what, cheat week? cheat month? Di ko na nga matandaan. All I can remember is that we've been eating carbs and sweets here and there the past few days.
We are promising to be back on low carb next week.
One of the food that we really crave when on low carb is tocino. That's why I made this Sugar Free Chicken Tocino a month  ago. So we can eat it even if we're trying to avoid sugar.
Syempre when there's tocino, you'll crave sinangag… Kailangan maging TOSILOG or else the meal is not complete, diba?
To my non-Filipino friends, SILOG is a term that has been coined from the Filipino breakfast staple SInangag (garlic fried rice) and itLOG (egg). Another syllable is prefixed in it, usually the first syllable of another viand/dish that comes with the garlic fried rice and egg. In this case, it's TO from TOcino, from cured chicken. Hence, ToSiLog.
Since this is KETO TOSILOG, I made a low carb version of the Garlic Fried Rice which is the Cauliflower Garlic Fried Rice. How did I make it? Watch the video below.
HOW TO MAKE CAULI – SINANGAG VIDEO
Problem solved and Tosilog craving satisfied!!
Print
Cauli – Sinangag (Cauliflower Garlic Rice)
1

head of Cauliflower

6

cloves garlic, minced

1 tbsp

cooking oil
salt and pepper
Instructions
Cut cauliflower into large florets.
Rice cauliflower using a food processor. Or grate by hand on box grater until it resembles grains of rice.
Heat oil in a non-stick skillet. Sauté garlic until fragrant.
Add riced cauliflower and sauté until just cooked through, about 5 minutes.
Season with salt and pepper to taste.
Transfer to a plate and sprinkle with more fried garlic on top before serving.
♥ If you make this recipe, kindly snap a photo and tag @thepeachkitchen on Instagram (OR hashtag it #thepeachkitchen). I'd love to see what you cook!